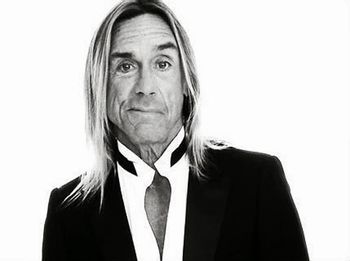 "I am the passenger,
and I ride and I ride,
I ride through the city's backsides,
I see the stars come out of the sky,
Yeah, the bright and hollow sky,
You know it looks so good tonight."
— "The Passenger"
The Godfather of Punk, the Passenger, the World's Forgotten Boy and a mainstay in rock and roll since 1969, Iggy Pop (born April 21, 1947) may be one of the most energetic, threatening and exciting performers in the genre.
Born as James Newell Osterberg in Muskegon, Michigan, Iggy was one of many teenagers whose life was made more colorful by Rock & Roll. In high school in Ann Arbor, Michigan, he played the drums for a band called The Iguanas. He stayed in the Ann Arbor music scene for a brief period studying at the University of Michigan, during which time he joined a blues band called The Prime Movers. This inspired him to drop out and move to Chicago to study the blues more thoroughly. He seemed for a time like he was embarking on a career in the Chicago blues scene...until James Brown and The Doors inspired him to do something completely different.
Moving back to Ann Arbor, he founded a band with bass player Dave Alexander and the brothers Ron (guitar) and Scott (drums) Asheton, where he became the frontman. Initially called the Psychedelic Stooges, the band was a Psychedelic Rock band as there were thirteen in a dozen near the end of The '60s. Under a new name, The Stooges, the band eventually made the bridge between the peace-loving hippie crowd and the proto-punk music that would shape The '70s towards Punk Rock.
Iggy was The Face Of The Band. He was an exciting and outrageously energetic performer during stage shows, just all movement. You couldn't take his eyes off him and often his antics were so audacious that a large part of the crowd actually felt frightened of him at times. Iggy smeared himself with peanut butter, rolled around in broken glass and even jumped into the crowd (which later became known as stage diving and crowd-surfing), all while baiting and verbally abusing his audience. This alienated a large part of the crowd, but attracted a dedicated cult audience. Their three albums, The Stooges (1969), Fun House (1970) and Raw Power (1973) are now cult classics, but didn't sell well at the time. The band also suffered under extreme heroin and alcohol abuse. After David Bowie produced the Stooges' third and final album Raw Power (1973) the band had a Grand Finale with a grandiose album in every sense of the word, but nevertheless split soon afterwards.
Bowie then helped Iggy with getting a solo career on the road. Iggy provides backing vocals on Bowie's song "What in the World" from Low (1977), while Bowie produced Iggy's debut album The Idiot and Lust for Life (both also from 1977), which launched Iggy as a rock star in his own right. His third album, New Values (1979), went back to his roots with the Stooges and therefore met with lesser sales. His next albums Soldier (1980) and Party (1981) didn't fare well either and he was dropped from his label. Zombie Birdhouse (1982) didn't change anything, but when Bowie covered "China Girl" (a song from The Idiot) on his album Let's Dance, the royalties and interest revitalized public interest in Iggy Pop. Bowie produced and co-wrote his next album, Blah Blah Blah, which spawned the UK Top 10 Hit "Real Wild Child". Instinct (1988) saw Iggy again returning to Stoogesque rock and once again he was dropped by the label. Virgin Records signed him instead and his next album Brick by Brick (1990) was his best album in years, with the lead single "Candy" (a duet with Kate Pierson from The B-52s) becoming a US Top 20 hit. As Iggy's career rolled on interest in his work was solidified by use of his music in Trainspotting (1996), frequent touring and covers of his songs by other artists.
Iggy has also acted a few times, mostly in the films of Jim Jarmusch, among which Coffee and Cigarettes (with Tom Waits) and Dead Man, where he appears in drag. He also appeared in Sid & Nancy (1986), The Color of Money (1986), Cry-Baby (1990), Tank Girl and The Crow: City of Angels. He also appeared as Yelgrun in Star Trek: Deep Space Nine, as a man with a whiplash injury in Snow Day (2000), gave voice contributions to Once Upon A Time In Wonderland, Rock and Rule, The Rugrats Movie and the English dub of Persepolis.
Has nothing to do with Iggy Azalea.
---
Discography
Kill City (demos recorded in 1975 with the Stooges' second guitarist, James Williamson; not released until 1977)
The Idiot (1977) (produced by David Bowie)
Lust for Life (1977) (produced by David Bowie)
New Values (1979)
Soldier (1980)
Party (1981)
Zombie Birdhouse (1982) (produced by Chris Stein of Blondie)
Blah Blah Blah (1986) (produced by David Bowie)
Instinct (1988)
Brick by Brick (1990)
American Caesar (1993)
Naughty Little Doggie (1995)
Beat 'Em Up (2001)
Skull Ring (2003)
Préliminaires (2009)
Après (2012)
Post Pop Depression (2016) (produced by Josh Homme of Queens of the Stone Age)
Free (2019)
Every Loser (2023)
---
Iggy Pop's work provides examples of:
---