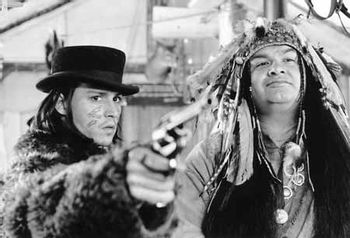 "It is preferable not to travel with a dead man."
— Henri Michaux
Dead Man is an acid/existential Western written and directed by Jim Jarmusch, released in 1995. The protagonist, played by Johnny Depp, is an out-of-work accountant from Cleveland named William Blake. He goes to a frontier town on the promise of a job, but once there finds the position already taken. He gets briefly mixed up in a love triangle, kills the son of the most powerful man in town in self-defense and is forced to run for his life with a bullet in his chest.
While trying to evade the bounty hunters and marshals who are after him he meets Nobody, a solitary and erudite Native American who- upon hearing his name- believes him to be the wandering spirit of the English poet William Blake, even though the name is purely coincidental.
Not to be confused with the DC Comics character of the same name, and not to be confused with that one really Gorny anime about an amusement park prison.
---
Dead Man provides examples of:
---