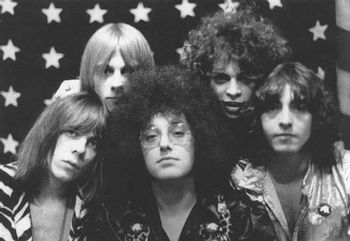 The MC5 were a highly influential rock band from Detroit (their name meaning "Motor City 5"), active between 1964-1972. They're known for being one of the leading Protopunk bands (alongside the Velvet Underground and The Stooges—incidentally from Ann Arbor, which isn't far from Detroit—among others) that helped inspire the Punk Rock movement.
Oh, and they were also one of the first bands, along with The Fugs, to put out a song with the word "fuck" in it uncensored.
The band's members were:
Rob Tyner - vocals
Wayne Kramer - guitar, backing vocals
Fred "Sonic" Smith - guitar, backing vocals
Michael Davis - bass
Dennis Thompson - drums
The band had a short career, releasing only three albums before breaking up. However, these albums proved to be enormously influential. Boasting Kramer and Smith's furious guitar playing, Tyner's strong vocals and the solid support of the Davis-Thompson rhythm section, the sheer energy and fury of the band combined with the undoubtedly Epic Riffs they wrote and their "back-to-basics" rock 'n roll sound became a key influence on Punk Rock. While their debut album Kick Out the Jams (MOTHERFUCKERS) is one of the most highly acclaimed live albums ever made, their other albums Back in the USA and High Time aren't anything to sneeze at either.
While everybody loves MC5's volatile proto-punk sound, nobody is really rushing to emulate their far-left politics and affiliation with radical groups such as The White Panther Party (through their manager John Sinclair). To be fair, even they didn't last more than a year in their extreme political affiliation and had a falling out with Sinclair.
Discography:
---
Tropes:
---