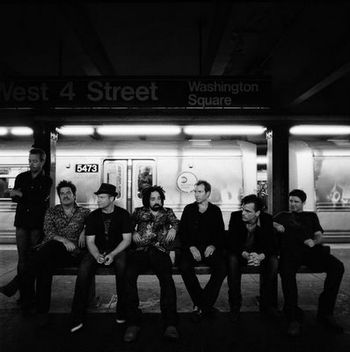 Well I dreamt I saw you walking up a hillside in the snow
Casting shadows on the winter sky as you stood there counting crows
One for sorrow, two for joy
Three for girls and four for boys
Five for silver, six for gold
Seven for a secret never to be told
—"A Murder of One", August and Everything After
Counting Crows is an alternative rock band from Berkeley, California. Founded in 1991, the band gained popularity in the mid-nineties for their 1993 debut album, August and Everything After. The band takes its name from the divination rhyme about crows, which also appears in the song "A Murder of One," quoted above. The group is fronted by and essentially is singer-songwriter Adam Duritz, a "Russian-Jew-American impersonating African-Jamaican" whose lyrics are largely inspired by his personal relationships, life, and chronic dissociative disorder.
Their music can be best described as a harmonious blending of alternative rock and country rock. Some of their most prominent influences include Van Morrison, R.E.M., Bob Dylan, The Band, and Neil Young; they have paid tribute to many of their other influences with their cover album Underwater Sunshine.
Music by Counting Crows has been featured on the soundtracks of Clueless, Mr. Deeds , Cruel Intentions, Two Weeks Notice, and Shrek 2. "Accidentally in Love" from Shrek 2 was nominated for the Best Original Song Oscar in 2005 and played at the Oscar ceremony.
The band is unusual in that it actively encourages the recording of its concerts and the distribution of the resulting bootleg recordings. The band hosts a trading network on its website
to enable fans to swap concert recordings. Fans can also visit an unofficial torrent site, Crowstown
, which offers video and audio bootlegs for free.
The band is also notable for being the first artist to ever be added to the Rate Your Music database, and their first album, August and Everything After, the first album to be added.
---
Current members
Adam Duritz (Lead vocals, piano, primary songwriter)
David Bryson (guitar, mandolin, vocals)
Dan Vickrey (guitar, vocals)
David Immerglück (guitar, mandolin, pedal steel guitar, slide guitar, vocals)
Charlie Gillingham (keyboards, accordion, vocals)
Jim Bogios (drums)
Millard Powers (bass guitar, upright bass, piano, vocals)
Prior principal members
Steve Bowman (drums, 1991-1994)
Matt Malley (bass guitar, vocals, 1992-2005)
Ben Mize (drums, vocals, 1994-2002)
Discography
August and Everything After (1993)
Recovering the Satellites (1996)
Across a Wire: Live in New York City (2-disc collection of live performances recorded for MTV and VH1) (1998)
This Desert Life (1999)
Hard Candy (2002)
New Amsterdam: Live at Heineken Music Hall (2006)
Saturday Nights & Sunday Mornings (2008)
Live from SoHo (an iTunes exclusive album, 2008)
August and Everything After - Live at Town Hall (recorded 2007, released 2011)
Underwater Sunshine (or What We Did on Our Summer Vacation), a Cover Album (2012)
Echoes of the Outlaw Roadshow (live album, 2013)
Somewhere Under Wonderland (2014)
---
Songs, albums, and performances by Counting Crows feature the following tropes:
Having a sense of oneself as an outside observer of one's own experiences is a fairly common symptom of dissociative disorders; a person suffering this disorder may not feel connected to their body or their self.
---