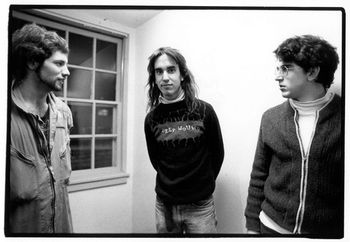 Dinosaur Jr. is an Alternative Rock band from Amherst, Massachusetts that started in 1984, with the following members:
J Mascis, guitars, lead vocals, drums, various other instruments
Lou Barlow, bass and backing vocals
Murphnote , drummer.
They've experienced some lineup instability — Barlow was kicked out in 1989 and Murph in 1991, reducing the band to "J Mascis + other dudes". Mascis eventually retired the name in 1997, but the original lineup reunited in 2005 and has recorded five new albums since then. Barlow went on to feature in Sebadoh and Folk Implosion.
Influenced by Hardcore Punk, Metal, Classic Rock and Alt Rock, they tend to veer all over the musical spectrum.
Discography:
Dinosaur (1985)
You're Living All Over Me (1987)
Bug (1988)
Green Mind (1991)
Where You Been (1993)
Without a Sound (1994)
Hand It Over (1997)
Beyond (2007)
Farm (2009)
I Bet On Sky (2012)
Give A Glimpse Of What Yer Not (2016)
Sweep It Into Space (2021)
---
This band provides examples of:
---