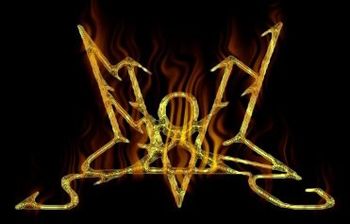 I have...I have been a sword in the hand and
I have been a shield in the fight and
I have been the string of a harp and
I can shift my shape like a god!
Farewell
Summoning was formed in 1993 by drinking buddies Richard Lederer, Michael Gregor and Alexander Trondl, who met in a pub in Austria. They secured a deal with Napalm Records in 1995 and released their debut Lugburz, a traditional Black Metal album that was quite different from their later projects.
Shortly after recording Lugburz, Trondl was kicked from the band for being "a commercial-thinking asshole". Lederer and Gregor continued as a duo, and instead of getting a new drummer changed to keyboard percussion to produce a more epic, atmospheric style. They combined this with low-key guitars and multi-layered synthesizer and keyboard melodies mimicking a full orchestra, while retaining the growling vocals to produce what would become the trademark Summoning sound. Most of their lyrics were inspired by the works of J. R. R. Tolkien, with some songs taking lyrics straight from poems/songs in The Hobbit and The Lord of the Rings. Some of the songs on Let Mortal Heroes Sing Your Fame are also inspired by the works of Michael Moorcock.
They released five more albums in this style: Minas Morgul; Dol Guldur; Stronghold, which put more emphasis on more complex and melodic guitar work; Let Mortal Heroes Sing Your Fame, the first album to feature clean vocal sections; and Oath Bound, characterised by relaxed, arpeggio-style guitars.
Since Oath Bound, both members have taken time out to work on other projects, with Lederer working on music for a full-length release while waiting for Gregor to finish recording the next album for his solo band Kreuzweg Ost.
They announced a comeback in 2012, and the new album Old Mornings Dawn was finally released in summer 2013. The band's eighth album will reportedly be released in 2016, but was later on changed to 2018, to much fanfare.
Their current line-up is:
Richard "Protector" Lederer
Michael "Silenius" Gregor
Former members and session include:
Alexander "Trifixion" Trondl - Drums
Ray "Pazazu" Wells - Guest vocals on Lugburz
Tania Borsky - Guest vocals on Stronghold
David Seys - Guest narration on Old Mornings Dawn
Erika Szücs - Guest vocals on Old Mornings Dawn and With Doom We Come
Their discography is:
Lugburz (1995)
Minas Morgul (1995)
Dol Guldur (1996)
Stronghold (1999)
Let Mortal Heroes Sing Your Fame (2001)
Oath Bound (2006)
Old Mornings Dawn (2013)
With Doom We Come (2018)
---
Summoning and their music provide examples of:
---