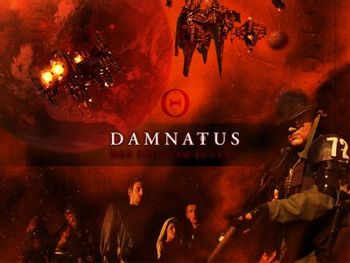 "It is said that there are more daemons lurking in the dark than there are stars shining in the sky. But the day will come when the stars stop existing."
— Daemon Be'wesh G'guor
Damnatus: The Enemy Within
(or to give it its original German name, Damnatus: Der Feind Im Innern) is a fan film set in the universe of Warhammer 40,000. It follows a small team of mercenaries recruited by the Imperial inquisition as they attempt to infiltrate a suspected Chaos cult on the planet of Sancta Heroica. It appears that a rogue inquisitor is behind the cult and is attempting to summon a daemon for his own purposes, but the plot goes deeper than that, and it is not long before the heroes find themselves in way over their heads.
Created "by fans, for fans" by Spharentor studios in 2003, it originally enjoyed the full support of Games Workshop. However during post-production, problems arose over Intellectual Property rights due to differences in British and German copyright law and it was subsequently banned from official release in 2007. However, the movie was leaked onto various torrent sites on the net by an unknown party, and is now widely available on the internet.
Compare and contrast with Ultramarines, the first official Games Workshop movie, and The Lord Inquisitor, another fan-made 40k film.
---
Tropes:
---