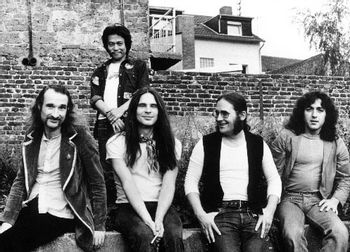 Can was a famous experimental rock band from West Germany active in The '60s and The '70s, known for its eclectic sound and considerable influence on avant-garde, experimental, ambient, Punk Rock, New Wave and electronic music. UK music critics named Can and other German bands' music (such as Neu!, Kraftwerk, and Faust) as Krautrock.
Notably, none of the bandmembers had much experience with rock music when Can was formed in 1968. Bassist Holger Czukay was a classical music teacher (and former student of avant-garde composer Karlheinz Stockhausen) who only became interested in rock after hearing "I Am the Walrus" by The Beatles, guitarist Michael Karoli and drummer Jaki Liebezeit had played in jazz bands, whilst keyboardist Irmin Schmidt (also a pupil of Stockhausen) was an avant-garde classical musician. Similarly, Karoli, born in 1948, was the youngest core member at the time, with Czukay, Liebezeit and Schmidt being all born in 1938, 1939 and 1937, respectively.
Recruiting African-American vocalist Malcolm Mooney, Can recorded their debut album, Monster Movie in 1969. Movie showcased Can's Signature Style, a deeply experimental fusion of Krautrock, Funk and Psychedelic Rock based largely around improvisation (their 20-minute "Yoo Doo Right" was originally a 6-hour improvisation), repetition and Mooney's unhinged stream-of-consciousness ranting. Liebezeit's tribal, funky drumming served as the framework for extended solos by Schmidt, Karoli and Czukay, which would then be edited and spliced together in the studio to form actual songs.
Mooney quit Can soon after Movie, suffering from mental health problems. He was replaced by Damo Suzuki, a Japanese drifter the band found busking in Munich. His wildly varied vocal style (easily switching between cryptic mumbling and outright screaming) and Word Salad Lyrics sung in a variety of languages meshed well with the band's already existent sound. The resulting string of critically acclaimed albums, Tago Mago, Ege Bamyasi and Future Days saw the band abandon any semblance of traditional song structures in favour of free improvisation, embracing constructing songs from tape editing, electronics and worldbeat influences even further. Days is even regarded as an early example of ambient music.
Suzuki left after Days, with vocal duties taken over by Karoli and Schmidt. While their first post-Suzuki album, the ambient Soon Over Babaluma, was well received, the band's critical fortunes decreased as they evolved into an even more conventional style with later albums, even if they managed to obtain a hit single in the UK with 1976's "I Want More". Czukay left in 1977 after being slowly pushed out of the band, replaced by Traffic bassist Rosko Gee and with additional percussionist Rebop Kwaku Baah recruited from the same band. After two more poorly performing albums, Can disbanded in 1979, with a temporary reunion featuring Mooney taking place between 1986-1991. This resulted in a new album, Rite Time, and a contribution to Until the End of the World's soundtrack.
Michael Karoli died in 2001, and Jaki Liebezeit and Holger Czukay died in 2017.
Can's members frequently cited bands such as The Beatles, The Velvet Underground, Jimi Hendrix, Frank Zappa, James Brown, Miles Davis, Karlheinz Stockhausen, Michael von Biel, Pink Floyd and their interest in world music as significant influences on their psychedelic-progressive-funk-rock sound. In turn, they have been cited as an influence by numerous Alternative Rock, post-rock and Post-Punk bands and artists like The Fall, Joy Division, Siouxsie and the Banshees, Public Image Ltd., This Heat, Talking Heads, The Stone Roses, Talk Talk, Primal Scream, Brian Eno, Radiohead, Sonic Youth, The Jesus and Mary Chain, Pavement, The Mars Volta and Black Midi. Talking Heads used their method of piecing songs together from jams extensively on the albums Remain in Light, Speaking in Tongues, and Naked.
Also, Kanye West sampled their song "Sing Swan Song" for his "Drunk and Hot Girls", so you may have heard them from there.
---
Discography:
Monster Movie (1969)
Soundtracks (1970)
Tago Mago (1971)
Ege Bamyasi (1972)
Future Days (1973)
Soon Over Babaluma (1974)
Landed (1975)
Unlimited Edition (1976) - compilation of unreleased material
Flow Motion (1976)
Saw Delight (1977)
Out of Reach (1978)
Can (1979)
Delay 1968 (recorded 1968-1969, released 1981)
Rite Time (1989)
The Lost Tapes (2012)
---
Members:
Holger Czukay - bass guitar, sound engineer, electronics, tape manipulation (1968–77, 1986, 1999, died 2017)
Michael Karoli - guitar, vocals, violin (1968–79, 1986, 1991, 1999, died 2001)
Jaki Liebezeit - drums, percussion (1968–79, 1986, 1991, 1999, died 2017)
Irmin Schmidt - keyboards, vocals (1968–79, 1986, 1991, 1999)
David C. Johnson - reeds, winds, electronics, tape manipulation (1968)
Malcolm Mooney - vocals (1968–70, 1986, 1991)
Damo Suzuki - vocals (1970–73)
Rosko Gee - bass (1976–79)
Rebop Kwaku Baah - percussion, vocals (1977–79, died 1983)
---
Can provides examples of the following tropes:
---