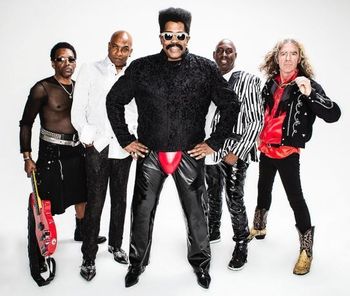 If there's music we can use it if we need to dance,
We don't have the time for psychological romance,
No romance, no romance, no romance for me, mamma,
Come on, baby, tell me what's the word!
— "Word Up"
Not to be confused with The Cameo, Cameo are a Funk-Soul band from New York City. Led by Larry Blackmon, they started in 1974 as the New York City Players before changing their name to Cameo to avoid being confused with the Ohio Players. The group has gone through many lineup changes over the years, with Blackmon being the one constant. Among their most famous songs are "Word Up!," "Candy", and "She's Strange".
---
Trope Up, up, everybody say, when you hear that call you've got to get it underway!
Token White: Of the main lineup, Jeff Nelson is the only member who is white, with the others being black.
Verbal Tic: "Owwww!"
---