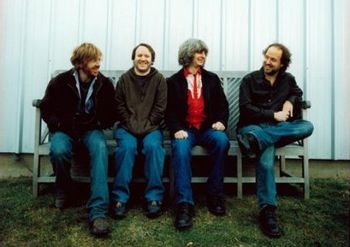 Influences:
Grateful Dead, Frank Zappa, King Crimson, Santana, Jimi Hendrix, The Allman Brothers Band, Stevie Wonder, Genesis, Yes, Gong, Pink Floyd, David Bowie, Talking Heads, Prince, James Brown, Elton John, Little Feat, Brian Eno, Johann Sebastian Bach, Duke Ellington, Miles Davis, John Coltrane, Pat Metheny, John McLaughlin, Sun Ra, The Residents, The Beatles, The Who, Boston, Igor Stravinsky, George Clinton
Influenced:
John Mayer, Umphrey's McGee, Vampire Weekend, Santana (Post-1992), Primus (Post-1994), Bela Fleck (Post-1994), the surviving founders of the Grateful Dead (post-1997), Neil Young (Post-1998), George Clinton (post-2003), Dave Matthews Band (Post-2004), Herbie Hancock (Post-2004)
"There is no greater feeling on Earth than the lights going down at a Phish show. Because you have no idea what the fuck you are in for. Maybe they'll play an 8 hour set until sunrise like 12/31/99
. Or maybe they'll play Pink Floyd's Dark Side of the Moon like they did on 11/2/98
. Or maybe they'll fly over the crowd in a giant hot dog
like they have done on two occasions."
—
Harris Wittels
, in
an e-mail
to Grantland
"As he saw his life run away from him, thousands ran along
Chanting words from a song"
—Phish, "The Curtain"
Phish is a jam band which formed in Burlington, Vermont in 1983. Known for their live shows, they have gained quite a large fan base, especially in the nineties. They have been compared to The Grateful Dead, in terms of just how long they can just go off on a song, fanbase size, having a Ben & Jerry's ice cream flavor named after them, their encouragement of fans taping their concerts, never performing the same songs in the same order during concerts (look it up if you're not convinced), and this and that and other things. Styles differ quite a bit, though. Phish and the Dead are both Psychedelic Rock bands, but Phish's music is also strongly influenced by Jazz Fusion, Funk, Alternative Rock, Post-Punk, Progressive Rock and Classical Music. Phish's other main musical influence is Frank Zappa, from whom they adopted their mix of irreverent humor and technical skill.
Like the Dead and Zappa, Phish only had a few minor hit singles, but were huge as an album and touring band. They were one of the biggest touring acts in the United States in the 1990s, with their fans often travelling to see every show on a tour. The band also had a string of Gold-selling albums, many of which were Sleeper Hits.
Phish consists of Trey Anastasio (lead vocals, guitar), Mike Gordon (bass, vocals), Page McConnell (keyboards, vocals) and Jon "Fish" Fishman (drums, vacuum, vocals), the last of whom is the band's namesake. The band originally included a second drummer, Marc Daubert, and a second guitarist, Jeff Holdsworth, but they left the band in 1984 and 1986 respectively. McConnell had joined in 1985, and Holdsworth's departure solidified the quartet lineup that has remained in place ever since.
Another thing Phish shares with the Dead is that they're best known for their live shows. Like snowflakes, no two Phish concerts are exactly alike (many being not alike at all due to their improvisational styles changing drastically over their tenured career) and you never know what songs you'll hear out the band's exhaustive repertoire
of originals and left-field cover songs. What songs are played and in what order vary with every concert; you are very unlikely to hear the same song in two consecutive concerts or hear them perform those songs in the order they were in a given concert setlist ever again. However, the band does play certain songs together: "Mike's Song", "I Am Hydrogen" and "Weekapaug Groove" form the famed "Mike's Groove" trilogy, though "Hydrogen" is often swapped out for other tracks. The band's regular concert rotation also includes about two dozen songs that they've played for decades but have never appeared on a studio album, and probably never will.
The band toured incessantly through the 1980s and 1990s. Although their studio albums did pretty decently saleswise, the band's rise in popularity and the formation of their ardently devoted following came mostly through their reputation as a live act and the circulation of fan-recorded concert tapes.
In late 2000, Phish went an indefinite hiatus until December 2002. That return was ultimately short-lived, as the band broke up in 2004. They ultimately reunited in 2008 and have been together ever since. Their 2009 reunion tour was one of the top money-making tours of that year. In 2020, the COVID-19 Pandemic cancelled their shows for the year, but in summer of 2021 they were able to start playing live again. These four segments of Phish's career are referred to by fans as the 1.0 (1983-2000), 2.0 (2002-2004), 3.0 (2009-2020), and 4.0 (2021-present) eras.
Phish is also notable for being one of the first musical acts for whom the internet contributed significantly to both their rise in popularity and how their music was spread. The band were fourth musical group (after The Beatles, The Grateful Dead and Bob Dylan) to have a Usenet forum dedicated to them in the early days of the World Wide Web. Phish.net
, which emerged from that forum in 1992, was one of the first pop music websites to appear on the internet. The site is not an official one (Phish has one of those
, too), but the band is aware of its existence and its importance to its fans. Phish.net remains a hub for information (containing setlists and notes for every concert the band has played) on the band and its forums are still the main community for Phish fans on the internet.
Additionally, Phish allows and encourages fans to tape their concerts and circulate them for free, something they picked up from the Grateful Dead and which significantly contributed to the growth of their fanbase. Nowadays, the best-sounding fan recordings for each concert are legally available on streaming services such as Phishtracks
and Relisten
(which also includes tapes for other jam bands).
Studio album discography
Phish (1986, reissued in 1998)
Junta (1989)
Lawn Boy (1990)
A Picture of Nectar (1992)
Rift (1993)
Hoist (1994)
Billy Breathes (1996)
The Story of the Ghost (1998)
The Siket Disc (1999)note
Farmhouse (2000)
Round Room (2002)
Undermind (2004)
Joy (2009)
Party Time (2009)note
Fuego (2014)
Big Boat (2016)
Sigma Oasis (2020)
Live album discography
A Live One (1995)
Slip, Stitch and Pass (1997)
Hampton Comes Alive (1999)
New Year's Eve 1995 - Live at Madison Square Garden (2005)
Live in Brooklyn (2006)
Colorado '88 (2006)
Vegas 96 (2007)
At the Roxy (2008)
Hampton/Winston-Salem '97 (2011)
Chicago '94 (2012)
Ventura (2013)
Niagara Falls (2013)
Amsterdam (2015)
St. Louis '93 (2017)
The Complete Baker's Dozen (2018)
The Clifford Ball (2022)
There's also the
Live Phish
series, in a similar vein as the Grateful Dead's
Dick's Picks
series. Between 2001 and 2003, the band released 20 entries in the series that contained soundboard recordings of particularly popular shows. After 2003, there were seven subsequent Live Phish releases - three popular 2003 shows and all four nights of the band's famed April 1998 Island Tour - that were issued on CD without a volume number.
When the band returned from hiatus in 2002, they set up Live Phish Downloads and began selling official soundboard recordings of every show they played from that point forward. They have also released a hefty selection of archival recordings of concerts or multi-show stands from before the hiatus that were not included in the Live Phish CD series. Typically, they will also issue an archival box set or CD release of some kind every year.
The band also has their own streaming service, LivePhish+
, which features hundreds of shows, including every single one the band has played since their 2009 reunion.
Live DVD videography
Live in Vegas (2002)
It (2004)
Live in Brooklyn (2006)
Walnut Creek (2008)
The Clifford Ball (2009)
Coral Sky (2010)
Alpine Valley (2010)
Live in Utica (2011)
Star Lake '98 (2012)
Phish provides examples of: