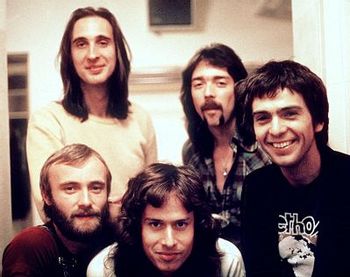 There's too many men,
Too many people,
Making too many problems.
And not much love to go round.
Can't you see this is a land of confusion?
For the video game console, see Sega Genesis. For the Web Game, see Ge.ne.sis (2009)
Genesis is a British band active from 1967 to 2000, with sporadic reunions since then. They went on to become one of the most successful rock bands in history, spanning five decades and selling over one hundred million albums.
Genesis has several distinct eras, though the transitions between them are somewhat more gradual than the popular telling would have you believe. The first period is quite brief, is often forgotten, and is actually a source of Canon Discontinuity; the band writes their first album, From Genesis to Revelation, out of their official discographies entirely and have commented that it only remains in print because they do not control the rights to it, though this is more a case of dissatisfaction with the arrangements than with the songs. (They featured demo versions of several of its songs on a box set they released in the late '90s and have commented that they are primarily dissatisfied with the saccharine production forced upon them by Executive Meddling.) It features some slight Christian themes and has a more relaxed, poppy sound, which might be jarring for fans who got interested in the band during their later years.
The interim period and their second album, Trespass (a transitional album that does not clearly belong to either era, though in sound it hews much closer to their second), have a more pastoral sound occasionally edging into Hard Rock, both provided by guitarist Anthony Phillips.note When asked about it, Tony Banks and Michael Rutherford once said that Phillips' departure had a bigger impact on the band's sound than Peter Gabriel's. The start of the band's second era is actually a source of some debate; the clearest demarcation points are either Trespass or the introduction of guitarist Steve Hackett and drummer Phil Collins to the band.note Arguably, the era begins with Trespass if we are basing our telling on musical style, but with Nursery Cryme if personnel shifts are our primary criterion; many of the major musical traits associated with the band's second era were already clearly established on Trespass.
The first album this new line up produced, Nursery Cryme, saw Genesis, much like other British bands at the time, diving headfirst into Progressive Rock. The albums made during this time are arguably the strongest, the band being at their peak of musical talent and creativity. Opinions differ on whether the definitive album of this era is Foxtrot, Selling England by the Pound or the enormously long, Darker and Edgier double album The Lamb Lies Down on Broadway. The production of The Lamb, however, caused tensions in the band due to Creative Differences. These, in combination with his bandmates' unsympathetic responses to difficulties in his personal lifenote namely him having to take a break from recording and touring with Genesis in order to tend to his wife and newly-born daughter, who had both fallen ill due to childbirth complications, motivated Gabriel to leave the band in 1975.
Gabriel's departure led to about a year of searching for a new lead singer, but after multiple auditions, the band eventually came to the conclusion they already had one: Collins, who not only sounded almost exactly like Gabriel, but also had a wider vocal range. Despite his initial hesitance, Collins was convinced to Step Up to the Microphone, which led to two commercially successful (and fan favorite) records, Trick Of The Tail and Wind And Wuthering. In 1977 after the Wuthering tour, Steve Hackett also left, taking the quartet down to a trio, with Phil Collins firmly, albeit reluctantly, in the role of the Face of the Band.
After fumbling to find a new direction, Genesis released ...And Then There Were Three... in 1978, followed by Duke in 1980, which marked the start of the band's third era, as they broke into the mainstream with a slicker Arena Rock sound, this time to Banks' initial hesitation. The band gradually recreated itself as one of the most successful pop/rock bands of the era, performing to massive audiences, topping the charts several times, and selling albums by the truckload. Most people were introduced to Genesis during this time, and they are most likely remembered for a string of sleek poppy radio hits released between 1983 and 1986, like "That's All", "Invisible Touch", "In Too Deep" and "Land of Confusion", the latter of which even got an iconic music video by the Spitting Image staff.note It is, however, important to note that, despite the band's chart success as a pop/rock band, they continued releasing Progressive Rock songs as album tracks during this period, though these were somewhat less complicated than the band's earlier material. Arguably, even some of the band's hit singles qualify as prog in their unedited album versions, such as "Tonight, Tonight, Tonight", "Home by the Sea", "Abacab", and possibly "No Son of Mine" and "Mama". Phil Collins also had a successful solo career during the time that Genesis was having hits, and his continued solo success eventually led to him leaving Genesis in good terms in 1996, as he wanted more free time to work on his own projects. Unfortunately, the next album following Collins' departure, 1997's Calling All Stations, was poorly received by fans and critics alike, and disappointing sales and poor sales for the associated tour (which prompted the band to cancel a planned US leg) resulted in Genesis unceremoniously dissolving in 2000.
In 2006, Collins, Banks and Rutherford held a massive reunion tour called Turn It On Again, where they were joined by longtime auxiliary members Chester Thompson and Daryl Stuermer. The tour had originally envisioned as a reunion of the classic lineup, but Gabriel couldn't commit to a timeframe to be available, leading Steve Hackett to back out as well (as Gabriel's presence was the sole reason he decided to participate).
In 2009, Phil Collins revealed that spinal problems accumulated during the Genesis reunion tour, caused by sitting irregularly at the drum kit, led to him needing back surgery. He is unable to play the drums or piano properly as a result, and he had to tape his drumsticks to his hands to play them on his Going Back album. He retired temporarily from music in 2011, and in the following years his medical condition improved considerably, to the point where he began embarking on a comeback of sorts in 2015 with a series of reissues of his solo albums (much like Genesis did with their catalogue starting with a series of boxsets in 2007), and returned to performing two years later. A reunion tour
began with shows in the UK and Ireland in late 2021 and ended in March 2022 with a London show that the band billed as its final concert
. While Collins sang during the tour, his health has again declined to the point that he can't play drums at all, and he remained seated for some concerts
. Notably, the tour featured the return of Daryl Stuermer, but Chester Thompson didn't return; instead, on drums was Phil's son Nic, who had also replaced Chester for Phil's comeback tour.
During the final performance of "The Last Domino?" tour, the band announced that it would be the last time they'd play together as Genesis, formally ending the run of one of the most-influential prog-rock groups of all time.
It's impossible to describe Genesis in general terms since the band has always been constantly evolving, but they have a gentle, emotional sense to their music present regardless of era. Genesis has also pioneered several musical techniques during its existence and is often cited as inspiration by other musicians. There are also many Genesis tribute bands, such as The Slippermen, Dusk, and The Musical Box, the latter of which faithfully reproduces early Genesis performances, and is the only Genesis tribute act endorsed by Genesis members.
They were also one of the early adopters of moving light fixtures, taking some of the very first units on the Abacab tour. They actually invested heavily in the company after being shown the first prototype and their manager Tony Smith even suggested the name "Vari-Lite".
---
Principal Members (Founding members in bold, current members in italic):
Tony Banks - keyboard, organ, piano, vocals, mellotron, synthesizer, guitar, pianet, synth bass (1967–98, 1999, 2000, 2006-2022)
Mick Barnard - guitar (1970–71)
Phil Collins - lead vocals, drums, percussion, vibraphone, drum machine, trumpet, tambourine (1970–96, 1999, 2000, 2006-2022)
Peter Gabriel - lead vocals, flute, accordion, bass drum, tambourine, oboe, accordion, percussion, sound effects (1967–75, 1978, 1982, 1999)
Steve Hackett - guitar, kalimba, autoharp (1971–77, 1982, 1999)
John Mayhew - drums, percussion, vocals (1969–70, died 2009)
Anthony Phillips - guitar, vocals, dulcimer (1967–70)
Mike Rutherford - bass, guitar, vocals, cello, bass pedals, sitar, drum machine (1967–98, 1999, 2000, 2006-2022)
John Silver - drums, percussion, vocals (1968–69)
Chris Stewart - drums, percussion (1967–68)
Ray Wilson - lead vocals (1996–98)
---
Studio Discography:
<!—index—>
<!—/index—>
---
Live Discography:
1973 - Genesis Live
1977 - Seconds Out
1982 - Three Sides Live
1992 - The Way We Walk, Volume One: The Shorts
1993 - The Way We Walk, Volume Two: The Longs
2007 - Live Over Europe 2007
---
Tropes of Confusion:
Greatest Hits Album: Turn It On Again: The Hits and its even more comprehensive 2007 Tour Edition, the 2004/2005 Platinum Collection box set, and 2014's R-Kive, which also features songs from each of the individual members' solo projects and side bands. The live albums might also qualify. Averted with the other box sets, which are more like a bootlegger's paradise, with rare live shows, demos, and BBC sessions.
Grief Song: Word of God says that "Since I Lost You" from ''We Can't Dance" is about the death of a child. Apparently it was written for Eric Clapton, whose four-year-old son Conor had died.
Happily Married: Mike Rutherford and his wife Angie have been married since 1976; Tony Banks and his wife Margaret have been married since 1972.note They're also arguably married to the band, since they're the only members who are on every album.
Heavy Mithril: Several songs from the Prog and Transition periods.
Heroic BSoD: Phil Collins admitted to having one of these during the breakup of his first marriage, which is reflected in his contributions to Duke and much his first solo record, Face Value.
Humans Are the Real Monsters: In "A Trick of the Tail", the protagonist ends up being locked in a cage by the humans, dubbed 'creatures', due to the fact that he has horns and a tail.
Humans Through Alien Eyes: "Watcher of the Skies" describes the remains of the extinct human race through the eyes of an alien that has landed on Earth after their destruction.
I Can't Dance: Guess!
Indecipherable Lyrics: More often in the Gabriel era than the Collins era.
I Have No Son!: "No Son of Mine" from the album We Can't Dance.
In Medias Res: Musically, "Land of Confusion" starts with mid-song riffs, as if the song had been played before the listener tunes in.
Intercourse with You: Genesis themselves have "The Musical Box", "Anything She Does" and "Counting Out Time". And that seems to be the subtext, under all the Squick, in "The Lamia".
Instrumentals. Lots. Examples include "Horizons", "After the Ordeal", "Hairless Heart", "The Waiting Room", "Silent Sorrow in Empty Boats", "The Ravine", "Wot Gorilla?", "Unquiet Slumbers for the Sleepers...", "...In That Quiet Earth", "Duke's End", and "The Brazilian".
Insult Backfire: In the video for "Jesus He Knows Me", Phil Collins wears a suit and wig and affects a voice similar to those of American televangelist Ernest Angley, making him a specific target for the song's skewering of televangelism in general. Collins revealed in his appearance on Room 101 that Angley was apparently flattered by his "portrayal".
In the Style of:

In the 2007 interview on the DVD version of A Trick of the Tail, Phil Collins says that "Squonk" is basically Genesis doing "Kashmir". "Vindaloo" by Fat Les is in the same kind of style as Genesis doing "Match of the Day". "Driving the Last Spike" from We Can't Dance has some people wondering "what is this Gabriel-era song doing on their last-but-one album?". "Misunderstanding" is a The Beach Boys type song with a riff almost directly taken from Sly and the Family Stone's "Hot Fun in the Summertime" (and the lyrics are essentially a rewrite of The Beatles' "No Reply"), and "Hold On My Heart" is an attempt at imitating Burt Bacharachnote . "I Can't Dance" was an attempt by Collins to match the singing style of Fine Young Cannibals lead singer Roland Gift.
The historical drama of "Driving the Last Spike" doesn't really echo any Gabriel-era sounds or themes, except for maybe its longer length compared to other songs on We Can't Dance and a couple of time changes, but the song certainly wouldn't look out of place if it had appeared on 1978's ...And Then There Were Three.... On the other hand, the lengthy instrumental midsection of "Fading Lights" could be considered Genesis' re-imagining of their '70s symphonic prog sound for the '90s, though it still sounds somewhat less complex than much of the band's '70s material, owing mostly to its slower tempo. It even incorporates their '70s-era habit of reprising melodic material from an album's first song in its ultimate or penultimate track.
For the song "Afterglow," composed by Tony Banks more or less in the time it took to play it, he recalls playing the song back for the first time and realising in horror that he had just re-written "Have Yourself a Merry Little Christmas." (The melodies aren't exact, which he realised later, but they're still similar).

Ironic Nursery Tune:

Nursery Cryme, specifically on "The Musical Box" - really, it's right there in the title of the album. Gabriel quotes "Old King Cole" at one point, but it's done so in a sinister fashion, given that it's a ghost story about a dead child whose music box summons his ghost... who then rapidly begins ageing and experiencing "a lifetime's desires", as the liner notes put it.
The ending of "The Guaranteed Eternal Sanctuary Man" movement of "Supper's Ready" also contains a children's chorus singing "We will rock you, rock you, little snake / We will keep you safe and warm." It's not really much less sinister-sounding.

Irony: Phil Collins virtually never played the drums and sang at the same time. When inquired about it, he would always cite the dangers of doing so (the microphone has to be placed above and away from the singer in order to not pick up the drums, and straining to reach it can be a very unnatural position) and in particular pointing out the damage that Don Henley had done to his back over the years of doing both. As of 2015, Henley is still touring with the Eagles, drumming about half the band's three-hour-and-change set note , while Collins' back injuries didn't put him in retirement; he just took a 5 year vacation.
Karma Houdini:

John Pebble, the malicious businessman in "Get 'Em out by Friday".
Played with in "Robbery, Assault and Battery". The robber is never caught over the course of the story its lyrics tell, but it ends with him pondering if he will fail to get away with it next time.

Large Ham: Peter Gabriel (complete with theatrical costumes) and Phil Collins.
Lead Bassist: After Steve Hackett left, Mike Rutherford became a variation of a Type B, being the lead guitarist in this case.
Limited Lyrics Song: "Los Endos" only has two lines, sung towards the end, and is otherwise entirely instrumental. (Both lines are reprised from "Supper's Ready" three albums prior). Other songs can also qualify as this; for example, "Fading Lights" has only three verse/chorus cycles in over ten minutes of running time, with roughly seven minutes of the song being instrumental. The "Lurker" half of "Dodo/Lurker" is also an example, as the riddle that makes up the lyrics of the movement is repeated twice and the section has no other lyrics. The nearly-nine-minute "Duke's Travels" features a Triumphant Reprise of the one-and-a-half minute "Guide Vocal" towards the end and is otherwise instrumental.
Literary Allusion Title:

Wind & Wuthering is named in honour of Wuthering Heights. The two penultimate songs on the album derive their titles from the novel's final words. (On some pressings these two songs are combined into one track, with their titles placed back together.)
...And Then There Were Three... takes its title from the same rhyme that gives And Then There Were None its current title.

Long-Haired Pretty Boy: Peter Gabriel during most of his time in the band.
Longest Song Goes Last:

Foxtrot closes with "Supper's Ready" (22:57).
Also, We Can't Dance closes with "Fading Lights" (10:16), which just barely edges out "Driving the Last Spike" (10:09) as the longest song on the album.
At least two other albums also qualify if you consider their Siamese Twin Songs to be a single track:

"The Cinema Show"/"Aisle of Plenty" (12:39) from Selling England by the Pound, and
"Duke's Travels"/"Duke's End" (10:47) from Duke. (In either case, "Duke's Travels" is by some measure the longest song on the album.)
A third case, "Unquiet Slumbers for the Sleepers..."/"...In That Quiet Earth"/"Afterglow" (11:24) from Wind & Wuthering, is arguable. Selling England and Duke are clearly cases where the band just decided, for whatever reason, to separate a long song's coda into its own track, but there's a clear demarcation in the Wind & Wuthering case. The first two of these tracks are instrumental, and "Afterglow" is a fairly straightforward pop song that contains no musical or rhythmic elements in common with the two instrumentals.

Long-Runners: Formed in 1967, touring in 2006 and 2007. Reunion of Gabriel-era line-up for BBC documentary in 2014.
Looks Like Jesus: Mike Rutherford, particularly so in the music video for Follow You, Follow Me. His puppet in the Land of Confusion music video was actually reused as Jesus in Spitting Image.
Loudness War: The 2008/2009 remasters. The 1976-1982 and 1983-1998 sets are absolutely terrible about this and the 1970-1975 set isn't much better. This review of the 1970-1975 box set clearly identifies many of the flaws. Generally, it's recommended to track down an original vinyl pressing or one of the original Virgin/Charisma CDs.
Lyrical Cold Open: Gabriel's A Cappella vocals open Selling England by the Pound.
Lyrical Dissonance:

"Snowbound" from ...And Then There Were Three.... A gorgeously orchestrated song about hiding a dismembered body in a snowman.

Here, in a ball that they made,
From the snow on the ground
See it rolling away, wild eyes to the sky.
They'll never, never know...

"Tonight, Tonight Tonight"
The sprightly tempo of "Harold the Barrel" hides some very macabre humour underneath.
"Turn It On Again", an upbeat pop rock tune about a man who only watches TV all day and thinks the people on TV are his friends.
While Collins chose to do most of the upbeat, peppy songs he wrote with lyrics clearly about his divorce from his first wife on his first two solo albums, some did make it to band albums during that period, including hit singles like "Misunderstanding" and "No Reply At All". "In Too Deep" is a slower, lusher song that fits this category as well.
Not that the band couldn't come up with these on its own in the '80s: "Just a Job to Do" ... a bouncy radio-friendly song from the perspective of a determined hit man; "Illegal Alien", almost goofy music with lyrics about the travails of being an illegal alien, and "Invisible Touch", upbeat pop that's either a warning about a woman to avoid or about how it's entirely too easy to get addicted to cocaine and you'd best not even try it once.

Meet the New Boss:

Implied in "The Knife."
In a way, also present in "One for the Vine", though thanks to a Stable Time Loop, the same person actually serves as both the new boss and the old boss.

Mind Screw: Much of the Gabriel-era material, particularly "Supper's Ready" and The Lamb Lies Down on Broadway.
Mind Screwdriver: The story that Gabriel wrote for the liner notes of The Lamb Lies Down on Broadway.
Miniscule Rocking:

Nursery Cryme has the 1:47 "For Absent Friends" in between the ten and a half minute long "The Musical Box" and the eight minute "The Return of the Giant Hogweed".
Foxtrot has the 1:41 acoustic guitar instrumental "Horizons", leading into the 23 minute epic Supper's Ready.

Modulation: Most of their songs in their symphonic prog era do this frequently; Tony Banks is a master of this. Here is an in-depth, sophisticated analysis from a classical composer who analyses, among other things, several uses of modulation in "Firth of Fifth".
My God, What Have I Done?:

The protagonist of "Dreaming While You Sleep," who hit a girl/woman with his car and drove away.
Also at the end of "One for the Vine".

New Sound Album: While the band is often perceived as having gone from pure progressive rock to pure pop after Hackett's departure, their transition from prog to pop was actually fairly gradual, and they arguably never abandoned prog entirely.

The clearest turning point is probably Duke, which consists of about half prog songs and about half pop songs, and was also when Tony Banks abandoned the Hammond organ and Mellotron for an entirely synthesizer-based sound and when Rutherford switched from mostly 12-string guitar work to a more conventional David Gilmourish tone. The concept suite spread throughout the album (see "Concept Album" above) still has pretty strong prog elements (especially the final two, mostly instrumental tracks).
The prog sound was more fully abandoned on the next album, Abacab, although the title track and "Dodo/Lurker" still had trace elements of the band's prog roots, and the Self-Titled Album finalized the shift, with AllMusic declaring it the point where Genesis were definitively a "pop" band rather than a "prog" band. That said, a few tracks on the remaining "pop" albums also have elements of progressive rock and could be considered examples of what Prog Archives classifies as "Crossover Prog"note .
Meanwhile, the band also had several earlier works that were clearly early attempts at crafting pop singles but were simply too quirky to receive mass airplay ("Happy the Man" from the Nursery Cryme sessions, "I Know What I Like (In Your Wardrobe)" from Selling England by the Pound, "Counting Out Time" from The Lamb Lies Down on Broadway, "A Trick of the Tail" from its eponymous album, etc.); the band's first pop songs to catch on were "Your Own Special Way" (Wind & Wuthering) and "Follow You Follow Me" (...And Then There Were Three...).
Trespass is probably the most straightforward example, since it was much closer to the progressive sound they were eventually famous for than the folksy light psychedelic pop of From Genesis to Revelation.
The band's last album and only album with Ray Wilson, Calling All Stations is another example, due to its more Alternative Rock sound.

Nightmare Face: Phil in the video for "Mama" when he does the Evil Laugh. Also repeated in live performances of the song as well.
Non-Appearing Title: "Squonk", "A Trick of the Tail", "Undertow", "Snowbound".
Non-Indicative Name: The Definitive Edition remasters from 1994 were anything but definitive both then and now, excluding the post-Abacab albums (if only due to their newer nature) and ultimately being supplanted in print by the 2007 remasters. This tends to be a recurring problem for re-releases that call themselves "definitive editions/versions," though with Genesis it tends to get picked at a lot more due to the heavy Loudness War techniques on the 2007 remasters.
Obsession Song:
Older Than They Look: Steve Hackett doesn't seem to have aged a day since he left.
One-Steve Limit: Averted somewhat with Tony Banks, and the band's manager Tony Smith, or the band's other manager, Tony Stratton-Smith. Averted with Anthony Phillips, who goes by "Ant."
Our Monsters Are Different:

"The Return of the Giant Hogweed" and the title track of "A Trick of the Tail".
The Slippermen, again.

Pint-Sized Powerhouse: Most of them. Notice how Mike Rutherford seems to tower over the other members like he's Wilt Chamberlain? He's 6'3".
Poor Communication Kills: Part and parcel of the initial members' boarding/public school upbringing. It took until the recording of Foxtrot for Peter, Tony, and Mike to point out that things were working very well with Phil and Steve — this was after they had toured together for a year and recorded an album together. Similarly, Tony and Mike never really sat down and talked to each other about whether or not to do a post-Phil Collins Genesis album; neither one really wanted to do it, but assumed the other one did. The half-hearted effort is probably the main reason Ray Wilson doesn't have many nice things to say about either one of them these days.
Progressive Rock: One of the big ones. They even maintained a sense of experimentalism during their years of mainstream popularity.
Pun-Based Title:

Selling England by the Pound.
And Nursery Cryme.

Putting the Band Back Together: Turn It On Again: The Tour, the 2006-07 reunion of the '80s-'90s touring lineup.

The tour had originally been planned as a reunion of the classic '70s lineup (the idea was to perform The Lamb in its entirety at at least some of the shows), which Peter Gabriel shot down as he was in the midst of recording his solo record Up.

Real Life Writes the Plot:

"The Battle of Epping Forest" from the album Selling England by the Pound.
Sadly, "No Son of Mine" evidently fits this trope as well.
"Since I Lost You" is less about Collins' life and that of Eric Clapton; the song was written in response to Collins hearing about the death of Clapton's four-year-old son.
Songs on Duke and Abacab written by Phil reflect on his first marriage crumbling. They were written around the same time period as Face Value.
As does "Throwing It All Away" on Invisible Touchnote . The move towards more personal songs is something people have criticised the Phil Collins era for.

Recurring Riff:

Selling England by the Pound opens and closes with the same melody. This is because the two songs (along with the interlinking "The Cinema Show") were originally composed as a single suite, but the band split them up after deciding it was too similar to "Supper's Ready".
The Lamb Lies Down on Broadway, being a Rock Opera, gets in on the action. Most prominently, the Title Track gets a Dark Reprise as "The Light Dies Down on Broadway" (which also uses elements of "The Lamia"), but there are plenty of other examples.
A Trick of the Tail ends with "Los Endos", which reprises elements from "Dance on a Volcano" and "Squonk" (and "It's Yourself," which was cut from the album, though it was used as a B-Side and appears on the band's Archive '76-'91), as well as two lines from the band's earlier song, "Supper's Ready".
On Wind & Wuthering, one of the riffs from "Eleventh Earl of Mar" is reprised in the second half of "...In That Quiet Earth".
From the Duke suite, "Duke's Travels" reprises "Guide Vocal" at the end, and "Duke's End" does the same for the opening riff of "Behind the Lines" and a riff from "Turn It On Again". (Actually, "Duke's Travels") briefly reprises the main melody of "Behind the Lines" after the "Guide Vocal" reprise as well.)
Part of Tony Banks' keyboard solo in the instrumental section of "Fading Lights" (around five or six minutes into the song) is melodically reminiscent of elements from the bridge near the end of "No Son of Mine". It's not exactly identical, but it's close enough that it stands out and provides a sense of Bookends to the entire album (since they're the last and first songs, respectively).

Religion Rant Song: "Jesus He Knows Me" falls under a "Hate the Leaders" type of song. The song is a critique of televangelists, especially the super-preachy types which were common on TV in the 1980s. It paints such people as Moral Guardians who are also raging Hypocrites which constantly ask for money, either as an attempt to buy salvation or to scam gullible people out of their cash.
Rock Opera: "Supper's Ready," The Lamb Lies Down on Broadway, and the suite from Duke (see "Concept Album" above) are the band's most extended forays into this trope, but they never really stopped doing it - see "Driving the Last Spike" and "Dreaming While You Sleep" on We Can't Dance for latter-day examples of mini-rock operas. "Get 'Em Out By Friday", being structured like a play, also can be thought of as one.
Rouge Angles of Satin: The song "Dancing With the Moonlit Knight" and from that song, the line "And all their hands are playing apart", which is usually misheard as "playing a part".
Self-Deprecating Humor: A running joke among the band (at least in interviews and such) is that the main reason Daryl Stuermer was hired with the band as road guitarist was so that he could teach Mike Rutherford how the songs went and they could go on tour. Not too far off the mark, as Rutherford is blissfully musically illiterate, and the band has had to drop at least part of one song (the vocal part of "Cinema Show") because he couldn't remember the tuning he used for it.
Sex Changes Everything: The Slippermen are an extremely literal example of this trope.
"Shaggy Dog" Story: In their prog rock era, it would take a long time for everyone to retune for each piece. While the rest of the band tuned up, Gabriel would recite poetry or tell a long story, which never had anything to do with the next song in the set.

Phil happily continued the practice in his own way. His tales were less surreal and more dirty. He'd tell a story about Romeo and Juliet (the protagonists of "The Cinema Show") and the band would instead play "Supper's Ready" out of left field. Or he'd tell a bawdy story about Albert ("a natural born loser") leading into the Duke suite, but the story had nothing to do with the actual suite (which Phil would lampshade).

Shoot the Shaggy Dog: "The Battle of Epping Forest".

At the end of the song, all the participants in the gang battle are dead, so their accountants settle the dispute with a coin flip.

Shirtless Scene:

Peter Gabriel during the The Lamb Lies Down on Broadway tour.
After taking on lead vocal duties after Gabriel's departure, Phil Collins did this a few times too.

Shout-Out:

"Dancing with the Moonlit Knight" begins in a folk style, probably as a tribute to Genesis' then label-mates Lindisfarne.
"I Know What I Like" mentions The Garden Wall, which was the name of the very first band Banks and Gabriel were in together.
"All in a Mouse's Night" was inspired by Tom and Jerry.
The song "Blood on the Rooftops" has the line "The grime on the Tyne is mine all mine all mine", referencing Lindisfarne's famous "Fog on the Tyne".
The video for "Tonight, Tonight, Tonight" is one long Shout-Out to Blade Runner.
Phil is singing "There's an angel standing in the sun, free to get back home" in the end of "Los Endos", a shout out/tribute to Gabriel, paraphrasing "Supper's Ready".
The band rehearsed "Dancing with the Moonlit Knight" for the 1981–82 Abacab tour. Phil took the line, "'Paper late,' cried a voice in the crowd" and used it to title the much shorter and funkier 1982 Three Sides Live studio track "Paperlate".
The music video for "I Can't Dance" spoofs the infamous ending of Michael Jackson's "Black or White" video.

Shown Their Work: Most of the facts about the Giant Hogweed are accurate. Well, apart from its invulnerability, sentience and desire for revenge...
Siamese Twin Songs: Several examples: "The Cinema Show" -> "Aisle of Plenty", a bunch of songs on The Lamb Lies Down on Broadway, "Unquiet Slumbers for the Sleepers..." -> "...In That Quiet Earth" -> "Afterglow", "Duchess" -> "Guide Vocal" (although "Guide Vocal" is frequently cut out when "Duchess" is played on the radio, due to the latter's release as a single), "Duke's Travels" -> "Duke's End", "Home by the Sea" -> "Second Home by the Sea" (though, similarly to the "Duchess" example, "Home by the Sea" was released as a single), etc. "Dodo/Lurker" could be considered another example, although it's indexed as one track.
Sixth Ranger: When Phil Collins stepped up to be the band's lead singer for 1976's A Trick of the Tail, Genesis hired Bill Bruford as the band's second drummer on the album's promotional tour to allow Phil to step away from his kit. Bruford was replaced by former Frank Zappa/Weather Report drummer Chester Thompson in 1977, who stayed as the band's live co-drummer till 1996, then returned for the trio lineup's reunion tour of 2007. Guitarist/bassist Daryl Stuermer joined in 1978 for their live shows when Steve Hackett quit.

Steve Hackett's brother John Hackett worked as an uncredited songwriter and arranger for the group on Foxtrot, Selling England by the Pound and The Lamb Lies Down on Broadway.
Brian Eno's contributions on The Lamb Lies Down on Broadway. There is a disagreement about how involved he was, with Peter Gabriel, Phil Collins and Steve Hackett saying he was very involved, while Tony Banks believes his contributions were minimal.
The Ray Wilson era saw Anthony Drennan replace Steurmer and Nir Zidyahu replace Thompson for the short Calling All Stations tour.
The 2020 reunion tour will feature Phil Collins' son Nic (who also played on Phil's Not Dead Yet your) behind the drums in addition to longtime touring guitarist Daryl Steurmer.

Smoking Is Cool:

Rutherford throws a cigarette up in the air, catching it with his mouth in the video for "Illegal Alien".

Solo Side Project:

Steve Hackett recorded his first solo album, Voyage of the Acolyte, before he left Genesis and was thus the first member to launch a solo career.
Tony Banks was the second to go off and produce his own solo material while still with the band. He put out a series of modestly successful rock albums before deciding to have a go at orchestral music and discovering that his orchestral material sold better.
Phil Collins started his highly successful solo career in 1981, having amassed a sizeable amount of material after his first marriage broke apart. At the same time, Genesis hit the mainstream with Collins still as their drummer and lead singer. That way, it was pretty much impossible to avoid his music in The Eighties. It wasn't until the late Nineties that Collins left Genesis.
Mike Rutherford recorded two solo albums before forming his own Solo Side Project, Mike + the Mechanics. Mike + the Mechanics turned out to be a respectably successful act in its own right.
Genesis' former and gone-for-good lead singer Peter Gabriel began looking into solo projects while still with the band, but only began pursuing a solo career after formally leaving.

Step Up to the Microphone: One of the most famous examples, with drummer Phil Collins taking over as lead vocalist after Peter Gabriel's departure. (Ironically given how long Genesis searched for a replacement for Gabriel, some listeners have had trouble even distinguishing Collins' voice from Gabriel's.)

Even during the Gabriel era, Collins sang lead on "For Absent Friends" (from Nursery Cryme) and "More Fool Me" (from Selling England by the Pound). His voice also dominates the mix of "Harlequin" (also from Nursery Cryme; may actually be a case of Self-Backing Vocalist), and he sings a few lines in "The Colony of Slippermen" (from The Lamb Lies Down on Broadway) to represent Rael's brother John. He also provides backing vocals on several other songs from the Gabriel albums and can be clearly heard once listeners have learned to distinguish his voice, particularly on headphones.
Tony Banks and Ant Phillips provide a few lines of lead vocals on "Shepherd" and "Let Us Now Make Love", respectively, on the first Genesis Archive box set.
Bizarre example from Hackett's solo career: his first two albums largely relied on guest stars, but for the Spectral Mornings and Defector albums, Hackett had a stable band including Pete Hicks on lead vocals. However, Hackett himself sings lead on "Ballad of the Decomposing Man". Starting with his next album, Cured, Hackett would start singing most of his songs himself.
Another Hackett example: Nad Sylvan was the nominal lead vocalist on the "Genesis Revisited" tour, along with some special guests, but drummer Gary O'Toole sang "Fly on a Windshield"/"Broadway Melody of 1974" and "Blood on the Rooftops".

Synth-Pop: A small number of tracks from the band's "pop" period are classifiable as this, being primarily synthesizer-driven with an emphasis on the alien qualities of the instrument's sound; "Man on the Corner" off of Abacab is probably the most prominent example.
Take That!:

The Peter Gabriel solo song "Solsbury Hill" is about his departure from Genesis. Word of God confirms this.
Many fans also feel that way about Ray Wilson following Phil Collins as lead singer.
"Land of Confusion" isn't particularly subtle given that the video contains unflattering caricatures of Ronald Reagan by the creators of Spitting Image (the video actually contains numerous caricatures of contemporary politicians and celebrities, but focuses mainly on Reagan). The lyrics themselves are more subtle but still, if you read between the lines, make it pretty clear that the band aren't too pleased with Reagan or Margaret Thatcher.
Many of the We Can't Dance songs are attacks of one form or another: "I Can't Dance" ridicules stylistic, male model-heavy Dada Ads selling blue jeans (Phil felt the backing track sounded like an artsy/trendy Levi's ad, and the illustration shows a man wearing blue jeans, taken from his backside); "Living Forever" mocks self-help trends, new age philosophies and fad diets; "Tell Me Why" criticizes wealthy governments for doing too little to help poverty and hunger; "Jesus He Knows Me" skewers the hypocrisy of wealthy, money-grubbing televangelists (especially Ernest Angley - who, Phil was disturbed to learn, was flattered by the song); etc.
Half of the video interviews on the 2007 box set consist of band members (particularly Peter and Tony) "good-naturedly" taking potshots at each other's playing and songwriting style. Gabriel in particular still seems raw about the rifts that opened up between him and the band when recording The Lamb Lies Down on Broadway.

Technician vs. Performer:

Phil Collins (Performer) vs. everyone else in the band when he joined (Technician). Pretty much everyone acknowledges that the original line-up, as public schoolboys who were forbidden from playing rock music, were quite stiff and exacting about their music when Collins joined. Collins, on the other hand, had been a professional performer since he was a young child and was much livelier on stage. The band credits Collins' arrival with helping loosen things up and getting them moving towards their Classic Five sound.
Steve Hackett (Technician) vs. Daryl Stuermer (Performer). While Hackett is a brilliant guitarist who can play any style, he can be a little stiff and sticks mainly to the music as it's written. Stuermer, on the other hand, is looser and is able to play around with the music to give performances a new twist.

To Absent Friends: The song "For Absent Friends".
Those Two Guys: Peter Gabriel and Tony Banks have this kind of relationship, even after Gabriel left the band.
Tomato in the Mirror: We discover at the very end of The Lamb Lies Down on Broadway that

Rael and his brother John, whom he's spent the entire album chasing,

are actually the same person.

Hang on,

John

! We're out of this at last

Something's changed, it's not your face

It's

mine

!

Also "One for the Vine", when the time-travelling protagonist realises that his own actions caused his past self to become disgusted and walk off before vanishing into the past. See The Chosen One, God Guise, and Heel Realization above.

Troperiffic: Despite the relatively short length of the lyrics for "One for the Vine" (fairly long by rock standards, but it wouldn't even quality as a short story if it were prose), it manages to pack in a fairly substantial number of tropes. See the number of times it's mentioned on this page as proof.
True Companions: Banks, Collins, and Rutherford are this as a trio, having been friends for over five decades.
Two-Person Pool Party: Or in this case, Rael and three Lamia.
Uncommon Time: "Turn It On Again" is in 13/8 time. Beyond that, bizarre meters were used liberally during their prog rock days.

Again, the solo in "Cinema Show" which is in 7/8, as is (almost) all of "Dance on a Volcano."
"Apocalypse in 9/8" is in, well guess, as are "Riding the Scree" and the first half of the instrumental "...In That Quiet Earth". The instrumental midsection of "Robbery, Assault and Battery" is in 13/8 (subdivided into a bar of 7/8 followed by a bar of 6/8).
The Tony Banks piano intro to "Firth of Fifth" switches between 2/4, 13/16 and 15/16.

Unreliable Narrator: "Rael" is practically made of this trope.
Unreplaced Departed:

When Steve Hackett departed in 1977, the other members decided to proceed as a trio, instead. Mike Rutherford took over lead guitar duties on post-Hackett albums and Daryl Struemer was hired to play Hackett's parts on tour.
Phil Collins tried to invoke this after Peter Gabriel left Genesis, suggesting that they retool themselves into an instrumental group. The others voted him down and eventually convinced him to Step Up to the Microphone.

Vaudeville Hook: Almost. At the end of both the "I Can't Dance" and the "Jesus He Knows Me" music videos, Mike and Tony come in from offscreen to drag Phil away.
Vocal Tag Team: When both Peter and Phil were in the band.
A World Half Full: "Land of Confusion".
What Happened to the Mouse?: The Lamb of The Lamb Lies Down on Broadway is mentioned only once, and then...
Word Salad Lyrics: "Willow Farm", which is part of "Supper's Ready".
The X of Y: "Land of Confusion", "Ballad of Big", "The Fountain of Salmacis", "The Colony of Slippermen", "Eleventh Earl of Mar".
Xtreme Kool Letterz: Nursery Cryme, R-Kive, "A Visit to the Doktor".
---
It's only knock and know all, but I like it.
---