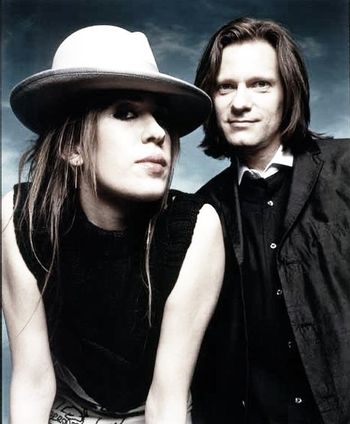 Frou Frou are an English duo who formed in 2001. The duo consisted of Imogen Heap and Guy Sigsworth, both of whom wrote the lyrics and played instruments on the tracks, while Heap provided the vocals.
They only released one album, Details (2002), which spawned four singles: "Breathe In", "Must Be Dreaming", "Let Go" and "It's Good To Be In Love". Despite its critical acclaim, the band saw the album's meager financial returns as a disappointment.
In 2003, they announced an amicable split, reforming briefly the following year to record a cover of "Holding Out for a Hero" for Shrek 2. A Colbert Bump from the film Garden State's usage of the duo's song "Let Go" spurred more uses and recognition of their music throughout the 2000s.
The band stayed inactive until 2018, when they embarked on a reunion tour in conjunction with a solo Heap tour. On April 19, 2019, a live recording of one of two singles unreleased at the time of their breakup ("Guitar Song") was released — marking their first song release in 15 years.
---
Frou Frou provides examples of the following tropes:
---