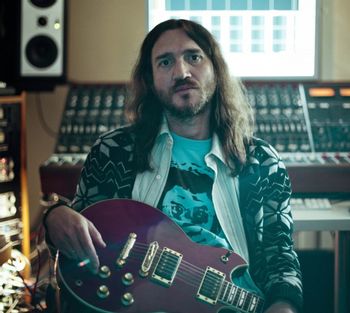 Influences:
Red Hot Chili Peppers, The Mars Volta, Wu-Tang Clan, Duran Duran, Johnny Cash, Jimi Hendrix, The Beatles, Captain Beef Heart, Fugazi, Frank Zappa, Sonic Youth, David Bowie, Depeche Mode, George Clinton, King Crimson, Black Flag, The Clash, The Sex Pistols, Randy Rhoads, Led Zeppelin, Joy Division, Black Sabbath, Lou Reed, Gang of Four, Cat Stevens, Lead Belly, Syd Barrett, Van Halen, Tim Buckley, David Bowie, Tom Petty, Aphex Twin, Elvis Presley, The Bee Gees, Donna Summer, Pink Floyd, Simon & Garfunkel
John Anthony Frusciante (born March 5, 1970) is an American musician, best known for being the most famous guitarist of Red Hot Chili Peppers (from 1988-1992, then from 1998-2009 and from 2019 onwards). His solo work is markedly distinct from that of the band's, for it's extremely experimental, psychedelic, and acoustic. In recent years, he has moved into terrains of electronica, synthpop, and acid house. While initially introverted in his younger days, he has since opened up and begun an immensely prolific career and collaborated with a wide variety of artists, while remaining both humble and spiritual.
His career began when he joined the Chili Peppers in 1988, at the tender age of 18, following the death of guitarist Hillel Slovak and the departure of drummer Jack Irons. From 1988 to 1992, he recorded two albums with the band: Mother's Milk and Blood Sugar Sex Magik. The latter is considered to be the band's breakout album and propelled its four members to the mainstream, thanks to chart-topping singles such as "Give It Away" and "Under the Bridge"... much to the displeasure of the young guitarist.
Frusciante became disillusioned with the continual pressures of constantly being under the spotlight and in the public eye. He began abusing marijuana, and he became unconcerned with his band members and their future. In 1992, he quit the band mid-tour, and, having entered a deep depression, became dependent on heroin while producing tracks that he created during his time with the Chilis. He released his first solo album, Niandra Lades & Usually Just A T-Shirt, in 1994.
He gave a few interviews to promote the album, but wound up revealing just how bad his condition was: he lost a ton of weight, his teeth decayed, he had dark circles under his eyes, and came severely close to overdosing ‒ twice. He even burned down his house by accident and lost many of his guitars and tapes. A Dutch broadcasting company, VPRO, filmed a documentary about him, most of which can be seen here
. Johnny Depp and Gibby Haynes even made a short film about the squalor in which he lived.
His second solo album, Smile from the Streets You Hold, was released in 1997, initially under the intention to support his drug addiction. However, he decided to check into rehab that same year and quit drugs and sex cold turkey. Frusciante began immersing himself in yoga, eating healthily, and dedicating himself to self-discipline. He underwent massive jaw surgery as well and needed extensive skin grafts, because of his numerous infections and improper drug usage. He then reconciled with Anthony Kiedis, Flea, and Chad Smith, his former band members, and rejoined the Chili Peppers in 1998. The reunited band released its internationally-acclaimed seventh album, Californication, in 1999, and the guitarist has since been healthy and happier than ever before.
But his solo career didn't stop there. In 2001, Frusciante released his third solo album, To Record Only Water For Ten Days, along with his fourth album, From the Sounds Inside, under the insistence of his Internet fanbase. He became much more prolific during this era, producing dozens of songs even while constantly touring and producing new songs with the Chili Peppers. In 2004, Frusciante released five distinct solo albums, an EP, and the soundtrack for the film The Brown Bunny. Frusciante collaborated frequently with a young guitarist named Josh Klinghoffer, who even co-wrote his eighth album A Sphere in the Heart of Silence, and established a close friendship with him.
In 2009, he released his tenth album, The Empyrean. After having recorded two more albums with the Chilis (2002's By the Way and 2006's Stadium Arcadium), he decided to quit the Chili Peppers that year for a second time, this time on good terms with the rest of the members. The band replaced him with Klinghoffer (the logical step, given their similarities).
Frusciante has since released two more studio albums and three more EPs, both under his own name and his alias "Trickfinger". In 2011, he married Nicole Turley, of Swahili Blonde and Kimono Kult fame, and plays the guitar for his wife's various projects. He has contributed guitar work on almost every The Mars Volta album and even collaborated with its guitarist, Omar Rodríguez-López, on a few of the latter's solo albums. He has recorded albums with temporary bands such as Ataxia and Speed Dealer Moms and he has produced a few albums for Wu-Tang Clan affiliates Black Knights, and has been associated with older acts such as Duran Duran, Fishbone, and Johnny Cash. He no longer likes to perform live, preferring instead to spend his time in recording studios.
In 2012, he was inducted into the Rock and Roll Hall of Fame along with the rest of the Red Hot Chili Peppers, but didn't attend the ceremony to accept his award because he wanted to move on from the band and concentrate on his work. Indeed, John Frusciante has certainly left a considerable influence on the music industry, both spiritually and through his technique, and continues to forge new paths to expand and diversify his work...at least, until he decided to rejoin Red Hot Chili Peppers in 2019.
Studio Albums
Niandra Lades and Usually Just a T-Shirt (1994)
Smile from the Streets You Hold (1997)
To Record Only Water for Ten Days (2001)
From the Sounds Inside (2001)
Shadows Collide with People (2004)
The Will to Death (2004)
Inside of Emptiness (2004)
A Sphere in the Heart of Silencenote (2004)
Curtains (2005)
The Empyrean (2009)
PBX Funicular Intaglio Zone (2012)
Enclosure (2014)
Maya (2020)
EPs
Estrus EP (1997)
Going Inside (2001)
The Brown Bunny (2004)
DC EP (2004)
Letur-Lefr (2012)
Outsides (2013)
4-Track Guitar Music (2015)
Foreglow (2016)
"Trickfinger" works
Sect in Sgt (EP) (2012)
Trickfinger (2015)
Trickfinger II (2017)
Look Down, See Us (EP) (2020)
She Smiles Because She Presses the Button (2020)
Tropes concerning John Frusciante and his solo material:
Album Title Drop: On the Title Track of Smile from the streets you hold, although it's a strange example - the title comes from parts of two lines, instead of a single one like usual.

You're a smile from the streets

You hold my heart in my hands while I'm beat

Arc Words: He really likes the word 'time', having songs such as "Time Is Nothing", "Time Goes Back", "Time Tonight" and "Time Runs Out", as well as the Red Hot Chili Peppers song "Time".
Bait-and-Switch: There's an old joke on the Internet that goes, "Why do people keep comparing John Frusciante and Jesus? I mean, he's great and all... but he's not as good as John Frusciante."
Break-Up Song: "Song to Sing When I'm Lonely" was written during his relationship with Milla Jovovich, who began to drift away from him.
Call-and-Response Song: "The Will to Death", which is actually more about how he justifies wanting to stay alive.
Celibate Hero: He abstained from sex since his recovery. Anthony Kiedis (the Chili Peppers vocalist) even noted in his autobiography that John was a total dick to women in his younger days, but treated them with respect since his return to the band.
Colour-Coded for Your Convenience: To Record Only Water In Ten Days deliberately uses the same blue and orange colour scheme on its cover that Red Hot Chili Peppers used in their Californication period, in order to attract fans who might otherwise overlook it.
Concept Album: To Record Only Water For Ten Days refers to the ten separate instances during which he wrote all the songs on the album. He even stated in an interview that he sort of envisioned his body as a tape recorder, with the water of life cleansing and rejuvenating him after his drug addiction.

Also, The Empyrean, which Frusciante describes is a story about spirituality and ancient ideas of god.

Dude Looks Like a Lady: In his younger years, before he grew a beard John had quite androgynous features. He also liked experimenting with makeup, and made for a decently convincing woman in some pictures.
Darker and Edgier: His 2004 albums are significantly more depressing than his 2001 albums. This is because the latter ones were written during his rehabilitation, when he felt mostly optimistic about his future, and the former ones were written while he experimented more with various effects.
Distinct Double Album: Niandra Lades & Usually Just A T-shirt, his first album and his last double album. He actually meant to release two separate albums ‒ Niandra Lades and Usually Just a T-Shirt, respectively ‒ but Frusciante, convinced that he was going to die young, decided to combine the two. This is why the entire second half of the album is filled with "Untitled" tracks: he was in a hurry to get the material released before he figured his heroin addiction would kill him. Thankfully it didn't.
Echoing Acoustics: Frusciante is a big fan of layering tracks and synthesizers on top of one another, which is a big part of his recent leap into electronica and synthpop.
Epic Rocking: He's not afraid of breaking the five minute mark. Sphere, out of A Sphere In The Heart Of Silence, is a notorious example. The original recording was over 30 minutes long and had to be edited to "just" 8, otherwise it wouldn't fit on vinyl.
Evolving Music: As mentioned above, he's gone from acoustic psychedelia to electronic... acid house? Either way, it sounds pretty cool.
Fan Disservice: The music video for "Life's A Bath," off of his second album. It consists entirely of Frusciante injecting heroin into himself with a syringe. It's even more horrifying when you realize that he isn't necessarily sticking the needle into a vein, but extremely haphazardly into a random spot in his arm. It's a wonder how he didn't contract a debilitating infection sooner.
Genre Roulette: Especially during 2004. Shadows Collide With People is heavily processed, but he released an acoustic version of the album as well. His other albums pretty much follow suit.
God Is Love Song: "God" from The Empyrean.

People

You blaspheme my name

But still I love you

I love you just the same

Grief Song: "Smile From The Streets You Hold" was written for a friend with whom Frusciante was collaborating, before he died in a car accident. Also, two songs on that album, "Height Down" and "Well I've Been," were written with the actor River Phoenix before his death.
He Cleans Up Nicely: It's nothing short of a miracle that John, over just a year went from a emaciated heroin addict to every bit as healthy as he was before, while kicking said addiction and re-learning guitar at the same time.
Heterosexual Life-Partners: He and Klinghoffer, especially since the two collaborated very frequently during the 2000's. Frusciante even said in an interview that he trusts the young guitarist more than anyone else in the world.

Also, he and Flea. Frusciante dedicated his first album to Clara, Flea's daughter, who was six at the time. Flea named him as the godfather of his second daughter, Sunny Bebop.

Iconic Item: His vintage Fender Stratocasters. Famously, the first guitar he got after surviving his addiction, on behalf of Anthony Kiedis.

In his solo career he's mostly stuck to Yamaha guitars, when he uses a guitar, that is.

Instrumentals: He has a ton, but his most famous one is probably "Murderers."
Loudness War: Especially in his albums made in 2001. This is because he recorded the tracks digitally before producing them through analog, which rendered them mostly clipped and distorted. Vowing not to repeat the same mistake, he spent over $150,000 to produce his next album, Shadows Collide With People.
Looks Like Jesus: Damn straight, just look at the picture above! Sort of fitting really, given he quite literally went through hell and lived.
Metal Scream: Quite often. The most extreme case happens on "Nigger Song", where he screams so loud, it distorts the whole audio.
Misogyny Song: Ironically, "Femininity", with lyrics such as "Relieve your cock on your beloved wife", "But you see I'm gonna cum down a feminine's throat", and "And you just have waste/And you just have waste". Lovely.
Morality Ballad: "Going Inside," which is more about how to live life better through meditation.
New Sound Album: Frusciante's first three albums had been based around guitar, drum machine and vocals. He wanted to make a solo album with a full band, and did, in "Shadows Collide With People". To provide an alternative for fans, he also released an acoustic version of the album.

Frusciante came out of semi-retirement in 2012 to release the "Letur-Lefr" EP and "PBX Funtaglio Zone" album which were in a brand new electronic style of retro synth sounds and drum and bass beats. They didn't feature much guitar and tracks were frequently instrumental. Frusciante's follow up releases are a fusion of this style with his earlier guitar style. Understandably, these releases led to a Broken Base amongst fans, especially as fans were eager to hear more material after he left Red Hot Chili Peppers. Frusciante said that he got bored of his older style.

Non-Appearing Title: Notoriously on the early tracks, such as Mascara, Ten To Butter Blood Voodoo, Height down and Estress
One-Word Title: Save for the first one, all tracks of Enclosure.
Self-Backing Vocalist: He does this a lot, given his impressive vocal range from a gravelly tenor to a squeaky falsetto.
Softer and Slower Cover: Frusciante's cover of Bad Brains' "Big Takeover" from Niandra Lades and Usually Just a T-Shirt turns the original (a frantic hardcore punk song) into a Led Zeppelin-style acoustic ballad with guitar and mandolin. Frusciante said that one of his favorite things to do at the time was to walk around and sing hardcore punk songs slowly and melodically.
Something Something Leonard Bernstein: "Your Pussy's Glued to a Building on Fire". It's difficult to understand the rest of the lyrics in that song besides those of the title.
The Something Song: "Nigger Song", "Prostitution Song", "Dying Song", "Wednesday's Song" "Song To Sing When I'm Lonely", "Song To The Siren" (though this is a Tim Buckley cover), and a variation in "The Last Hymn."
Starving Artist: Especially so in his VPRO interview. It's sort of pathetic how the young guitarist glorified his addiction and lack of health.
Teen Genius: Frusciante described that during his teens, he would often sit in his room for hours on end playing guitar and writing music, which led to his success at a very young age.
Vocal Tag Team: Did this a few times with Josh Klinghoffer. He even sings three songs on Sphere and provides backing/lead vocals on songs such as "Omission" and "—00Ghost27".
Word Salad Title: PBX Funicular Intaglio Zone.