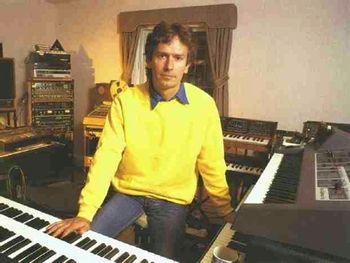 Anthony George Banks (born 27 March 1950) is a founding member and the keyboardist of the rock band Genesis. He is actually the only original member left in the band, with Mike Rutherford having come aboard after Banks and Peter Gabriel's founding of the band The Garden Wall. He appears to be responsible in large part for some of their weirder post-Peter Gabriel tunes as well as the more fancy ones.
While he never was the Face of the Band, he's recognized for having authored many of its more important tunes and being (along with Rutherford) its only constant member. His creative peak could be said to be the albums A Trick of the Tail and Wind & Wuthering, where he has a majority of the writing credits and contributed large expansive pieces such as "One For The Vine" or "Mad Man Moon". In the Phil Collins era, he was still recognized as a writer for "long songs", notably "Domino" and "Home by the Sea". While he enjoyed giving a song breathing space and certainly did so when you let him, he did recognize that being able to create a song with a few basic chords and adequate lyrics can often be enough, and contrary to what is often new fans' first instincts didn't consider the pop turn of Genesis as a negative.
The other notable aspect of his career is that he is the only Genesis member to have failed his solo career. Phil Collins became a titan of the 80's, only second to Michael Jackson in sales. Peter Gabriel similarly cast an intimidating shadow. While Mike Rutherford didn't have much success with his first two albums, he did assemble Mike + the Mechanics and remained a major figure in the 80's, even restarting the machine in the 21st century. Meanwhile, Steve Hackett remains a respected figure in the Progressive Rock community and continues to release albums generating a lot of buzz. However, Banks never managed to get off the floor in spite of trying a lot of things, including synthpop.
His main solo albums include:
A Curious Feeling – 1979
The Fugitive – 1983
Bankstatement – 1989
Still – 1991
Strictly Inc. – 1995
Seven: A Suite for Orchestra – 2004
Six Pieces for Orchestra – 2012
5 - 2018
Other albums include:
The Wicked Lady Soundtrack – 1983
Soundtracks – 1986
---
Tony Banks and his music provide examples of these tropes:
---