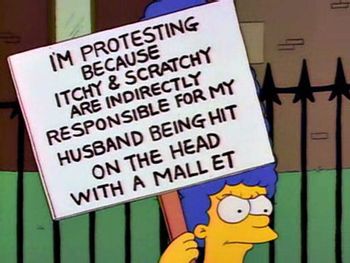 "
There is perhaps no phenomenon which contains so much destructive feeling as moral indignation, which permits envy or hate to be acted out under the guise of virtue.
"
— Erich Fromm
People, stereotypically either conservative Holier Than Thou Bible thumpers or touchy-feely liberals, who believe that children — or people in general, but especially children — shouldn't be exposed to what they consider to be excessive violence, "perverted" minorities, sex, foul language, alleged support for the "patriarchy", any negative depiction of somebody in an ethnic minority, laziness, etc. The exact mix of what they object to varies from group to group, but in any case, expect them to be portrayed as Indubitably Uninteresting Individuals who despise anything others find to be fun and exciting.
The term "Moral Guardians" specifically describes people who take this attitude beyond the pale as zealous, absolute purveyors of the moral code, and the arbiters of what is best for everyone. Usually, they are self-appointed, and in the case of groups, have been known to claim vastly larger memberships than they actually have.
They frequently complain to the nearest Media Watchdog, often using astroturfing to lend illusory weight to their complaints. If they gain enough influence, they can incite full-blown moral panics. Bonus points if they are also The Fundamentalist, allowing them to compare the thing they're bashing negatively to religion and The Bible, which ironically has many of the same things these people complain about and more.
The Culture Police are sometimes Moral Guardians taken to a satiric and/or frightening extreme. The Bluenose Bowdlerizers are a form of Moral Guardians in our midst. Moral Guardians are often responsible for a work being Banned in China or calling something a "Murder Simulator".
Very prone to Activist-Fundamentalist Antics, Black-and-White Insanity, and Condescending Compassion. Compare It's Not Porn, It's Art, sort of the inverse of this trope in which a character tries to pass off porn as a work of art.
---
Examples:
open/close all folders
Anime & Manga
The Story Between a Dumb Prefect and a High School Girl with an Inappropriate Skirt Length: The High School Public Morals Committee, especially Vice President Kogori, is opposed to any "inappropriate student relationships". To Kogori, that means pretty much any relationship or physical contact, while Sakuradaimon tries to rationalize that if the couple is really in love, the relationship can't be inappropriate,

partially to justify his relationship with Poemu

. When the school cultural festival announces its main event will be a prom-style dance, Kogori acts like a Drill Sergeant Nasty to the committee, charging them with preventing anything "impure" from happening (like *gasp* couples holding hands).
Comic Books
The Watchdogs in Marvel Comics are an extremist satire. A terrorist organization at least partially led by the Red Skull, they oppose pornography, obscenity, sex education, abortion, homosexuality, and the teaching of evolutionary theory, but choose to express their beliefs through morally questionable (and outright evil) methods, including vandalism, arson, intimidation, assault, kidnapping, brainwashing, and murder, and are most often foes of Captain America.
The Crusader, a fundamentalist who believes that the church should become more active in fighting paganism and godlessness in modern society, is a satire. His methods are questionable at best and include murder. His actions have led to his defeat (and usually humiliation) at the hands of Thor, the Black Knight, Nate Grey, Doctor Strange, and Wolverine, the last one costing him an eye.note Since that defeat, he wised up, preferring to stay in prison than accept the Hood's invitation to participate in the Civil War.
Film — Live-Action
Literature
Ray Bradbury's dystopian novel Fahrenheit 451 blamed these people for the slow chipping away at free speech that led to all books being banned. Naturally, the book has found itself challenged as often as Harry Potter, never mind the irony in banning a book about book banning.
The short story "The Toys of Peace" by Saki deals with this trope, and is based on an actual 1914 London newspaper story. In short, the Moral Guardians of the story are worried that giving young boys army figures and other war-themed toys would encourage them to be violent, so instead they propose "peace toys" which are miniature civilians in front of the civil buildings (i.e. the YMCA) holding the tools of industry. When the narrator presents these toys to his nephews, the boys simply adapt the buildings for their existing military figures and play war games anyway.
The Catcher in the Rye: The Jerk with a Heart of Gold main character finds the word "fuck" scrawled where young children can see it, and takes it upon himself to protect an innocent public by blotting it out. Censors reacted identically.
The Last Hurrah features Roger Sugrue, an upwardly-mobile, Harvard-educated Roman Catholic who pesters the Cardinal and makes it his personal business to decide what is and is not acceptable behavior for other Roman Catholics. The Cardinal, while he mostly agrees with Sugrue's assessment of such situations, nonetheless finds Sugrue to be an obnoxious ass in person.
This kicks off the main plot in Vivian Vande Velde's Heir Apparent novel. The titular character spends her birthday present (a gift certificate) going to a virtual reality video game arcade that is presently being picketed by a group called the Citizens To Protect Our Children (who believes only in G-rated movie making and that libraries should only stock nice, friendly, uplifting books). Soon after she enters a game, the protesters break inside and damage the building's video game equipment, including the game she's in. She's only got a few hours to win before the game fries her brain, and, when she wakes up, the head of the company (who, like her, is a teenager) mentions that "they're going to get their asses fried for endangering the welfare of a minor."
Discworld:

In Monstrous Regiment. The old women of Polly's home village (and, presumably, a lot of other Borogravian villages too) are notorious gossips and spread the word far and wide about anything they disapprove of, and mostly what they disapprove of is not behaving according to the stringent and arbitrary principles of their religion; this, in a nation which has abusive corrective schools for girls who don't adhere strictly to the lifestyle (not to mention, one occasion sees Polly reflect upon her family's old pastor, who felt that women were living embodiments of all that said religion forbids, and ought to be abused regularly just for the principle of the thing).
Averted with the eventual banning of Nanny Ogg's The Joye of Snacks, which was prohibited, not on moral grounds, but because it was found to trespass on the purview of the Guild of Seamstresses. Also, because the publisher's wife couldn't stop laughing about it.
There is a brief mention in The Truth of the Ankh-Morpork League of Decency, which writes letters to the Times, although we're not told the details. Given the nature of Ankh-Morpork, they presumably have their work cut out for them.

The subject of the short story Ado, which focuses on a Genre Savvy, Deadpan Snarker schoolteacher who wants to have the class read Hamlet. In this particular story, there's a moral group for just about everything, and they file complaints on lines in the story... resulting in it being cut down to about two out-of-context lines that the class is allowed to read. It heavily implies that it's the Moral Guardians themselves that are damaging children — there's a student whose parents actively protest, and she uses the protests to simply go outside and tan and avoid schoolwork. She's quite Book Dumb as she can't spell anything, and despises having to edit her signs later due to the protests of another group, wondering where "free speech" went.
In Midnight by Jacqueline Wilson, the heroine is a huge fan of a fantasy author/artist named Casper Dream. She mentions that his first book, about a fairy that appears in smoke clouds, was banned from shops because Moral Guardians were concerned that it encouraged children to smoke.
Monster of the Year: Myrna Smud, who serves as the antagonist, and her organization BAM!, aka "Billboards Are Monstrous". They've essentially declared war on anything that stimulates the imagination, which they claim will lead to crime.
Chocoholic Mysteries: G. Ann Vanderklomp, a former English teacher introduced in Book Bandit, has rather strong opinions about books and what kinds have "literary merit", and has been trying to enforce her views on everyone else — she publicly scolded a girl for reading a romance novel in the cafeteria and did the same to another English teacher for letting a student do a book report on a Star Wars novel. She's such a stickler for it that she's been going through the books donated to the library for its collection and removing ones she finds objectionable, all because they aren't up to her standards — like Nancy Drew, The Hardy Boys, romance novels, or westerns by Zane Grey — and storing them in an old closet in the library basement.
Senator Granderson from The Enormous Egg is constantly trying to save America from various things, most recently comic books and firecrackers, and he's so good at getting people fired up that he often succeeds. When he learns about the existence of Uncle Beazley, the only living triceratops, he decides that living dinosaurs are a menace to society due to being ugly, outmoded, and un-American, and tries to pass a bill banning them.
Shimoneta takes this trope to absurd levels. The series takes place in a dystopian Japan where inappropriate words, phrases, and actions are monitored by PMs, and the law which prohibits the above is enforced by the Decency Squad.
Live-Action TV
The Father Ted episode "The Passion of Saint Tibulus" features a delicious skewering of moral guardians: Ted and Dougal are tasked by Bishop Brennan to hold "a dignified protest" against the titular film, which, due to a legal loophole, is showing only in their (tiny, sparsely populated, and hard to reach) parish. Not only do they go and see the film themselves, their protest is an abortive farce (they handcuff themselves to the railings and subsequently lose the key), and because of the controversy caused by an "official" condemnation and protest by the Catholic Church, the film becomes the cinema's biggest seller ever, a cult classic, and reaches an audience of millions.

Bishop Brennan: People are coming all the way from Gdansk to see the film!

Beautifully summarized in the first episode of Barney Miller. Barney's son comes in with a toy gun yelling "Bang", just as Barney is locking up his own gun in a cupboard. Barney gives him a short lecture about firearms being dangerous, gives him a toy truck to play with instead, and the kid holds it up and goes "Bang". Later he does the same thing with a slice of pizza.
The Muppet Show:

Sam the Eagle is walking parody of the trope, as he rails against the supposedly "lowbrow" humor of the other Muppets' performances and tries to make the show more "cultured and dignified", but never has any success. At one time he delivers a speech about the immorality of animals who, under their fur, feathers, scales, etc., were walking around completely naked. His reaction as he realizes he himself was a member of this sordid group is priceless.
They also openly parody censors in a Muppets Tonight sketch entitled NYPD Green where a censor keeps popping up to object to everything the detectives said (such as mentioning a "filthy dirtbag"...when the case was about a stolen bag of dirt). Eventually Kermit shuts off the camera to protect the audience from the dirty imagination of the censor.

The Goodies made a whole episode lampooning infamous Real Life British Moral Guardian Mary Whitehouse — entirely because she had complimented them on their wholesome show. "Mrs. Desiree Carthorse" hires the Goodies to produce a "gender education" film, which must meet her high standards of morality and cleanliness. Which was very difficult; even covering everyone and everything with white sheets wasn't good enough. By the end, in an effort to stamp out "S-E-(cross motions with finger)", she gets all of television banned — only for the Goodies to point out that now that there was no TV, there was nothing for anyone to do but have sex. The episode ends with her running down the street shouting into windows, "Stop it! Stop it!"
A Bit of Fry and Laurie:

A Running Gag had Stephen Fry punch Hugh Laurie in the face. At one point, the show addressed the idea that impressionable members of the audience would emulate Stephen's behaviour... by punching Hugh. Stephen's solution was to give Hugh a pile of money and hope the audience would imitate that instead.
Mary Whitehouse herself was lampooned several times on the show (in its words, "Perhaps the Mary Whitehouses of this world aren't as monumentally stupid as they appear at first, second, and twenty-third glance.") In one sketch, a very Whitehouse-like figure is seen objecting to the word "cloffprunker" in a prior sketch on the grounds that her children might have been exposed to it — and the only reason they hadn't was their good fortune of not having been born yet.
They once apologised to the audience for not performing a sketch with an Interplay of Sex and Violence, as they had been forbidden to do so by then-BBC Governor Sir William Rees-Mogg. They then reveal that Sir William had written them a replacement sketch that would promote common decency, family values, and high standards — entitled "Bitchmother, Come Light My Bottom".

Parodied on The Young Ones in a sketch that pokes fun at the school series Grange Hill:

Mr. Liberal:

Don't you realize that the way you act is influencing millions of children to talk Cockney and be insubordinate?

Student:

Oh, come on, sir, don't be silly! Why,

we're

the only kids in Britain who never say "f—" ''(

cut to next scene

).

In the first episode of Filthy Rich & Catflap, Richie tells Eddie to stop swearing in case children are watching the show. Eddie then turns to the camera and explains that Santa Claus doesn't exist.
Referenced in an episode of Bottom. After losing their television, Richie and Eddie decide to spend the evening playing chess instead which ends up in the usual mindless violence. As he's smashing Richie's head into the fridge, Eddie takes a moment to Break the Fourth Wall and point out to moral guardians who think that TV causes violence that in fact, this particular bout of violence is due to a lack of TV.
Marcia Langman on Parks and Recreation is a right-wing activist offended by everything, often for reasons based on Insane Troll Logic.
WKRP in Cincinnati addressed this in an episode, at a time when Jerry Falwell's Moral Majority was more active in media influence. In the episode, the station is approached by a similar minister, who gives Art Carlson a list of songs "we'd rather you not play" and threatens to start an advertising boycott if the station doesn't comply. At first Carlson agrees, but after the DJ's protest, he has second thoughts; he tests the group's motives by bringing them a copy of the lyrics to John Lennon's "Imagine" and asking if it, too, would be objectionable. When the minister says it would, Carlson decides to fight the group, even though it means the loss of several of the station's long-time advertisers.
On Alfred Hitchcock Presents, if the characters got away with a crime at the end of a story, Hitchcock would appear afterward to assure us and the nervous sponsors that the law had caught up to them and meted out justice. Then again, in one story about an alien invasion, he appeared behind bars, announcing that the aliens were very angry with him for exposing their Evil Plan in that night show.
The Partridge Family: A group of these shows up at the family's house in "My Son, the Feminist" to try to pressure them out of performing at a feminist rally. Shirley was previously on the fence, but she finds their narrow-minded, meddling behavior so infuriating that she decides to perform.
In the Law & Order: Special Victims Unit episode "Obscene", a woman named Carolyn Spencer leads a media campaign against scantily-clad girls in movies and TV, her favorite target being a 16-year-old actress who plays a sexy and seductive spy character. Her son is secretly being influenced in the opposite direction by watching an obnoxious, misogynistic radio host, and ends up raping the actress after some encouragement from his hero.
Miss Jean Hamilton (later Mrs Jean Reddick) is a recurring character in Murdoch Mysteries, a temperance crusader who also disapproves of ragtime music and burlesque shows, and who repeatedly visits the station house to demand that various supposed dens of iniquity are closed down. She is not mollified by Inspector Brakenreid simply pointing out that none of the things she complains about are illegal.
Music
Roger Waters, lyricist of Pink Floyd, savagely attacked Mary Whitehouse in a verse of "Pigs (Three Different Ones)":

Hey you, Whitehouse, ha ha, charade you are!
You house-proud town mouse,
Ha ha, charade you are
You're trying to keep our feelings off the street
You're nearly a real treat
All tight lips and cold feet
And do you feel abused?

Amanda Palmer's song "Guitar Hero" parodies the idea of a school shooting being inspired by a video game. Particularly, well, Guitar Hero. The song shows how easily any game can be compared to real-life violence (with the help of some Pun lines such as "It's a hit!" and "There's people screaming, just like they should / but you don't even know if you're good..."). It is made extra poignant because Amanda lost some of her friends during a school shooting — and she refuses to blame it on any part of pop culture.
Insane Clown Posse has a song called "Terrible," and one of the verses is an obvious Take That! to Moral Guardians campaigning against music they deem unsavory.

Oh my God, we've gotta protest that
Some rock-and-roll ninja bit the head off a rat!
Let's march into his concert and chant 'em to Hell,
'Cause he's so fuckin' TERRIBLE!
Meanwhile his record sales double and triple
Because of

you

whining 'bout him rubbing his nipple!
Religious? Shit, you helped them bands
Instead of helping them poor people eating outta them garbage cans.
When you're done with that, bitch, come protest me!
Shit, muthafucka, I could use the money!

"The Morality Squad" is a song by GWAR about a squad of Moral Guardians who attempt to destroy the band for being obscene. Part of the lyrics can be found on the quotes page.
Moral Guardians are probably the most common enemy type in Eminem's music, due to the ridiculous backlash he got for his violent music in the late 90s and early 2000s. Most of The Marshall Mathers LP is a swipe at music critics who claimed his music would cause moral degeneration of the youth ("Who Knew", "Criminal", "Bitch Please II"), as well as satirical Boastful Rap about his ability to corrupt children into turning evil with his music ("The Real Slim Shady", "I'm Back"), and one horror scenario based on the idea of what kind of broken weirdo would take his music literally ("Stan"). In The Eminem Show, he writes songs more sympathetic to the kind of people who relate to his music, who he views as having been failed by the same kinds of tutting white middle-class authorities who are trying to get him censored ("White America", "Square Dance", "Sing For The Moment"). Even once the moral panic about him was virtually forgotten, it remains a part of his persona, reflected on in songs about his legacy like "Rap God", "Offended" and "Venom".
Newspaper Comics
Early Bloom County stories liked to parody (and mock) guys like this:

Otis Oracle was a recurring character, a caricature of right-wing extremists and the Miles Gloriosus of his cohort. He would hold book-burning parties (but dance around the issue of having to buy the "objectionable" material himself in order to burn it). He tried to ban The Roger Tory Peterson Guide to Penguins for its portrayal of penguins in cohabitation (his case fell apart in court when his "expert witness" claimed the Earth wasn't round.) He's also a hypocrite thanks to his alcoholism; in one strip, a clearly drunk Otis touches a young lady's knees and blames her for tempting "the inner demons of sin in men" (this got him little but a fat lip), and in another he wakes up drunk and naked at a New Year's Eve Party. He was one of many characters dropped from the strip around 1984.
Subverted in one storyline where Opus's girlfriend's mother, who never liked him to begin with, sics the local priest on him, hoping to get some outrage because Opus is part of a death metal band. But the priest turns out to be a very nice fellow with an excellent sense of humor and a taste for Opus's music (saying of the song "Let's Guillotine Grandma" that it's "[s]omething to slip into the hymns next Sunday!") The end of the storyline shows the priest trying gently to calm down the very upset mother.
The above-mentioned death metal band got targeted by a thinly-veiled parody of Tipper Gore in one arc. Band manager Steve ended up having to testify at a Senate hearing regarding "porn rock"; the whole fiasco led to the band's name getting changed from "Deathtöngue" to the "vaguely wholesome"-sounding "Billy and the Boingers".

In Calvin and Hobbes Calvin finds some of their reports "very disturbing" — where's all the terrible stuff he's supposed to be seeing?
FoxTrot: This is a Running Gag with Andy; it's practically formula that if she starts up some kind of moral crusade, the crusade will end either with her completely rejecting it once it begins to inconvenience her, or being sucked in by whatever she was crusading against. Examples include:

Andy becoming a member of the group MAGG (Mothers Against Gory Games) and only allowing Peter to play MAGG-approved games, which include Nice City, Pacifist Man, Resident Good, and Eternal Lightness. She also complains at one point about how Donkey Kong doesn't wear pants.
Andy buying a "MomVo", which does things like shutting down the TV after showing a certain amount of cartoons, or forcibly changing the channel from "trash TV" to PBS. Eventually she gets rid of it when it blocks out her soap operas too.

Jason: You should have seen how fast she yanked the cables.

Andy objecting to the Doomathon II game that Jason gets for Christmas, only to end up getting addicted to it herself.

Zits brings this up occasionally, usually with Jeremy's parents, Walt and Connie, filling the roles.

One strip has Connie preaching (quite literally) to Jeremy while watching TV, dressed in a New England Puritanical Era outfit and speaking in manner from the time. In the last panel, Jeremy says, "Don't be such a prude, Mom, it's just an episode of South Park.
One strip has Jeremy listening to music with his headphones replaced by garbage cans in one panel and toilets in the next with Connie making comments on the side about the content.
In one strip, Walt gets angry at a song Jeremy is listening to, resulting in this exchange:

Walt:

Did I hear what I think I just heard?!

Jeremy:

Dad, it's just a song lyric.

Walt:

Don't give me that! I'm sick of this new music that's nothing but drugs and sex!

Jeremy:

You mean like, "

Lay Lady Lay

", "

Lucy in the Sky

", "

Purple Haze

", "

Brown Sugar

"?

Walt:

Hey, that's different!

Those are classics

!

Connie:

Ouch. One point for the teenager.

Subverted when Connie hears some of the content of Jeremy's music and wants to have a look through his CD collection, resulting in Jeremy going off on a rant, only for Connie to declare that the music is fine.

One early Dilbert comic has Dilbert invent a chip that censors out anything that could possibly be offensive from television. After it's installed, the only thing the TV will show is the Weather Channel, at least until they started showing coverage of a hurricane, at which point the chip censored that station out too for the perceived violence. Dogbert then ordered that the chip be removed from the television.
Professional Wrestling
Stand-Up Comedy
Mary Whitehouse, now deceased, was 'honoured' by comedians Newman and Baddiel, who ironically named their 1990s sketch/stand-up series The Mary Whitehouse Experience.
Monty Python took their own swipe at Mary Whitehouse in a live performance that happened to fall on Michael Palin's 30th birthday. As it also happened, Eric Idle's mum was a dead ringer for Ms. Whitehouse, and when the troupe brought her onstage to present Palin with a cake and flowers, he promptly thanked "the old bag herself for coming out," and stuffed the flowers into the cake.
Theatre
In Moličre's Le Misanthrope, Arsinoé is a prudish old woman who seeks to limit Célimène's pleasures, largely because she is jealous of her love with Alceste. Tartuffe from the play with the same name is also morally censorious, at one point draping a handkerchief over Dorine's overly exposed bosom (though he is, of course, a complete hypocrite and tries to seduce Oronte's wife behind his back). Molière suffered a great deal from Real Life Moral Guardians.
The unseen Mrs. Grundy, in Thomas Morton's play Speed the Plough, in which Dame Ashfield continually worries, "What will Mrs. Grundy say?" of each development, has passed into everyday speech as the embodiment of prudery and censorship.
Video Games
Fallout 2 has Ethyl Wright, the matriarch of New Reno's Wright crime family (a literal crime family) who leads a one-woman crusade against the city's vices (while her husband controls the alcohol trade behind her back) and displays Condescending Compassion to the tribal Player Character. If the player chooses to tell her the truth about her family's livelihood while persuading her to take matters into her own hands, she'll roll up her sleeves (revealing very muscular arms) and storm off to smash up their stills herself. Despite being Played for Laughs, her actions actually help lead to the Golden Ending for the city.
The Hot Coffee incident was spoofed by Jak X: the unlockable Hot Coffee video features Daxter and Tess drinking coffee, before Daxter looks at the screen and asks, "What?"
In a delightfully caustic Take That! to the good decade or so of Moral Guardians complaining in the franchise's history, the villains in Pokémon Black and White are a gang known as Team Plasma, a polarizing group that aims to forcibly separate people from their Pokémon for the same reasons as real Moral Guardians intend with pretty much everything. For good measure, they're dressed as literal Knights Templar and their logo resembles the Chi Rho. They're almost entirely hypocrites; only one of them, their Puppet King leader N Harmonia, has any actual altruism behind this motive. The leader who is actually pulling the strings, Ghetsis, intends to use Pokémon to dominate a world where no one else is allowed to use them, and the grunts are just casually cruel and support Ghetsis' intentions. The the sequel shows a few more with genuinely good intentions, leading to a schism in which the decent ones left to become The Atoner while the others continued to follow Ghetsis and became full-on terrorists.
In Saints Row 2, one Mayhem sidequest has Intrepid Reporter Jane Valderama state that a lawyer named Zach Johnson (a clear parody of Jack Thompson) is stealing airtime from her, and asks that the Boss causes enough destruction for her to report on.

The Boss: Does he have a lot of support?

Jane: Not really, but the guy makes a big enough ass out of himself that whenever he pulls some stunt, people listen... and if people are watching him, they're not watching me.

Idol Manager: Such people are possible sources of scandals. For instance, a politician might directly name one of the group's songs as the cause of uptake in behavior they don't approve of among young people.
Fire Emblem: Three Houses: The DLC sidequest, "A Question of Conduct" is given to Byleth after chapter 7 by a random NPC student, who takes issue with Byleth being able to bond and form relationships with their students. Should Byleth complete the sidequest, the dumbstruck student wonders whether such relationships between teacher and student can build resilient bonds.
Webcomics
The main arc of Volume 2 of Ennui GO! sets this up and then subverts it with its main antagonists, who want to take Izzy to court for supposedly corrupting children (she made an H-Game that later got a kid-friendly animated adaptation without her involvement). Out of the group, only one member is legitimately concerned about keeping children away from the game, as his little brother is a fan of the animated series; the rest are going along with it either because it's their job or they have their own personal vendetta against Izzy (including the boss;

Izzy unknowingly disfigured her and she wants to ruin her life in turn

). Either way, Izzy manages to deliver a good defense against the idea that she's deliberately corrupting kids.

"Okay, that's enough! I am NOT responsible for what these kids are exposed to! I made a porno game, yeah! But I didn't make the cartoon! And even if I HAD, it's up to parents to control what their kids are exposed to! Search engines have really good content filters nowadays! If parents aren't gonna keep a close enough eye on their kids, THEY'RE the ones at fault, not me!"
Web Original
Western Animation
South Park:

In one episode, they subjected William Donahue, the leader (and apparently only member) of the Catholic League, to a Take That! in the "Fantastic Easter Special" episode.
In South Park: Bigger, Longer & Uncut, the parents blame their kids' disrespectful and foul-mouthed nature on the profane Canadian film Terrence and Philip in Not Without My Anus. Actually, they blame the entire nation of Canada, as evidenced by the song "Blame Canada". Their real motives are revealed in the last two lines:

We must blame them and start a fuss
Before somebody thinks of blaming us!

Given quite a Take That! in Phineas and Ferb. In one episode taking place in a Bad Future, it is revealed that Moral Guardians essentially destroyed society by going to Knight Templar extremes and eliminating all traces of fun and creativity.
Parodied by House of Mouse, which featured the Censor Monkeys, a group who objected to cartoon violence but found an acceptable compromise — disguising the violence with novelty sounds. Their point is proven when they gets a safe dropped on them — the impact sounds like a squeaky toy, and one of them opens the safe and sticks his arm out to show everyone they're okay.
The King of the Hill episode "Hilloween" sees a Christian Moral Guardian move into Arlen and get the town's police to cancel Halloween after "Satanists ran over my cat" (read: she ran over her own cat chasing Hank and Bobby, who were admittedly egging her house). Hank, a Christian himself, sees no problem with Halloween and takes it upon himself to end the nonsense.
The Simpsons:

Parodied to the point of deconstruction in "Itchy and Scratchy and Marge". Maggie catches a glimpse of The Itchy and Scratchy Show in which Scratchy hits Itchy with a mallet, and replicates it on Homer, seriously injuring him. An incensed Marge leads a furious protest which leds to the show being entirely retooled into a cute cartoon about a cat and mouse who are best friends and share homemade lemonade on the porch. But Marge's protest movement expands beyond that, eventually trying to block Michelangelo's David from touring the city because of its nudity. Marge, a lover of fine art, is not offended and thinks children should see it up close — but in a televised interview, she's asked why Itchy and Scratchy should be banned but not David even though both are objectionable to a lot of people. When she's unable to answer, her protest movement falls apart.
In "The Computer Wore Menace Shoes", Principal Skinner has an exchange with his mother that subverts our expectations of her:

Mrs. Skinner:

Seymour! Are you looking at

pictures of naked ladies

?!

Principal Skinner:

No, mother.

Mrs. Skinner:

You sissy!

The Family Guy episode "PTV" is about Peter starting his own TV station, filled to the brim with crude content. Lois is so offended — particularly at the prospect of Stewie being exposed to this content — that she calls in the FCC, over Brian's objection that it's the parents' responsibility to monitor what their kids watch. The FCC, in turn, censors the entire city of Quahog, and the characters have to travel to Washington to get them to stand down. Interestingly, the exact content that offends Lois differs from the TV airing to the uncut DVD version — on TV, it was a program called The Sideboob Hour, whereas on DVD, it was a Jackass-like show called Douchebags. And in particular, it was a segment called "I Dare You to Crap off of That", in which Peter defecates off a highway overpass — right onto Lois's car, causing her to crash, with Stewie in the back. (The final straw was Peter's attempt to wipe it off.)
Parodied in the Time Squad episode "Child's Play," in which William Shakespeare is under the control of a stereotypical greedy agent who forces him to write plays for children and Larry 3000 intervenes relentlessly to prevent "imitable acts" and anything that could scare or traumatize kids from appearing onstage.
ReBoot, in yet another parody, made fun of this in the episode "Talent Night". While auditions are being made for Enzo's birthday party, a binome named Emma rejects everything but the BSNP song, which spells out the nature of this trope while set to the tune of "YMCA".
Parodied mercilessly in Futurama:

Bender, after becoming an overnight sensation in All My Circuits due to his criminal antics, realizes what an awful role model he is to children and starts his own anti-Bender protest group.

Bender: Bender should not be on TV! Who does he think I am?

In one episode, the Mighty V-Giny Satellite objects so strenuously to Earth's immoral content that it aims to "censor" Earth (in so doing destroying it). Farnsworth leads the crew on a mission to head this off by alerting people to the danger and telling them to act more morally, claiming "they will listen to rational folks like us!" Cue Farnsworth emerging from the ship dressed in robes toting signs like "Repent!" and "The end is near!" In the end, Fry encounters something he wants the satellite to censor: Leela and Zapp Brannigan having sex while dressed like Adam and Eve, just like in The Bible. The satellite responds by

calling it "APPROVED FOR ALL AUDIENCES" and then flying away

.

Parodied in an episode of Arthur, where the "Scare Your Pants Off" books are in danger of being banned from the town library due to Muffy having nightmares after apparently reading one. It turns out that she was just eating a kind of ice cream that gave her nightmares before bed.
Stan Smith himself frequently plays this role on American Dad!, at one point attempting to take over television airwaves to air only "clean" programming after his son calls him out for being a hypocrite for saying that masturbation is a sin, then doing it himself.
Histeria! mocked this endlessly, with the biggest Butt-Monkey on the show being Lydia Karaoke, the network censor, as a member of the regular cast. While she tried hard to keep crap from getting past the radar, this show was the type that tended to get Toilet Humor past the radar with bulldozers and dynamite.
Celebrity Deathmatch lampooned this in one episode with the (fictional) Media Watchdog group Broadcasters Opposing Offensive Behavior. (Or B.O.O.B.) After giving Nick and Johnny a stern warning for the match with Tommy Lee and Ron Jeremy, their representative had the two arrested after Alanis Morissette celebrates her victory over Jewel by stripping naked in front of the camerasnote . In fact, this may have been meant to take a swing at Moral Guardians in general who, like the ones in the story, seem to view gory and graphic deaths in media as okay but nudity and sex in the same mediums as flat-out evil.
Moral Orel often has in the background a number of picketers protesting a movie, led by Frances Clara Censordoll, who can find anything offensive. For some context, her Establishing Character Moment was her burning 'only the Jewish parts' of the Bible at a book burning. The episode "Offensiveness" centers around her and her attempts to mold Orel into a Moral Guardian just like her. This backfires on her as Orel starts protesting her Trademark Favorite Food, eggs, and she's forced to either fight to get her favorite food banned or be exposed as a Hypocrite.
Parodied in an episode of The 13 Ghosts of Scooby-Doo, where a scene with a firebreathing dragon gets interrupted by the appropriately named Miss Cutitout who wants to edit the scene out on the account that fire is dangerous and should not be shown to young children. Scrappy-Doo and Flim-Flam proceed to guilt trip and completely humiliate her by pointing out that the dragon would be without a job, making him unable to care for his children.
Animaniacs, having been made when Moral Guardians started to become a big thing, reveled in needling them at every turn:

In "Valuable Lesson", two television executives (one of them a Wallace Shawn caricature) interrupt an otherwise normal cartoon about them harassing Attila the Hun and take the Warners to a pair of test rooms, where they compare two groups of kids, one watching the Warners' antics and the others watching an Expy of The Smurfs. It doesn't go the way they expect.
In "Bully for Skippy", Slappy Squirrel tries to use her usual cartoon slapstick to help Skippy deal with a bully — only to be prevented by new television guidelines about educational programming.
Even the revival series gets in on the act — one of the variant opening lyrics is "parents will complain-y!", accompanied by Wakko scissoring a letter from a Moral Guardian in half.

Danny Phantom: Sam's parents Jeremy and Pamela Manson are stereotypical conservative parents who protest against things they find "objectionable, immoral, or obnoxious". This puts them at odds with Sam, because not only is she a goth who is into the things they loathe (such as Circus Gothica), but she's also friends with the son of two eccentric ghost hunters.
Garfield and Friends: The U.S. Acres segment "Kiddie Corner" makes fun of these in the form of Aloysius, a representative of (da-dum) "The Network" who forces the cast to perform nursery rhymes. However, he finds something objectionable in all the nursery rhymes they pick, whether it be the spider from Little Miss Muffet being too scary for kids or any of the multiple ones that mention injury and death. Eventually, the cast tricks him into reading a poem that ends with Aloysius getting covered in lemon meringue pies, which they promptly act out, chasing him away in the process.
---