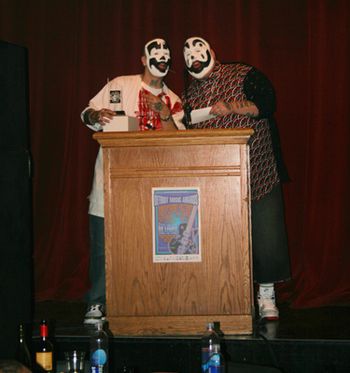 Related Acts:
Golden Goldies (Joe Bruce, Joey Utsler, Mike E. Clark)
Dark Lotus (Violent J, Shaggy 2 Dope)
Psychopathic Rydas (Joe Bruce, Joey Utsler)
Soopa Villainz (Joe Bruce, Joey Utsler)
Zug Izland (initially formed by Joe Bruce, who dropped out because his singing style was considered to be unimpressive)
"What about when the world's like 'fuck us, kill us' what will you be? (Down)
What about when I'm 103, what will you be? (Down)
What about when the world's like 'fuck us, kill us' what will you be (Down)
What about when the Carnival comes to your town?
I'm a be down with the clown!"
—Insane Clown Posse, "Down With The Clown"
Consisting primarily of two people, Violent J (Joseph Bruce) and Shaggy 2 Dope (Joseph Utsler), the Insane Clown Posse are a Hip-Hop group and Professional Wrestling tag team from Detroit, and the co-founders of the independent record label, Psychopathic Records. Their music is generally placed in the "Horrorcore" category, and is focused heavily around Circus of Fear elements. They are also extremely loyal and honest with their fans, something to be admired. Many of their fans are like Dave Matthews Band or Grateful Dead fans in the sense that they'll listen to other kinds of music, but their favorite group has really captured their heart. ICP fans prefer to be called Juggalos.
ICP originated as a Gangsta Rap group called "Inner City Posse," derived both from the name of a Detroit gang (formed by Bruce) and a dream Bruce had involving a clown running around in Delray, the most depressed and blighted area of Detroit (currently slated to be largely demolished to make way for a bridge to Canada). The group's popularity resulted in them becoming the target of growing violence, leading its members to abandon gang life and adopt a Geto Boys-esque style instead.
ICP built a media and distribution empire all on their own. They were independent music before anyone else. They didn't want or need radio or MTV (back when either of those mattered) and they were an affront to the gatekeepers who owned every single aspect of the music industry. The Great Milenko was #8 on the charts and not a single video or song was played on MTV/Clear Channel. The Amazing Jeckel Brothers debuted at #4 on the Billboard Top 100, with guest appearances by Snoop Dogg (back when he was relevant) and Ol' Dirty Bastard (RIP). This was at a time when everything in the Top 10 was Ricky Martin, Britney Spears, or boy bands. There was—and still is—a lot of resentment toward them since they basically invented a new way rap empires could be built. And they did it out of necessity because no one else would invest in the music.
ICP have also been the subject of a number of parodies, including a music video parody on Saturday Night Live. Their albums The Amazing Jeckel Brothers, Bang! Pow! Boom!, and The Mighty Death Pop! have all peaked at #4 on the Billboard 200.
They produced two movies, Big Money Hustlas (an exploitation parody) and Big Money Rustlas (a Western parody).
ICP have also been active in the world of Professional Wrestling; they have wrestled for both WWE and WCW in the past, and currently run their own promotion, JCW (alternately, Juggalo Championship Wrestling or Juggalo Championshit Wrestling)
---
Members:
Violent J
Shaggy 2 Dope
Mike E. Clark — Producer, often called "the third member of ICP" by J and Shaggy, who credit him as being a major part of the band's sound, although they briefly had a falling out with Clark and have worked with other producers as a result.
John Kickjazz — Before Mike E. Clark, they actually did have two different third members of the group. While recording an album, Carnival of Carnage, Shaggy's brother John Kickjazz quit the group, and ICP became a duo. He left before Carnival of Carnage was released due to him not really getting into the whole clown business (although he can still be heard in a few songs).
Greez-E — He left after their first EP (Beverly Kills 50187) due to things not really working out, since he only contributed to one song.
Rich Murrel (better known as Legz Diamond) — Not widely known, Murrel is the unofficial "fourth member". He does a lot of the guitar work and background vocals on their albums, and is unrecognizable in costume as part of ICP's live shows.
Discography:
Filmography:
---
Insane Clown Posse are the Trope Namers for:
"We will never die alone, Juggalos will carry on, swing our tropes if we must, each and every one of us"
open/close all folders
The band members themselves/live performance
Media and fandom
Juggalo: They're the creators of this fanbase.
Rockumentary: Shockumentary is this.
Updated Re-release: Bang Pow Boom: Nuclear Edition, a three-disc set. The first disc is the original album, with the three separate Track Twos from the three original versions blended into one song; the second disc contains all three "hidden tracks" from the originals and three unreleased tracks; the third is a DVD.

And there's a box set of the first "deck" of Joker's Cards on the way, with bonus material and remastered versions of each "Card" (from Carnival of Carnage to The Wraith).
Lyrics/Themes/Concepts
Music Referential
Cover Album: Covered, Smothered, & Chunked, which is a bonus CD in the "Red" version of The Mighty Death Pop!
Public Medium Ignorance: Despite being rappers, a lot of people seem to think that ICP are a rock or metal band for some reason. A state trooper in the documentary A Family Underground, who hasn't heard ICP's music, thinks that it's "Psychedelic Thrash."
Music Videos
---
Dedicated to the Butterfly