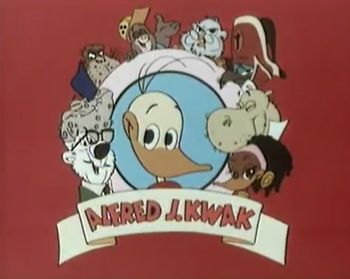 "Dipping, bobbing, diving, Alfred's always thriving, he seldom wears a frown. You'll never keep a good duck down."
Alfred J. Kwak is the name and protagonist of a variety of Dutch media, most famously a cartoon. The franchise is popular in several European countries, especially its native Netherlands, Germany, Finland and the United Kingdom. Created by multi-talented Herman Van Veen, Alfred was originally a theatre piece in the 1970s, then a comic strip, and finally a cartoon in the late 1980s. The series lasted for 52 episodes, broadcast between 1989 and 1991.
The cartoon has endured in the minds of many people because of the dark and often depressing themes it handled, with great maturity and respect for the young viewers. It's also notable for avoiding Comic-Book Time: we first meet Alfred just after hatching, and by the time the series ends, he's a grown man deeply involved in politics.
To an adult viewer, the show may come off as a string of Anvilicious Aesops, including a fascist dictator called 'Dolf' and a land of black ducks and white geese where the latter oppress the former.
The protagonist is a duck, Alfred Jodocus (Jonathan in English) Kwak, whose parents have tragically died in a road accident when Alfred was a tiny hatchling. Raised by foster father Henk, a mole, Alfred grows up into an adventurous, brave duck who travels the world. The setting is an obvious allegory of the Netherlands called Great Waterland, full of dikes, polders and canals and populated by anthropomorphic animals, especially birds.
A sequel series was in the works, focusing on Alfred's son with his wife Winnie. Unfortunately, as of 2014, nothing more has been heard of it.
A second stage show starring Alfred was performed in 2002
called Verboden Te Lachen which features Van Veen being the show's narrator and singer. This time, Alfred is portrayed by a female actor which gained a DVD release in 2003.
A third theater show starring Alfred was created called Alfred J Kwak en de Sneeuwvlok which played in the Netherlands between 2017 and 2018.
A book version of the musical was also created
during the show's run.
The original version of theater show can be found heard here
alongside the German version
from 1985. The 1985/1987 version can also be viewed here.
In 2004, a 10 minute documentary about the franchise was released by Herman Van Veen and presented by Harlekijn Holland
.
A character sheet is on the works.
---
Tropes:
---
Spetter, pieter, pater, lekker in het water
Ga maar vast naar huis, ik komt een druppel later,
——