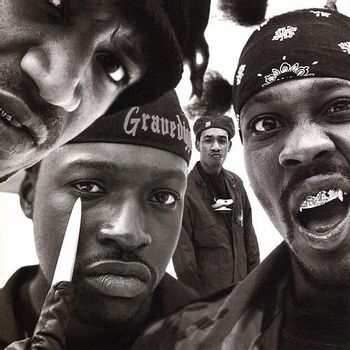 "I'm gonna slice and dice cause murder's my vice. I'll stab you once, twice maybe even thrice. Carve initials in your liver. Make you quiver, deliver. Yeah, that'd be nice. I'll dissect your heart. Rip your entrails apart. Hack off your head. And that's just the start"
.
—L.I.F.E. Long
Horrorcore rap music is essentially Gangsta Rap meets Horror Tropes, with a touch of bloodthirsty metal for good measure. Musically, they're basically "what if you rapped death metal lyrics?" The production style usually also favors dark and often dissonant textures, as well as horror movie samples. Rock and metal guitar samples are also common, while many Soundcloud horrorcore artists from the 2010s were more rooted in trap and mixed in elements of nu metal and extreme metal.
There's dispute over where the genre originated, but it's agreed that the Geto Boys, Ganksta N-I-P, Brotha Lynch Hung and Insane Poetry were the forebears of the genre. Horrorcore is more or less gangsta rap turned up to 11. Expect subject matter to cover cannibalism, rape, torture, infanticide, occultism, necrophilia and other horrible things For the Evulz. The Soundcloud horrorcore style is also frequently mixed with emo rap, as best exemplified by $UICIDEBOY$ and Ghostemane.
Could be said to be to Hardcore Hip Hop what Death Metal is to Thrash Metal. See also Gangsta Rap. The Memphis horrorcore style (popularized by Three Six Mafia) also wound up being a major influence on Crunk, mostly through its signature aggressive, insistent, and repetitive synth lines.
---
Artists in the genre include:
Argento (Ардженто) (Russia)
BobENite: Evil Sounds Deep Averted.
Big L: Trope Codifier, according to Wikipedia. Highlights includes his first single Devil's Son.

Wikipedia: Big L (...) is known for helping to pioneer horrorcore.

Big Pun: Mostly on his album "Capital Punishment".
Bone Thugs-n-Harmony: Early works from the rap group.
Bloodshot
Butchers' Harem (Australia)note
Cannibal Carib
Chapa Blasfemo (Mexico)
Chuckklez
Claas
clipping. (depending on the album, but There Existed an Addiction to Blood and its follow-up Visions of Bodies Being Burned are absolutely horrorcore releases)
City Morgue (also Trap Music, Nu Metal and Hardcore Punk)
Con Crete
Corpse Circus: Parody the genre
D12
Dark Half
Dark Lotus
Delusional Thomas. A character created by Mac Miller who released one self-titled mixtape.
Denzel Curry (in his darker tracks, such as "VENGEANCE" and "Psycho"; normally Gangsta Rap, Trap Music and Hardcore Hip Hop)
DJ Jazzy Jeff & The Fresh Prince - no, seriously. Two of their early tracks ("[[/A Nightmare On Elm Stret Nightmare On My Street]]" and "Then She Bit Me") were among the earliest examples of horrorcore, though not as gruesome as other rappers would take it.
DMX on his first two albums, before shifting away from the style on his third album.
Donnie Menace
Dope D.O.D. (mixed with grime, Drum and Bass and dubstep)
Eminem note (Slim Shady EP is "true" horrorcore with the Gangsta Rap influence intact and obvious; The Slim Shady LP, The Marshall Mathers LP, The Marshall Mathers LP 2 and Music To Be Murdered By use cartoony, Black Comedy, Subverted Kids' Show horrorcore elements; Relapse goes full force.)
Evil Pimp
Flatlinerz
F-Dux
Ganksta N-I-P: Believed to have created it.
Geto Boys: Pioneered this style.
Ghostemane: Inspired by Bathory, he got his start in hardcore and doom metal bands.
Gravediggaz, featured as the page image.
Grewsum
Grimm Real (the side project of Mike Smith of Suffocation fame, only released one long out-of-print mixtape, but Smith has stated that he intends to revive the project)
Heaven (Russia)
Hirntot Posse (Germany) (style often referred to as "Psychokore".)
Ho99o9 (mixed with Hardcore Punk and Industrial Hip Hop)
Ill Bill (older brother of Necro)
JakProgresso (aka Jak Tripper): . The most prolific artist in the genre by a long shot. note He's also one of the only prominent horrorcore battle rappers currently active. (And, supposedly, was battling before the other prominent horrorcore battle rapper mentioned on this page.)
The J. Hexx Project
Kannibalistik
KGP
Kid Crusher (Australia)
K.I.Z (Germany)
Komatose
Kool Keith (claims to have invented it; in any case, the Dr. Dooom persona absolutely qualifies)
Krucifix Klan
Lil Ugly Mane, whose work is essentially one long tribute to Triple 6 Mafia.
LoKey
Lord Tagman (Brazil)
Mars
MC Basstard (Germany)
MC Bushpig (Australia)
MC Frank Hatchett
MC Val (Ukraine)
NWA protege The D.O.C.'s Helter Skelter album.
OFWGKTA sometimes shows hints of this, particularly on the early releases from Tyler, the Creator and Earl Sweatshirt, although they deny this constantly. Later releases from Tyler (Wolf and onwards) and Earl (Doris and onwards) abandoned horrorcore elements entirely.
Prozak
Psych Ward (Canada)
Raider Klan
Razakel
Razor Ruckus
Reverend Fang Gory
Rozz Dyliams
Scum
Stitch Mouth: Deep South Horrorcore.
Shy One
$INNER$ (South Africa, side project of Duncan Bentley and Chris van der Walt plus Duncan's fiancee)
Smallz One
Sodoma Gomora (Czech Republic)
SpaceGhostPurrp
Syko Sam, who released an EP called I Kill People For Real... and proceeded to do just that, murdering four people in Farmville, Virginia.
Symen Haze (Germany)
Three 6 Mafia's underground work when they were called Triple 6 Mafia.
Tink Da Demon: The prime example of the genre's elements being incorporated into battle rap. Rather infamously had a prison sentence (unlawfully) extended due to the judge in charge of his case coming across footage of one of his battles.
Tommy Wright III
Tupac Shakur: While much of his output always had a dark undercurrent, it wasn't until his signing to Death Row that he began flirting with horrorcore elements.
Ware-Wolff, or just simply "Wolff".
X-Raided, whose lyrics were used to convict him of first-degree murder.
---
Record labels centered around this genre:
Lyrikal Snuff Productions
Serial Killin Records
Slaughtercore Entertainment
Prone Records
Murder House Records
Hirntot Records
666 Kartell Records
---
Horrorcore often provides examples of the following tropes:
---