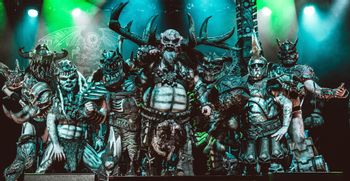 "It is I, ODERUS URUNGUS, lead singer of the sickest band in metal history, Earth's only openly extra-terrestrial rock band, and the destined destroyers of not only the human race but also reality itself. GWAR! Hulking, heaving, dribbling WAR-GODS who like nothing better than putting hordes of our sniveling fans to the sword while playing the marauding mutant metal that we are famous for! Stars of stage and screen, carvers of stem and spleen! GWAR LIVES!"
—
Oderus Urungus
,
GWAR Mythos
What happens when you take the theatrical stage performances of Alice Cooper, the costumes and makeup of KISS, and the Audience Participation of The Rocky Horror Picture Show, and throw it in a meat grinder? You get the self-proclaimed overlords of all existence known as GWAR.
Originally hailing from Antarctica, then somewhere past Hell's Eighth Lock, yet somehow having a mailing address in Richmond, Virginia all the while, GWAR is a shock rock/Heavy Metal band whose on-stage antics spray their audiences with blood, drugs, toxic waste, and other fluids.
In 2011, Cory Smoot (Flattus Maximus) was found dead inside the band's tour bus. Original reports were that he had died from "a coronary artery thrombosis brought about by his pre-existing coronary artery disease", although a later report showed that "investigators found on Smoot a $5 bill with a white powder residue, a prescription bottle holding eight Oxycodone-Acetaminophen pills, a lighter and two empty syringes". His character was retired out of respect and replaced with Pustulus Maximus, played by Brent Purgason of Cannabis Corpse fame.
On March 23, 2014, Dave Brockie (Oderus Urungus) was found deceased at his home
at the age of 50, with the cause of death revealed as a heroin overdose
. Michael Bishop (Blothar, formerly the original Beefcake the Mighty) and Kim Dylla (Vulvatron) were announced as the new faces of GWAR later that year, but Dylla was fired sometime between the end of 2014 and the beginning of 2015 due to problems with excessive alcohol consumption. The Vulvatron character has not been shelved, but a replacement has yet to be announced.
On February 25th, 2019, Jamison Land (Beefcake The Mighty) announced his departure from the band on Facebook, citing family and career reasons. He was replaced by Casey Orr, making it the third time he reprised the role of Beefcake.
But no matter what happens, GWAR will continue its mission of ravaging all of existence for shits and giggles.
Current core members (err, I mean Scumdogs)
Michael Bishop note - Blothar the Berserker (Lead vocals) 2014 - present
Mike Derks - Balsac the Jaws of Death (rhythm guitar) 1988 - present
Brad Roberts - Jizmak da Gusha (drums) 1989 - present
Casey Orr - Beefcake the Mighty (bass) 1994 - 1997, 1999 - 2002, 2008 - 2011, 2019 - present
Brent Purgason - Pustulus Maximus (lead guitar) 2012-present
View the full list of Gwar members here
.
Studio albums:
Hell-O! (1988)
Scumdogs of the Universe (1990)
America Must Be Destroyed (1992)
This Toilet Earth (1994)
Ragnarok (1995)
Carnival of Chaos (1997)
We Kill Everything (1999)
Violence Has Arrived (2001)
War Party (2004)
Beyond Hell (2006)
Lust in Space (2009)
Bloody Pit of Horror (2010)
Battle Maximus (2013)
The Blood of Gods (2017)
The New Dark Ages (2022)
Live albums:
You're All Worthless and Weak (2000)
Germany Must Be Destroyed (2000) note
Live from Mt. Fuji (2005)
Other notable releases:
The Road Behind (EP) (1992)
You Have the Right to Remain Silent... (1995): Sole album from the side-project X Cops.

Junkie (1996): Non-album single from X-Cops, released on Man's Ruin Records. Features "Beat You Down" and "Junkie".

Slaves Going Single (compilation) (2000): Contains songs from the Slave Pit Singles.
Let There Be GWAR (compilation) (2004): Contains demos originally recorded in 1986, pre Hell-O!.
---
This band provides examples of
---