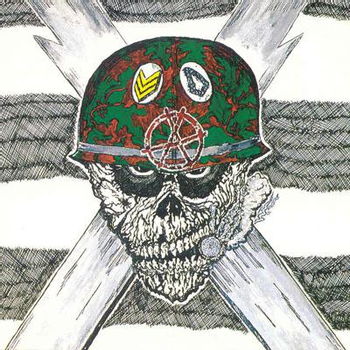 "You think that you're really hard
You'd better wear armour you fucking fool
We mosh until you die!
We mosh until you fry!
You think that you can try!? But can you!?"
— Milano Mosh
The Stormtroopers of Death or SoD were a crossover thrashnote a mixture of Thrash Metal and Punk Rock that was incredibly fast and emerged in the 1980s east coast band from New York active in the 1980s, and briefly re-emerged in the 1990s. The band was a side project and brainchild of Anthrax guitarist Scott Ian, drummer Charlie Benante, and former bassist Dan Lilker, and featured a local musician called Billy Milano on vocals. It spawned after Scott Ian drew comics about a character called Sergeant D while recording Spreading the Disease with Anthrax. In his own words, he did not know how to have a comic book created of the character, but as a musician he could get a record made, so he made an album about him instead. He called up some friends, wrote some songs and had the album produced within a week.
The band's lyrics are all tongue-in-cheek and very, very offensive, with their debut album Speak English or Die a prime example. However, Milano's vocals are so fast they put rappers to shame, and luckily the most offensive lyrics are unintelligible. Due to their punk origins, the band's biggest priority was making hardcore music to mosh to; their tunes are all Epic Riffs and none of their studio songs go beyond three minutes. Their debut album lasts half an hour, but has over twenty songs, the longest lasting 2:32. Despite having two studio albums to their name, the band were very influential (they are credited as being one of the creators of crossover thrash) and their debut LP is considered a masterpiece of thrash metal.
The band had two studio albums to their name:
Discography:
Speak English or Die (1985)
Bigger Than the Devil (1999)
Rise of the Infidels (2007 - although it is officially counted as a studio EP by the band, it is mostly a compilation of live performances and previously released songs)
---
SoD provides examples of: