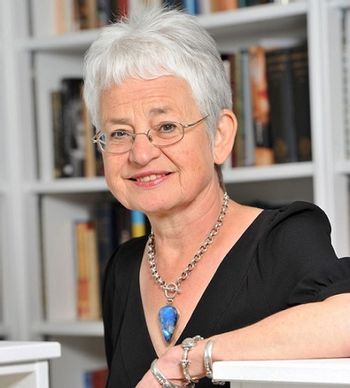 "I try to have reasonably happy endings because I would hate any child to be cast down in gloom and despair; I want to show them you can find a way out of it."
Jacqueline Wilson DBE, FRSL (née Aitken, born 17 December 1945) is a bestselling British author who has written a huge amount of novels for children and teenagers. Most of them are about a specific theme or problem that young people might face. The 1970s magazine Jackie may or may not have been named after her, depending on who you ask. As well as winning a truckload of awards, she was the Children's Laureate between 2005 and 2007, and was named in the 2008 Honours List.
On April 4, 2020 she came out as gay
Books with pages on this wiki include:
<!—index—>
<!—/index—>
Other books include:
Amber
Buried Alive
The Butterfly Club
The Cat Mummy
Cliffhanger
Dancing The Charleston
Double Act
Falling Apart
Glubbslyme
How to Survive Summer Camp
Lily Alone
The Longest Whale Song
The Lottie Project
Love Frankie
The Mum Minder
My Sister Jodie
Opal Plumstead
The Other Edie Trimmer
The Primrose Railway Children
Rose Rivers
The Runaway Girls
Sleepovers
Wave Me Goodbye
The Worry Website
Memoirs: Jacky Daydream, My Secret Diary
Several of her books have been adapted for TV:
---
Tropes found in her works:
Abusive Parents: The titular heroine of Cookie has a father who borders on this, and is certainly abusive to his wife. There's also Elsa's stepfather (nicknamed "Mack the Smack" because he hits her) in The Bed and Breakfast Star note ,

Mary's

mother in The Diamond Girls and Treasure's stepfather in Secrets.

The Worry Website also has Lisa's dad, her main worry being that she finds out that he's been hitting her mum. She ends up not posting it on the website, instead saying that she's worried about starting to get spots instead.
Marigold mentions that her mother was abusive, and she spent most of her childhood in care homes. She expresses a fear that she is also one later on.
Lola Rose's father, who, like Cookie's, was initially abusive to her mom and later to her as well.

It is implied that this is the reason that Lola Rose's mother gets cancer

.
It's implied that Tracy Beaker was abused by her mother's boyfriends before being taken into care. Tracy also mentions that before going to the "Dumping Ground", she lived with "Aunt" Peggy: a foster carer who frequently hit her and yelled at her.
Charlie's character Lottie in "The Lottie Project" had an alcoholic abusive father who kept the family in poverty and had recently died.
Selma's mother and stepfather in The Butterfly Club.
Mildred in Clover Moon is regularly physically abusive towards Clover, and locks her in the closet under the stairs in the dark for as long as she can when she's in quarantine for scarlet fever, prolonging it until Clover's father insists on letting her out. She also doesn't even notice when Megs is the one who's got the fever and tries to dismiss it by saying that she is just "grizzly" - had she not let Clover out when she did, Megs would have literally died of neglect.
Katy's father in Waiting For the Sky to Fall, and Prue's father in Love Lessons, are extremely controlling, demanding and emotionally abusive towards their children.
Em's biological father was a "violent nutter" (although a meeting with him shows that he's most likely changed, having a new wife and kids he's fine with), and while Vita's father Frankie in Clean Break may not be physically abusive, but he is a "sleazy charmer" with major commitment issues and is completely oblivious to the pain he is causing to his wife and kids.

Adaptation Distillation: The first book of Hetty Feather spends half the story about Hetty's life in her foster home and later, her return to the Foundling Hospital at age five before the Time Skip. The show however, gives a small introduction in the first episode before focusing entirely on her current life in the hospital. This changes at the end of Series 3 when she, Gideon, and Sheila leave the hospital for their services.

The shift to Calender Hall also introduces a new cast of characters and stories that are original to the show.

Adaptation Expansion: The first season of the TV series The Story Of Tracy Beaker was more-or-less the first book. But while the second book is about Tracy staying with Cam, the second TV season sees her back at the Dumping Ground after setting Cam's kitchen on fire. The show then ran for a further three seasons (including one where she gets fostered by Cam again), and ended two years before the third book came out. It has now started again with a series chronicling Tracy returning to the Dumping Ground as a carer, and continued with The Dumping Ground from 2013, showing the lives of the children and care workers after Tracy leaves.

The Hetty Feather TV series also expands on the lives of the boys in the show and gives focus on other characters, as opposed to everything focused on Hetty like in the book.
Age-Gap Romance:

In the Girls series, this is a source of tension between Ellie's father (in his 50s) and stepmother (late 20s/early 30s.)
Implied to have been the case with Katy's parents in Katy; Katy's father has gray hair and is a senior doctor (suggesting he is middle-aged) whereas her mother is described as having been very young. His second wife Izzie is also mentioned as being much younger than him.
Sixteen-year-old Cassie in Opal Plumstead falls in love with Daniel Evandale, who is more than twice her age. This reaches a climax when Cassie runs away to live with him, since her mother disapproves.
In This Girl, Coral has an illicit relationship with Toby, who's around his mid to late 30s while she is in her mid-teens.
The title character of Amber briefly gets involved with Dave, who's at least twenty years older than she, when she believes she's pregnant and he offers to marry her and raise the baby with her. The relationship ends pretty much instantly when she finds out there is no baby.
In Cookie, Beauty's father is middle-aged and has had two previous wives; her mother is young enough that people mistake her for Beauty's older sister, and she says she wasn't much older than a child when she got married.
Phoebe in The Primrose Railway Children is the closest to her father, being the youngest and fond of playing imaginary games unlike her teenage sister and Literal-Minded brother.

She takes it the hardest when she learns he is in prison, during which time she briefly decides she never wants to see him again.

Deconstructed with Jayni in Lola Rose who does love her dad, but can't get away from the fact that he's very violent to her mother (and has threatened Jayni himself), despite frequently proclaiming how much he loves his children. She also feels under pressure to act like this trope in case he gets angry with her for not showing enough affection.
Star in The Illustrated Mum meets her father for the first time and they instantly become very close, with Star quickly favouring him over Marigold.

It's hinted that he's not the best at commitment, and that he might end up leaving her behind again.
Love Father, Love Son - the title character in Amber has a short relationship with her mother's ex-boyfriend, who believes Amber is pregnant (though he's not the father), and wants to marry her and raise the baby together. Amber's mother isn't at all happy with this idea.
Love Makes You Crazy: In quite a few, but particularly in The Illustrated Mum between Marigold and Micky. Apparently they were only together for a few weeks before Marigold became pregnant with Star, yet years afterwards she still yearns for Micky and her driving force behind her actions in the novel is for the sake of pleasing him.
---