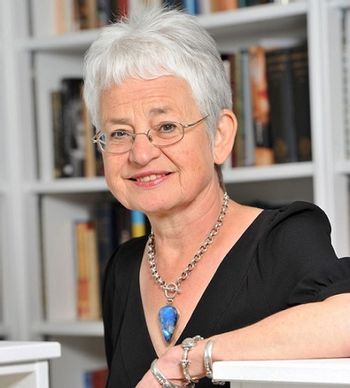 "I try to have reasonably happy endings because I would hate any child to be cast down in gloom and despair; I want to show them you can find a way out of it."
Jacqueline Wilson DBE, FRSL (née Aitken, born 14 December 1945) is a bestselling British author who has written a huge amount of novels for children and teenagers. Most of them are about a specific theme or problem that young people might face. The 1970s magazine Jackie may or may not have been named after her, depending on who you ask. As well as winning a truckload of awards, she was the Children's Laureate between 2005 and 2007, and was named in the 2008 Honours List.
On April 4, 2020 she came out as gay
Books with pages on this wiki include:
Other books include:
The Suitcase Kid
The Bed and Breakfast Star
Cliffhanger
Buried Alive
Double Act
Bad Girls
The Lottie Project
Vicky Angel
Best Friends
Clean Break
Memoirs: Jacky Daydream, My Secret Diary
Lily Alone
The Longest Whale Song
Wave Me Goodbye
Rose Rivers
The Butterfly Club
The Mum Minder
Dancing The Charleston
Love Frankie
The Runaway Girls
The Primrose Railway Children
Several of her books have been adapted for TV:
---
Tropes found in her works:
Abusive Parents: The titular heroine of Cookie has a father who borders on this, and is certainly abusive to his wife. There's also Elsa's stepfather (nicknamed "Mack the Smack" because he hits her) in The Bed and Breakfast Star note ,

Mary's

mother in The Diamond Girls and Treasure's stepfather in Secrets.

The Worry Website also has Lisa's dad, her main worry being that she finds out that he's been hitting her mum. She ends up not posting it on the website, instead saying that she's worried about starting to get spots instead.
Marigold mentions that her mother was abusive, and she spent most of her childhood in care homes. She expresses a fear that she is also one later on.
Lola Rose's father, who, like Cookie's, was initially abusive to her mom and later to her as well.

It is implied that this is the reason that Lola Rose's mother gets cancer

.
It's implied that Tracy Beaker was abused by her mother's boyfriends before being taken into care. Tracy also mentions that before going to the "Dumping Ground", she lived with "Aunt" Peggy: a foster carer who frequently hit her and yelled at her.
Charlie's character Lottie in "The Lottie Project" had an alcoholic abusive father who kept the family in poverty and had recently died.
Selma's mother and stepfather in The Butterfly Club.
Mildred in Clover Moon is regularly physically abusive towards Clover, and locks her in the closet under the stairs in the dark for as long as she can when she's in quarantine for scarlet fever, prolonging it until Clover's father insists on letting her out. She also doesn't even notice when Megs is the one who's got the fever and tries to dismiss it by saying that she is just "grizzly" - had she not let Clover out when she did, Megs would have literally died of neglect.
Katy's father in Waiting For the Sky to Fall, and Prue's father in Love Lessons, are extremely controlling, demanding and emotionally abusive towards their children.
Em's biological father was a "violent nutter" (although a meeting with him shows that he's most likely changed, having a new wife and kids he's fine with), and while Vita's father Frankie in Clean Break may not be physically abusive, but he is a "sleazy charmer" with major commitment issues and is completely oblivious to the pain he is causing to his wife and kids.

Adaptation Distillation: The first book of Hetty Feather spends half the story about Hetty's life in her foster home and later, her return to the Foundling Hospital at age five before the Time Skip. The show however, gives a small introduction in the first episode before focusing entirely on her current life in the hospital. This changes at the end of Series 3 when she, Gideon, and Sheila leave the hospital for their services.

The shift to Calender Hall also introduces a new cast of characters and stories that are original to the show.

Adaptation Expansion: The first season of the TV series The Story Of Tracy Beaker was more-or-less the first book. But while the second book is about Tracy staying with Cam, the second TV season sees her back at the Dumping Ground after setting Cam's kitchen on fire. The show then ran for a further three seasons (including one where she gets fostered by Cam again), and ended two years before the third book came out. It has now started again with a series chronicling Tracy returning to the Dumping Ground as a carer, and continued with The Dumping Ground from 2013, showing the lives of the children and care workers after Tracy leaves.

The Hetty Feather TV series also expands on the lives of the boys in the show and gives focus on other characters, as opposed to everything focused on Hetty like in the book.
Age-Gap Romance:

In the Girls series, this is a source of tension between Ellie's father (in his 50s) and stepmother (late 20s/early 30s.)
Implied to have been the case with Katy's parents in Katy; Katy's father has gray hair and is a senior doctor (suggesting he is middle-aged) whereas her mother is described as having been very young. His second wife Izzie is also mentioned as being much younger than him.
Sixteen-year-old Cassie in Opal Plumstead falls in love with Daniel Evandale, who is more than twice her age. This reaches a climax when Cassie runs away to live with him, since her mother disapproves.
In This Girl, Coral has an illicit relationship with Toby, who's around his mid to late 30s while she is in her mid-teens.
The title character of Amber briefly gets involved with Dave, who's at least twenty years older than she, when she believes she's pregnant and he offers to marry her and raise the baby with her. The relationship ends pretty much instantly when she finds out there is no baby.
In Cookie, Beauty's father is middle-aged and has had two previous wives; her mother is young enough that people mistake her for Beauty's older sister, and she says she wasn't much older than a child when she got married.
Colour Coded Eyes: Clover Moon has green eyes. She sometimes uses them to convince people that she's a witch.

Hetty takes on the name Sapphire, which her mother gave her as a baby for the colour of her eyes.
Will in Midnight has green eyes and generally fits the symbolism associated with this trope.

Becomes a plot point when Violet sees that in a baby photo "Will" had blue eyes - when he was past the age where they might naturally have changed colour.

Cool Aunt: Although she's more of a Cool Godmother, Coral from Love Frankie takes on this role to Frankie and her sisters when she comes back to the UK.

Aunt Barbara in Lola Rose is an eccentric woman who wears colourful clothes and has many exciting stories about her life and travels. Jayni/Lola and Kenny see her as this trope, especially when

she uses her skill in Thai boxing to get their abusive father to leave.
Phoebe in The Primrose Railway Children is the closest to her father, being the youngest and fond of playing imaginary games unlike her teenage sister and Literal-Minded brother.

She takes it the hardest when she learns he is in prison, during which time she briefly decides she never wants to see him again.

Deconstructed with Jayni in Lola Rose who does love her dad, but can't get away from the fact that he's very violent to her mother (and has threatened Jayni himself), despite frequently proclaiming how much he loves his children. She also feels under pressure to act like this trope in case he gets angry with her for not showing enough affection.
Kids Shouldn't Watch Horror Films: In The Werepuppy, the story starts when Micky and his sisters watch a werewolf movie. The movie leaves Micky terrified of dogs.
Lethally Stupid: The Longest Whale Song features a scene where Ella tries to swim like a whale, and almost drowns because she doesn't realize humans have a different lung capacity, and doesn't come up for air when she needs to. Ella is implied to be at an age where this kind of misconception is likely. Ella's behaviour throughout the book is consistent with her age being the reason for many of her flawed actions.
Limited Special Collector's Ultimate Edition - In Midnight, Violet owns a first edition copy of The Smoke Fairy by Casper Dream, which is now highly prized by collectors (it is his first published work and only a few copies exist, as it was subsequently banned from sale.) Violet's aware of how valuable it would be, but treasures it so much that she will never sell it.
Love Father, Love Son - the title character in Amber has a short relationship with her mother's ex-boyfriend, who believes Amber is pregnant (though he's not the father), and wants to marry her and raise the baby together. Amber's mother isn't at all happy with this idea.
Love Makes You Crazy: In quite a few, but particularly in The Illustrated Mum between Marigold and Micky. Apparently they were only together for a few weeks before Marigold became pregnant with Star, yet years afterwards she still yearns for Micky and her driving force behind her actions in the novel is for the sake of pleasing him.
No Infantile Amnesia: Hetty Feather claims to remember being a baby, specifically being given up as a newborn by her mother in Hetty Feather.
"Not So Different" Remark: Ella in The Longest Whale Song overhears her friend Sally talking about how she's become mean and moody after her mother's coma and hears another girl Dory agree that her friend Martha was "just the same." She later learns that Martha has an abusive home life. While Ella's own stepfather and mother are not abusive, she recognises that Martha is probably feeling as miserable as herself, which causes her to make the effort to be friends instead of enemies.
No Social Skills: A huge part of Prudence's problems in Love Lessons, when she is incapable of fitting in with others thanks to years of homeschooling and her own rather headstrong attitude. Ironically, her younger sister ends up happy and makes friends easily even though she is frequently considered 'slow' by her family.

Played with India in Secrets, who is very intelligent but sometimes veers into Innocently Insensitive behaviour. Some characters are more sympathetic about it than others.

No Sympathy - Nadine and Magda often behave this way towards Ellie in the Girls series. Several sets of parents - particularly Andy's in The Suitcase Kid and Sunset's in Little Darlings (though only to Sunset and not her younger siblings) - show a woeful lack of empathy as well. Though in "The Suitcase Kid", they are well-intentioned.

Alice's mother in Best Friends is incredibly insensitive towards how much the move is distressing her Alice and Gemma, who have been best friends since birth. And Gemma's mum's no angel either, being so critical of Gemma and Alice running off together, although this is a certain amount of JerkassHasAPoint, and AngerBornOfWorry.

Not Blood Siblings - Jem and Hetty
One-Night-Stand Pregnancy: Happens in Baby Love. Leon and Laura meet once, then Leon disappears from the story and he's never seen again, while Laura has to deal with her pregnancy, even though she's only fourteen.

By all appearances, this is how Destiny in Little Darlings was conceived.
In Dustbin Baby, April reflects that this might be the reason why her mother abandoned her.

One Steve Limit: Averted in different books - in both Queenie and Wave Me Goodbye, the protagonists mention they are bullied by an Alpha Bitch. Both characters are called Marilyn, and their surnames both start with H, and they both serve the same purpose.
Orphanage of Fear - The Foundling Hospital in Hetty Feather. Also the children's home Elsie remembers from when she was little in Queenie.

The correctional facility in The Runaway Girls is a glorified workhouse for children too young to be in the real thing, and is shown to be as bad or worse.

Overprotective Dad - Prue's father in Love Lessons, Katherine's father in Waiting For the Sky to Fall, Beauty's father in Cookie
Paparazzi - In Little Darlings, Destiny's celebrity dad has been getting negative press attention from them, so decides to use her in a PR stunt to improve his image.

Referenced in Vicky Angel where Jade discovers that a newspaper has taken pictures of her without her consent, and run a factually incorrect piece about her as part of the coverage of Vicky's death. Ghost Vicky even points this out.

"Trust them to get it wrong! It's a wonder they got my name right!"

Parental Bonus - a less light-hearted: a lot of the issues dealt with in the books are subtle enough for the target demographic to miss, but which an older reader will pick up(or suddenly remember in a bout of Fridge Brilliance)
Parental Favoritism: Ellie worries that Eggs is both her father's and Anna's favourite. Nadine thinks that her sister Natasha is their parents' favorite, given that her mother is less harsh on Natasha than on Nadine herself.

Prudence is her father's favourite in Love Lessons, but he barely treats her any better than her mother or sister.
Marigold in The Illustrated Mum genuinely likes Dolphin, but favors the much more critical Star. This favoritism is suggested to stem from the fathers; Marigold prefers Micky (Star's father) to Michael (Dolphin's father). Dolphin knows this and feels sad as well as lonely.
In Waiting For the Sky to Fall, Katherine is her father's favourite, but this has the negative effect of causing him to put her under intense pressure to do well in her exams.
In Katy, Katy states that she thinks her sister Clover is their father's favourite child, although he says he doesn't have one.
In "The Suitcase Kid", Andy reflects that her stepfather Bill treats ten-year-old Katie like an angel and acts like she can do no wrong when she's actually incredbly mean (Andy is the only one who gets in trouble when she and Katie fight). In contrast, he nags his older daughter Paula and appears to not even like Graham. Graham even recounts a story when Katie gave him a black eye and he got in trouble for it - not because he provoked her (he didn't), but because he couldn't hold his own against her.

Parental Neglect - Happens a lot:

The most obvious example is Dustbin Baby where April's mother, who had serious depression, could not look after her and left the five or six-year-old April to attempt to cook for herself, do her own washing and get herself to school.
Tracy Beaker, and Elsie in Queenie, end up being taken into children's homes because they had been left at home alone by their mothers (although in Elsie's case, she's able to go and live with her grandmother.)
In Lily Alone, Lily's mother is deliberately neglectful and leaves Lily (who is only eleven years old) alone at home to take care of her three preschool-aged siblings. She eventually goes on holiday expecting her ex-boyfriend to babysit, without having asked him first and unaware that he is also on holiday. This leaves the children alone at home with the prospect of being stuck by themselves for two weeks. The predictable happens when it ends with

Lily and her siblings taken into foster care, and their mother charged with child neglect and credit card fraud. (from a previous incident.)

Jayni's mother in Lola Rose leaves her two young children alone while she works a bar job late at night, eventually leaving them for several days when she goes into hospital for an operation (although they are able to trace their estranged aunt, and get help.) Most on the time this isn't deliberate, though Jayni mentions that Nikki has often stayed out without warning, leaving her to look after her brother.
Marigold in The Illustrated Mum tries to be a good parent, but frequently leaves her children alone all night while going out, and is often not able to take care of them when depressed. Marigold is somewhat aware of her tendency to neglect Star and Dolphin, and actually expresses concern that she might be a bad mother.
In Clover Moon, Clover isn't given a proper education and is expected to look after her six siblings all day.
Several other stories have very young protagonists who are left to look after younger siblings alone while the parents work long hours or (in The Bed and Breakfast Star) just sleep all day.

Parents as People - Generally presented negatively.

In Lola Rose, the mother's understandable terror at being diagnosed with breast cancer almost lands her whole family back with her abusive husband. Occasionally she also sometimes puts Jayni into the role of an adult, with Jayni describing her as trying to make her be the mum.
The Diamond Girls has the protagonist's family in a constant state of upheaval due to their mother frequently changing boyfriends and moving her children to new homes.
The Illustrated Mum portrays the title character as having bipolar disorder, which actually does get her kids into dire straits. As in 'Lola Rose,' this has resulted in forcing the oldest daughter to take on the more parent-like role in the family.
The parents of The Suitcase Kid use their daughter as little more than an inconvenient chess piece. Though they equally love their daughter, and are both horrified when she goes missing at night (even getting the police to form a search party).
Only Cam in the Tracy Beaker series is actually portrayed positively.
An early novel that Wilson based on this theme was Amber, in which the title character struggles to lead a normal life in spite of her mother's irresponsible hippy/"groupie" lifestyle.
In Queenie, Elsie's mother neglected her to go out partying, leading to Elsie being taken to an orphanage and later adopted by her grandmother. When they reunite years later, Elsie's mother hasn't changed a bit and continues to treat her daughter as an inconvenient nuisance to her own career and lifestyle.
Tina's mother in Falling Apart still hasn't recovered from her son's death seven years ago, and makes Tina feel very unloved because of it. It's drawn to attention several times that she never directly looks at Tina when speaking to her. When Tina

unsuccessfully

attempts suicide, her mother reacts harshly, to the point that it seems she wasn't even worried about her daughter dying and just angry that she'd try to kill herself.
In The Other Side, Allison's father expects her to conveniently fit into his new family, chastising her when she doesn't; with little sympathy for her high stress at having to unexpectedly move home after her mother was taken into hospital. He is so wrapped up in his new wife and stepchildren that he misses obvious signs Allison herself may be developing a mental health problem. When she

tries to jump out of a window, genuinely believing she could fly

he finally tries to get help for her - but still refuses to listen to her, instead acting as if she made an attention-seeking suicide attempt.
Barbara's father in Deep Blue uses his daughter to vicariously live out his own dreams of Olympic stardom, completely disregarding her wish to lead a normal teenage life.
Lily's mother in Lily Alone was only 15 when she had Lily, and is implied to be very codependent on men, resulting in three more children. However, she's very immature, still trying to be a teenager and certainly not ready to be a mother, constantly dumping her younger children on Lily with bad results and

has the kids taken away, with a low chance of reunification.

She does love her kids, but she's still a bad mother in the eyes of the law.
Tilly's mother left her daughter in the care of her husband (implied to be due to depression) and didn't get in touch until some eighteen months later. While she loves her daughter and wants to stay in touch, she fails to fully comprehend Tilly's lack of understanding over the situation and how revelations such as being married to another man and pregnant with another child might upset her. She herself acknowledges that Tilly's father is a much better parent for Tilly than she is.

Persecuted Intellectuals: Jessica from Wave Me Goodbye is particularly intelligent, but also precocious. The other girls pick on her because she's a new girl and smart. She is eventually isolated after an incident involving a scandalous piece of writing, as the nuns running her school feel she may corrupt the other girls.

Pearl from My Sister Jodie becomes nervous when a girl at her new school notices her writing a lot in an English lesson because kids who tried hard at their work were considered swots and show-offs at her old school. Beauty and India are also treated with scorn by their female classmates when they answer questions correctly in class.

India: What's so bad about being clever?

Pet the Dog: At the end of The Story of Tracy Beaker, Tracy gives Justine her favorite pen despite the latter being so nasty.

In How to Survive Summer Camp, Stella lets Karen win a competition for Stella's expensive designer T-shirt because she feels guilty about falsely accusing Karen of a crime.
Will sews up all of Violet's fairies in Midnight after she destroys them during an argument, then hangs them up in a tree outside her window.
In Cookie, Beauty considers not inviting Skye to her birthday party and tearing up the invitation in front of her class, but sees how desperate she is to attend and invites her, despite how mean she is.
Surprisingly, Mildred in Clover Moon at least attempts to understand Clover's grief when Megs dies, saying that if the baby she's currently pregnant with is a girl, they'll name it after Megs. This backfires, as Clover can't help seeing it as replacing Megs.
Katie in The Suitcase Kid is implied to have eventually told the adults that Andy had left the house at night and was later mentioned to have been in tears, suggesting it was out of genuine worry. She also stopped taunting Andy when she realised she was serious about going out, telling her that she was just making things up to annoy her.

Playing a Tree - In The Left-Outs, Joan hopes to shine at her new school by winning a leading role in the school play (The Pied Piper of Hamelin); but is humiliated when she's cast as a rat with no lines. She fights back by starting her own drama club and putting on a play with other kids who had been cast as rats or background props.
Potty Emergency and/or Potty Failure: Occurs in several books. In Double Act, Garnet is embarrassed about having wet herself on stage during a school play when she was very young. Tracy of the Tracy Beaker series wets the bed at first. It's implied that this happened to Gemma in Best Friends, who references 'the time I thought I could make it home from McDonald's after two large cokes and a milkshake without going to the loo.' Several younger siblings throughout the books also need to pee frequently, often at great cost.
Promotion to Parent - Sadie in The Mum-Minder, who must take over her ailing mother's childminding duties for a week. Jayni/Lola Rose gets this to some extent in Lola Rose when her mother goes into hospital, leaving her alone to take care of her little brother.

Star in The Illustrated Mum mentions having raised Dolphin for most of her life despite only being three or so years older than her.
Clover in Clover Moon is treated as a skivvy by her Wicked Stepmother and therefore is always having to be a second mother to her six younger siblings.

Punny Name - Billy "Biscuits" McVitie, since McVitie is one of the biggest biscuit-making companies in Britain.
Pushover Parents: Prue and Grace's mother in Love Lessons is used to being the nice one while her dominating husband bullies her and her daughters. When he has a stroke, she shows an utter lack of control over them, Prue in particular and laments they would never behave so wilfully with their father around.
Raised as the Opposite Gender - In The Diamond Girls, the main character's mother tries to raise her new baby girl as a boy; having been convinced while she was pregnant that she would finally have a son this time (she already has four daughters.) She does get found out and agree to stop the charade.
Raised by Grandparents - the heroine of The Power of the Shade

In Queenie, Elsie was raised by her grandmother because her own mother had abandoned Elsie. Secrets also has Treasure's grandmother take her in after Treasure is beaten by her stepfather.
The protagonist of The Cat Mummy has a living father but is looked after by her parents during the day while he is at work.

Replacement Goldfish:

In Midnight, the heroine's brother

was adopted because he looked exactly like their parents' first baby, who died

In The Illustrated Mum, Marigold tried to replace her first love Micky with

Dolphin's father Michael, who went by "Micky" at time.

It didn't work out.
In Glubbslyme, the eponymous toad attaches himself to Rebecca because she happens to have the same name as his former mistress, though he's disappointed she's not a witch and just a ten-year-old girl. He does grow to like her for herself, though.
In Falling Apart, Tina is aware that her relationship with Simon is going nowhere, but is desperate to hang onto him because he fills the emotional void she feels after her brother died.

In Hetty Feather, Hetty loses hope after finding out that Jem (who promised to marry her when she grew up) has made the same promise to their younger foster sister Eliza.
Retcon - Billy "Biscuits" gets a change of surname between Buried Alive/Cliffhanger (his first appearances) and Best Friends, where he reappears as a main character in a book unrelated to the previous two.
"Romantic" Two-Girl Friendship

Gemma and Alice in Best Friends, although they're around 10 years old and thus would be a very mild version of the trope. The ending, where

they are banned from seeing each other again but Alice's birthday package lets Gemma know that Alice still considers her a best friend

almost pushes them into Star-Crossed Lovers territory.
Treasure and India in Secrets. In one scene, India imagines being jailed for hiding Treasure in her attic and then dreams about smuggling letters to her and then their reunion. She describes it in a way that could've been about a romantic partner, even though they've been friends for a very short time.
Daisy and Emily in Sleepovers. From the beginning, Daisy is very keen on being Emily's 'best friend', and the way it's set out with Alpha Bitch Chloe already being Emily's 'best friend' is very reminiscent to a Love Triangle. What's more, in the same book, Amy and Bella look set to be the Beta Couple.

Sadist Teacher - Miss Beckworth in The Lottie Project (though by the end it's obvious she's more of a Stern Teacher)

Also Miss Hill from The Illustrated Mum, who seems to delight in making Dolphin's day that much worse, despite the fact there would be a lot of evidence that Dol had a rough home life and at one point she continues to lecture Dol about the fact she hasn't even washed her face even as Dol is crying. However, she then appears to have some remorse, and later in the story, she definitely pulls a Heel–Face Turn after the school being made aware of what Dolphin has been through.
In The Butterfly Club, Tina and her sisters initially view Miss Lovejoy as this, although it is made clearer that she is actually closer to a Stern Teacher.
Miss Morley in Hetty Feather makes fun of Hetty for being one of the most intelligent students, and hits Polly with a ruler for trying to help by pointing out her mistakes.
Mrs Godfrey in Love Lessons treats Prue rudely for no reason when she asks for an English exercise book on her first day. Then she mocks Prue in front of the whole class for working hard on an essay about a poem. This is especially upsetting, as Prue is actually good at English and struggled in most other subjects with the exception of Art.
Miss Mountbank in Opal Plumstead finds any excuse to punish Opal and say horrible things to her. When Opal mentions her father is close to getting a book published, she accuses her of lying despite all evidence to the contrary. Her actions seem to be because Opal is a scholarship student who can't help coming top in everything.
Mr Bentley from Wave Me Goodbye is quite mean, and even tries to take Shirley's books away when it's clear how much she cares about them.

But he's nothing compared to Mr Mitford, who gives a child the strap for one remark, terrifying the new students. Then he won't give Mary a pencil when hers breaks (although he gave one to another girl), then makes fun of Kevin's height and lack of knowledge. Luckily, Shirley's good vocabulary keeps him from lashing out at her.

Sand In My Eyes: Whenever Tracy Beaker cries, she insists that it is a "hay fever attack".
Second Love - Russell for Ellie in the Girls series. In Opal Plumstead, Opal considers beginning a relationship with her second love Sam

after her first, Morgan, is killed during WWI

.
Self-Insert Fic:

The heroine of The Lottie Project writes her school history project as the fictional diary of a Victorian servant, who is a thinly veiled copy of herself.
In Clean Break, the protagonist meets a famous children's author named Jenna Williams, clearly intended to represent Wilson.
A subplot in Nobody's Perfect involves Sandra, who's looking for her biological father, writing a story about a girl named Rosamond going through the same experience. Lampshaded when she manages to get the story published - and they change Rosamond's name to Sandra.

Shared Universe - Implied across several books:

Garnet from Double Act is mentioned in My Sister Jodie. She and Ruby also reappear as adults in The Butterfly Club.

In the former, this may not be the same Garnet, since Pearl mentions reading a book that has the plot of Double Act.

In Midnight, Jasmine talks about how she used to go to Marnock Heights, the boarding school the twins in Double Act try to get into.
Tanya and Pat from Bad Girls reappear in Dustbin Baby where Pat turns out to have been April's first foster carer.
The final illustration of Candyfloss shows many of Jacqueline Wilson's characters visiting the fair, including Gemma, Alice and Biscuits from Best Friends and Floss's dad reads her a book with the same plot as Glubbslyme as a bedtime story. Interestingly, in the illustration for Chapter 14 of the same novel, three books can be seen that resemble the real-life book covers for The Diamond Girls, Secrets and Best Friends. Whether this is a reference to Jenna Williams in Clean Break, a fictional version of Jacqueline Wilson, is uncertain.
Jenna Williams shows up briefly in The Butterfly Club, as she comes to the fair at Tina's school. She's not mentioned by name, but the illustration shows it's her.
Biscuits from Buried Alive and Cliffhanger is a character in Best Friends, where he's Gemma's friend back home after returning from holidays with Tim.
Elaine the Pain from The Story of Tracy Beaker is mentioned in Dustbin Baby.
Additionally in Best Friends, Gemma and Alice's favourite television programme is The Story of Tracy Beaker the show that exists in real life, rather than the book, since Best Friends exists in the same world as Buried Alive! which exists in the same world as Girls In Love which exists in the same world as Bad Girls which exists in the same world as Dustin Baby which exists in the same world as The Story of Tracy Beaker, apparently Tracy really did hit it big in-universe.

Several books drop in references to Tracy as a cultural icon, with Beauty from Cookie mentioning having a Tracy Beaker dressing gown and Sylvie from Kiss trying to style her hair but only succeeding in getting a style she compares to Tracy's. My Mum Tracy Beaker states that Tracy was on TV in universe, however this was a documentary on children in care.

Rent-A-Bridesmaid features Marty and Melissa from The Worst Thing About My Sister, with a bridesmaids' dress made by their mother. There's also a mention of La Terrazza, an Italian restaurant first mentioned by India in Secrets.
Clover Moon takes place in late Victorian times, just like Hetty Feather, and many of the characters from the first book are mentioned and/or appear, including Hetty herself. The series is even called "World of Hetty Feather."
The castle in Girls in Love is the same castle as in Buried Alive!.
A large number of the books mention characters going to the Flowerfields Shopping Centre, although it's not clear whether it is the same one each time.
Hetty Feather shows up in Dancing The Charleston as an adult, as a model of Queen Elizabeth (she even mentions that Diamond is taking over her shift when she finishes).
The Runaway Girls ends with the girls finding Tanglefield's Travelling Circus from the Hetty Feather'' books, although this takes place around thirty years before Hetty discovered it. Mr Tanglefield is still a boy and his father runs it, and Madame Adeline calls herself "Miss Adeline" as she's still too young to be "Madame" (she is described as a girl rather than a woman).
One of Cam's fosters in My Mum Tracy Beaker is implied to be Lily from Lily Alone.

Shipper on Deck: Dixie ships her mum with Bruce, a friend of her dad's that she bonds with, though it's mainly because she wants a father figure in her life and not because she understands how adult relationships works.

A similar example is when Beauty in Cookie ships her mum with Mike, a new friend they met after moving to the seaside; seemingly because she thinks her mum deserves a happy relationship after leaving Beauty's abusive father (although Beauty is understanding when her mum gently explains that she's told Mike she just wants to be friends.)
Deconstructed in Love Lessons, as Grace ships Prue with Toby because he's the most popular boy in school, and their mother does too eventually, much to Prue's annoyance as she can't stand Toby and all his attention does is attract more bullying from Rita.
Jess in We Are the Beaker Girls is desperate to find Tracy a new boyfriend so that there is no chance of her dating Sean. Although she prefers Tracy being single, by the end of the book, she is ready become this for Tracy and Peter Ingham.

Shout-Out: The Runaway Girls have characters called Lucy and Kitty, referencing the nursery rhyme. Lucy's father even calls her "Lucy Locket", and Lucy brings up the rhyme several times. However, Kitty doesn't recognize the rhyme when Lucy recites it to her.
Shrinking Violet - Violet in Midnight (aptly enough), Sylvie in Kiss, Beauty in Cookie, Lolly in The Dream Palace, Pearl in My Sister Jodie, Garnet in Double Act, Bliss in Lily Alone and several others.

Lizzie in Lizzie Zipmouth isn't actually shy, she just refuses to speak due to being angry at her mother's remarriage. She grows out of it, eventually.

Sibling Yin-Yang - Violet and Will (Midnight), Pearl and Jodie (My Sister Jodie), Dolphin and Star (The Illustrated Mum), Garnet and Ruby (Double Act), Marty and Melissa in The Worst Thing About My Sister. All the sisters in The Diamond Girls are examples, but particularly Dixie and Rochelle.
Signature Style - Recurring themes in Wilson's books include broken homes, neglectful mothers and / or absent or demanding fathers, the heroine wanting to be a writer or artist, part of the story being set in a museum or art gallery, and the main character making friends with a social outcast.

Characters often have a tendency to repeat words for emphasis - as in "school is awful awful awful".

Skyward Scream: In "The Dare Game", during an argument with Football, he tells Tracy that his dad doesn't want him and nobody wants her either, leading Tracy to scream "My mum wants me!!" so loudly she hears it echoing down the street and an alarm goes off somewhere.
Someone to Remember Him By: In The Power of the Shade, May's mother died shortly after May was born; her grandparents treat May as this trope and encourage her to be more like her mother.
Spell My Name with an "S" - In Lola Rose, Jayni explains that the unusual spelling of her name is because it was chosen as a portmanteau of her parents' names (Jay and Nikki.)
Spirited Young Lady - Rose Rivers. She knows how to behave as an upper-class young lady, but often chooses not to be. Often contrasted with other girls in her social position, but feels more of a kinship with Clover, a servant girl from a poor family, and Hetty, a penniless foundling child.
Squick: Love Lessons tells the story of a school teacher's affair with a 14-year-old student. It's told entirely from her perspective and due to her youth and naivety, she doesn't see anything wrong with it, but older readers will hopefully feel a bit ill about the teacher going with it, though he breaks it off before it goes too far.
Stacy's Mom - Mr "Rax" Raxberry in Love Lessons, Coral's employer in This Girl, Paris Walker in Rose Rivers.
Start My Own - In The Left-Outs, a group of kids who didn't get speaking parts in the school play decide to put on their own production.
Stepford Smiler: Lola Rose would act like this in hope of not setting her father off. The same goes for Beauty in Cookie.
Straw Feminist: Isobel in This Girl fits this trope, and is particularly angry about the plight of Victorian women forced to work as domestic servants (she is a college lecturer in history.) This doesn't stop her from hypocritically exploiting Coral, an impoverished young girl, as a housekeeper.
Street Urchin: Kitty from The Runaway Girls. Lucy also counts herself as one once she is turned away at her home (because her father didn't recognize her after she had her clothes stolen), but it's obvious she didn't grow up on the streets by her manners and accent.
Stress Vomit: Happens to several characters in several books. Jade from Vicky Angel throws up whilst waiting for her dying friend in hospital, and Em from Clean Break is made physically sick by the revelation that

her father is having an affair.

Surprisingly, this happens to Marty for the opposite reason. After Melissa's fall, she makes up a lie about how it happened instead of telling them that Marty kicked the ladder while she was on it. Marty had been terrified that Melissa would tell on her because she'd always done so before, but she throws up because she is "sick with relief".
It happens with Garnet from Double Act when she gets really nervous about going to the audition.

Surprise Incest: No attention is called to it, but during ''Dancing The Charleston, Mona appears to have a one sided crush on

Roland. He doesn't do anything to suggest he realizes, but since he knows that they're cousins but Mona doesn't, that's not surprising. Only a borderline case as they're not closely related, but it's still a shock when Mona discovers it.

Surprisingly Realistic Outcome:

In Best Friends, when Gemma and Alice try to run away when they find out Alice is moving to Scotland, it takes their parents about five minutes to figure out they've gone to the train station and both of them are taken home and forbidden to go out.
In Lily Alone, Social Services are not happy about Lily's mother abandoning her and her siblings for a vacation in Spain with her boyfriend, even though she (weakly) tried to arrange care for them. Lily's mother is charged with neglect and the kids are put in foster care. The boyfriend also dumped her when he learned what happened.
In The Illustrated Mum Dolphin searches for her father when Marigold, her mother, is taken into hospital with bipolar disorder. Dolphin is successful, and Michael, her father, is genuinely pleased to meet her. At the same time, however, Michael points out that being blood relatives does not override the fact that Dolphin is a complete stranger to him, and hence they must get to know each other properly before he can adopt her.
Lolly spends most of The Dream Palace on the run with Greg, who's wanted by police because

he stabbed and severely wounded her stepfather

. Finally, she comes to realize that she can't live like this forever, and hands him over to the police so that she can go home and resume a normal life.

Survivor Guilt:

In Vicky Angel, Jade suffers heavily from this after Vicky's death, believing that it's somehow her fault Vicky stepped out into the road and was killed. Later in the book, she sees a bereavement counsellor who confesses she blames herself for her very young daughter's death from a terminal illness, even though logically she knows it couldn't have been her fault.
Part of the reason for Tina's

ultimately unsuccessful suicide attempt

in Falling Apart. Her brother was killed falling out of a tree, and Tina blames herself since she encouraged him to climb it.

Sympathetic P.O.V. - In ''Love Lessons', some readers might not be rooting for Prudence. Her headmistress even gives her a "The Reason You Suck" Speech near the end.

Em and her half-siblings adore Frankie (Em's stepfather) but it can't be denied that he cheated on their mother for six months, took them out of school to an unknown location without telling anyone and all but disappears from their lives for the rest of the year. Justified as they are children and don't fully comprehend the situation.

Teacher/Student Romance - Prue and Mr Raxberry in Love Lessons. Though he eventually decides he can't continue the relationship, he does kiss the underaged Prudence a few times and even tells her he loves her.

In The Power of the Shade, May develops a semi-romantic relationship with her teacher, for whom she writes romanticised fairytales. At the end of the novel, she seems to get over it after

experiencing a psychotic break during which she hallucinates that she burned his house down.

Teen Pregnancy -

16-year-old Martine

gets pregnant in The Diamond Girls. In Secrets, Treasure's aunt Loretta is a fifteen-year-old mother, and it is hinted that Treasure's mother was a teenager when she had Treasure. April in Dustbin Baby believes that her mother was a young teenager who could not take care of a baby and was thus driven to abandon April. It is also noted that Jo from "The Lottie Project" became pregnant with Charlie while she was still in school.

A plot point in Amber is that the title character thinks she's pregnant

although she's not.

Tina's mother accuses Tina of being pregnant in Falling Apart without even asking her first. Tina reacts defensively.
Tracy Beaker's mother had her at 16, with the latter stating in the film that she "was hardly a child herself when she had [Tracy]". Tracy says that in her children's home, baby Wayne is sometimes visited by his mother who is even younger than Adele, a sixteen-year-old also living at the home.
In Girls Under Pressure, Anna suspects that Ellie's Weight Woe is due to this, but Ellie reacts more maturely than Tina.
in Lily Alone, Lily's mother was 15 when she had her.
In The Lottie Project, Charlie mentions her mother Jo is a lot younger than the other mums and her parents initially wanted her to give Charlie up for adoption, but Jo refused to do so and seems to still rather resent her parents for this suggestion.
Baby Love focuses around this and the typical reaction of the 1960s. All of the girls at the house Laura is sent to are teenage mothers, all of whom are expected to give up their baby to be adopted.

Tempting Fate: In "Vicky Angel",

Vicky's last words are "Who wants to grow up?" She is hit by a car seconds later and doesn't get the chance to grow up.

The Film of the Book - Dustbin Baby, Double Act, Best Friends, The Illustrated Mum and Katy became made-for-TV movies. Four Children and It also has a movie in the works and Wilson is reportedly in talks for film adaptations of Lola Rose and/or My Sister Jodie.
The Glorious War of Sisterly Rivalry - Subverted in Opal Plumstead- while Cassie and Opal have a relatively good relationship, they do fall into the same categories: Cassie is the pretty one, and Opal is the smart one.

Played straighter in The Diamond Girls, especially between Jude/Rochelle/Dixie. Martine tends to consider herself above it, as she's the oldest.

Theme Naming - Love Lessons, where Prudence and Grace are so named because their father liked Victorian-style "virtue" names.

"I'm Prudence Charity and my sister is Grace Patience!"

In Sleepovers, the main character and her friends form an "Alphabet Club" because their names begin with the first five letters of the alphabet: Amy, Bella, Chloe, Daisy and Emily.
Also in Sleepovers, Daisy's sister is named Lily, and all the children in Amy's family have names beginning with A.
In Double Act, not only do Ruby and Garnet get Theme Twin Naming, but their mother was also called Opal. Their new stepmother is named Rose, so their father opens a store called The Red Bookshop because his girlfriend and daughters are all named after something red. Ruby and Garnet are very annoyed to be lumped together with Rose and Ruby points out roses aren't always red.
In the Girls series, Nadine and her bratty little sister Natasha both have "N" names.
The protagonist of The Power of the Shade was named May because it's an anagram of Amy, the name of her late mother.

Theme Twin Naming - Ruby and Garnet are both named after red gems.
There Are No Therapists: Often the case. Although eventually averted in Vicky Angel when Jade is finally given some grief counselling and it is a big help to her.
Troubled Teen: Jordan from We Are The Beaker Girls is this, having been in and out of foster care, being taken back whenever she acts out.

When Jess first meets her, she's a homeless runaway disguised as a boy and only manages to get her act together when Cam agrees to foster her while Tracy is working on becoming approved so she can foster Jordan later on.

The Un-Favourite: Sunset in Little Darlings, especially in comparison to her sister Sweetie. In one scene when her mother is taking her little brother to the zoo and her father is taking her sister shopping, they both encourage Sunset to go with the other parent, to which she correctly guesses that neither of them want her along.

Andy in The Suitcase Kid feels this way, especially when she finds out her dad's new wife is pregnant with her half-sister. She even has a nightmare about her half-sister taking her place. Graham also suffers from this from his father, who clearly favours Katie.
Grace in Love Lessons thinks that her dad doesn't even like her. He constantly calls her stupid and fat, and while he is almost as bad to Prue, he generally favours her.
Ellen Jane in Diamond. Matthew, Mark, and Luke cause her mother to continue having babies in hope of having a John. Mary-Martha, as the older daughter, is the most helpful child. Ellen-Jane, however, is almost rejected because she's not the boy her mother wanted, and she doesn't necessarily want a second daughter.

Her father favours her until her mother's death, when he refuses to address her and blames her for her mother's death (even though it was more his fault than hers).

Martha's mother in The Longest Whale Song from what we see treats her worse than her younger half-sister.

Ungrateful Bastard: Jeannie Rivers' behaviour after

Nurse Budd is dismissed for turning Beth into an opium addict

is in line with this. She complains that she'll never be able to find another nurse who could handle Beth and actually acts as if Rose's questioning was the cause of all the problems (had Rose not questioned things, Beth might not have survived). When her husband explains that Clover would mind Beth from then on, Jeannie simply replies that they should dismiss Clover despite her success as a nurserymaid. Jeannie is, in short, dismissing the evidence in order to preserve her perception - therefore, Rose did wrong, and Clover should never have been hired, which makes her seem very ungrateful for her daughter's life being saved.
The Unreveal: It is never revealed in Little Darlings whether or not Destiny is the biological daughter of Danny Kilman. Evidence shows to support and not support this theory. To support it, Destiny is a fantastic singer, and bears resemblance to Danny and his daughter Sunset, but to not support it, her mother is clearly more than a little unhinged and overly obsessed with Danny, which makes it possible to show she might be making this up herself.
Tomboy and Girly Girl - Gemma and Alice in Best Friends, Treasure and India in Secrets, Ruby and Garnet in Double Act, Lolly and Lynne in The Dream Palace, Marty and Melissa in The Worst Thing About My Sister, Katy and Cecy in Katy, Matty and Tilly in "Rent-A-Bridesmaid", Kitty and Lucy in The Runaway Girls.
Too Good for This Sinful Earth: Saul and Sarah in Hetty Feather, who die during a flu epidemic at the Foundling Hospital. Also Megs from Clover Moon who dies of scarlet fever after wearing a shawl laced with the infection.

Averted with Vicky in Vicky Angel and Jodie in My Sister Jodie who were somewhat less than angelic when they were alive.

Trickster Twins - Ruby and Garnet in Double Act occasionally act this way. The first time they meet Rose, she gets their names wrong, but they tell her she's right and their dad has to set her straight. Then they switch seats and Rose gets them mixed up again.
Traumatic Haircut - Example of sorts in How to Survive Summer Camp, where Stella mentions that she used to have very long hair but got it chopped down to bristle when the punky-looking hairdresser misunderstood her instructions to cut only a small amount.

In Hetty Feather, every child who arrives at the Foundling Hospital has this happen to avoid head lice.

Unlucky Childhood Friend - Sylvie to Carl in Kiss, although they do seem to be Platonic Life-Partners by the ending.

Similar situation with Sam to Frankie in Love Frankie. Frankie sees their relationship more as Platonic Life-Partners, due to

her turning out to be a lesbian

. They both remark that their future romantic partners will probably be annoyed that they will always put each other first ahead of anyone else.

Wacky Parent, Serious Child:

The relationship between the title character of The Illustrated Mum and her two children can be considered a deconstruction of this pairing. Marigold genuinely cares for both of her daughters, but is highly susceptible to exaggerated mood swings and extreme behaviors, which worry Dolphin, frustrate Star, and present severe negative consequences for the entire family. Dolphin is bullied at her school and has only one friend, because all of her classmates know about Marigold's unusual ways. Micky, Star's father, is implied to find Marigold's wackiness unbearable.

Towards the end of the story, Dolphin learns that Marigold suffers from bipolar disorder, and hence has to be temporarily hospitalized

.
Tracy and Jess have this dynamic in My Mum Tracy Beaker.
In Amber, Amber's mother Jay is an irresponsible ex-hippy and rock groupie who often acts more like a teenager than her own daughter; while Amber struggles to hold the family together and continue her education.

Weight Woe - Ellie in the Girls series, Em in Clean Break, Barbara in Deep Blue, Allison in The Other Side and Joan in "The Left-Outs" all struggle with their weight. The heroine usually ends up losing some weight by the end of the book.

Em doesn't worry about her weight early on however - it's her gran who keeps insisting on her dieting. Eventually, she does lose weight and partially loses interest in treat foods.
India's mum tries to invoke this with India in Secrets, but she doesn't want to be bothered with eating sensibly and doesn't even try to stick to her diet. India herself comments her mother might be anorexic because she never finishes anything she eats and exercises to an obsessive extent.

Where There's a Will, There's a Sticky Note -

Tina

in Falling Apart does this when

she tries, but ultimately fails, to commit suicide.

Wholesome Crossdresser: Kitty from The Runaway Girls falls in love with a boy's acrobatic outfit on Monmouth Street and doesn't care that she's not a boy, wearing it anyway.
Why Couldn't You Be Different?: In Best Friends, Gemma comments her mother is very exasperated by her Tomboy daughter, as she already has two sons and really wanted a girly girl she could dress up, but Gemma is even more boyish than her brothers and Gemma is convinced her mother would prefer to have Alice as a daughter.

Alexander from The Dare Game is convinced his father doesn't like him because he's a bookish nerd instead of a strapping young athlete like Football.

Why Did You Make Me Hit You? - Vicky Angel and Cookie.

Jay also uses this tactic on Nikki in Lola Rose and we get to see it in action seconds after he promises to care for Nikki after her surgery only to fly into a rage and go to punch her when he finds out she had a relationship with another man in his absence.

Wicked Stepmother - In Emerald Star, Hetty's stepmother is extremely vicious towards her and refuses to believe Hetty is who she says she is at all. She doesn't even thank her for saving her half-brother from drowning.

In Clean Break, Em's dad gets a new girlfriend who has no interest in his children and is as unpleasant to them as possible in the hope that they'll stop visiting.
Mildred in Clover Moon is this to Clover and to a lesser extent, Megs.
Holly in The Worry Website wishes her dad's girlfriend was wicked so she could hate her for taking her mum's place.

When she does turn on her, Holly changes her mind and they make up by the end of the chapter.

Gender inverted with Treasure's stepfather in Secrets. Terry actually hits Treasure with his belt, leaving a scar on her forehead and resulting in Treasure's grandmother finally taking Treasure out of his house, refusing to accept her mother's excuses.
Averted with Anna from the Girls series.
Ruby and Garnet (Ruby in particular) view Rose this way after their father remarries and make it clear they don't appreciate her replacing their mother, though Rose does try to bond with them.

Wild Teen Party: A few in some of her books 'for older readers', most notably those featured in the Girls series.
With Friends Like These... - Many Jacqueline Wilson protagonists have to deal with friends who are cruel and disloyal. It is believable that most of these friendships survive, but they do demand a lot of resilience from the protagonists themselves, all of whom are unwilling to risk losing their friendships with the various problems they have.

Defied in Candyfloss; Floss falls out with the unpleasant Rhiannon and starts being best friends with a much nicer girl.
An example not involving the main character occurs in How to Survive Summer Camp, where Louise clearly could not care less about Karen but Karen continues to idolise and fawn after her.
Vicky was extremely controlling towards Jade which actually makes Jade's heartbreak at Vicky's death even more tragic.
Tyrone in My Mum Tracy Beaker stops being friends with Jess after

Tracy dumps Sean due to his idolization of Sean.

He still appears to be friendly with Jess at the start of We Are The Beaker Girls, but mostly disappears from the story after that.

Wounded Gazelle Gambit - An example of sorts in Deep Blue. Barbara has a real accident at the pool, but greatly exaggerates her injuries as an excuse to quit diving and then get her father off her back.
Younger Than They Look - Making Hate, an early crime novel by Wilson, opens with the protagonist asking a girl on a date - believing that she is a young woman in her 20s. When she arrives for the date, he soon realises she's a teenager, but still thinks she's around 18 (or almost) and just about an adult. It's not until later,

when he is falsely suspected of raping her,

that he discovers she is only fourteen years old.

The Primrose Railway Children: Becks (fourteen years old) passes herself off to Jake (who is eighteen) as sixteen years old. Jake fortunately is very easygoing and gentlemanly and once he becomes aware of Becks' real age, seems to take care not to take things too far.

You're Not My Father - The plot of Wilson's first children's novel, Nobody's Perfect, in which a girl who hates her stepfather tries to track down her biological dad.

He turns out to be equally disappointing.

Dolphin does this a little in The Illustrated Mum with Star's father, Micky, when Marigold encourages Dolphin to accept him as her own dad. Probably justified on the grounds that Micky spent the whole time fussing over Star and ignoring Dolphin and Marigold.
Ruby and Garnet in Double Act love to remind Rose that she is not their mother, although both warm to her by the end of the book.
Prudence says this to her father in the beginning of Love Lessons, but is horrified seconds later when he has a stroke.
In Katy, the protagonist repeatedly pulls this line on her stepmother Izzie. She learns to accept Izzie later on, when she realizes that the fact of her father having re-married after Katy's mother died does not mean he loved his first wife less.
Clover in Clover Moon keeps repeating this to Mildred, her stepmother, and adds this whenever someone refers to Mildred as her mother. In a later scene, Mildred doesn't even notice when Clover walks past her on the street and doesn't even notice she's there. Clover notes that in the text, saying that means she really doesn't see Clover as a daughter, because if she had, she would have recognized her.
Ella in The Longest Whale Song tends to react angrily when anyone refers to Jack as her dad, since she has her own dad, even though he hardly ever makes the effort to see her. However, she does come to appreciate him as the book progresses.
Lucy from The Runaway Girls refuses to see her stepmother as a parent. She even accuses her father of having forgotten her real mother. It doesn't help that when she comes to the door in nothing but a cheap dress, her stepmother doesn't even recognize her.

Zany Scheme - Particularly books aimed at younger children.
---