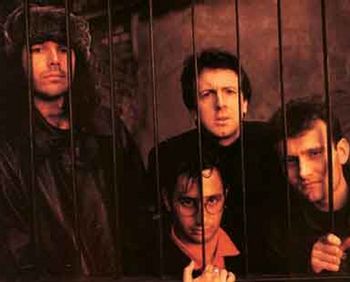 You know the sort of people who want to know what The Mary Whitehouse Experience was? That's you, that is.
The Mary Whitehouse Experience was a British Sketch Comedy that ran on TV and radio in the late 1980s and early 1990s, named of course after the famous Moral Guardian. The format consisted of a number of sketches called 'The Something Experience' (for example, The Family Experience) and would feature one the performers making comments about a subject before cutting to a sketch revolving around the subject. Frequently, no attempt was made to disguise the studio nature of the show and props and costumes tended to be minimal. The team consisted of two writer performer duos, Rob Newman & David Baddiel (whose material tended to be about up to the minute trendy indie bands) and Stephen Punt & Hugh Dennis (whose material tended towards more mundane observational comedy). Newman and Dennis tended to be the more surreal and bizarre performers, while Baddiel and Punt acted as their Straight Man.
Frequently occurring characters included Hugh Dennis's 'Mr Milky' (a weirdo with a strange fascination for past its sell-by-date milk), Rob Newman's Ray who is permanently stuck in Sarcasm Mode (except when he's actually being sarcastic) and the History Today professors (two old men who trade Your Mom type insults).
---
Lovely. Tropey-tropey.
---