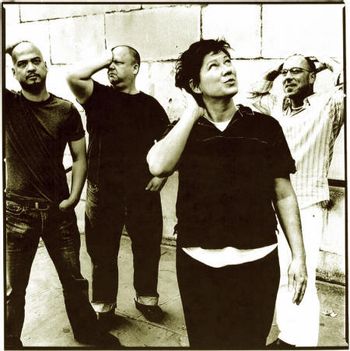 "If man is five
Then the devil is six
And if the devil is six
Another highly influential 1980s Alternative Rock band that reached a moderate level of popularity but enjoyed widespread critical acclaim. Famous fans include: Isaac Brock, Kurt Cobain, David Bowie, Radiohead, PJ Harvey, Weezer, Bono, and Billy Corgan, among others.
The band's original members were guitarist/vocalist Black Francis, bassist/vocalist Kim Deal, guitarist Joey Santiago and drummer David Lovering. Their musical style is distinguished by its fusion of Surf Rock melodies with Punk Rock aesthetics and (later on) Psychedelic Rock influences, being capable of both earworminess and brutal aggression.
Pixies' recording career started in 1987 with the release of the Come on Pilgrim EP on British label 4AD Records. They released four more albums on the same label (with Elektra Records handling them in the US, starting with Doolittle) until officially disbanding in 1993 due to exhaustion after supporting U2 on the Zoo TV tour and intra-band tension, mostly over Francis marginalizing the others' contributions (especially Deal's). Francis changed his name to Frank Black and started a solo career, Deal found success with The Breeders, Santiago worked in soundtracks and his band The Martinis and Lovering alternated drumming with a hobby as a magician. The band reunited in 2004, took a hiatus in 2007, re-reunited in 2009 and is still touring today. In 2013, the group (with the exception of Kim, who officially left halfway through the year) released their first new material in over 20 years: the single Bagboy and the EP aptly titled EP1. An EP2 and EP3 followed in 2014, and the three EPs were compiled into the band's first album in 23 years: Indie Cindy.
Despite the name, there is no Manic Pixie Dream Girl in the band, though Kim Deal's fans may beg to differ. Joey found the word in a dictionary, and they liked it enough to use it as a band name.
Kim Deal also sang the duet, a cover of Chris Bell's "You And Your Sister" with Tanya Donelly (The Breeders) on the album Blood (1991) by This Mortal Coil.
Their discography's length is inversely proportional to its influence:
Come on Pilgrim EP (1987): A sort of "teaser" for their actual career, produced by Gary Smith. One of its tunes, the Spanish-language-wrecking "Vamos", was re-recorded for the next album.
Surfer Rosa (1988): Their raw Grunge album, produced by Steve Albini, with probably the largest predominance of more "comedic"/light-hearted tunes in their catalogue, like the goofy "Tony's Theme", the Bilingual Bonus "Oh My Golly!" (which contains the Title Drop) or the comic malevolence of "Something Against You". Source of the band's first single, "Gigantic", notable for being written and sung mainly by Kim Deal (before Francis' ego kicked in), and the word salady meditation on fish behaviour "Where Is My Mind?", which somehow became very popular for movie soundtracks (most notably playing at the end of Fight Club). More recently, All Elite Wrestling bought the rights to the latter song for use as Orange Cassidy's entrance music.
Doolittle (1989): Where they hooked up with Gil Norton, who stuck with them for the remainder of their career. Has a more polished production, slightly more nightmarish in spots especially when Francis showcases his awesome lungpower ("Tame"), contains their Black Sheep Hit "Here Comes Your Man" and the offbeat ballad about pollution "Monkey Gone to Heaven", which provides the page quote. This was their first album after a deal with signed with Elektra Records, who would distribute their albums in the USA while 4AD handled the UK. Deal doesn't get a tune for herself, but she sings lead alongside Francis on "I Bleed" and "Silver", and provides plenty of backing vocals ("There Goes My Gun", "Monkey Gone to Heaven", "Hey"). Also, Lovering got prodded into singing "La La Love You".
Bossanova (1990): Recorded after the band and Norton moved to Los Angeles, this is the album where Francis took complete control of the band and marginalised Deal (no cowrites or lead vocals; she's largely relegated to backing vocals on the choruses of "Is She Weird", "Ana" and "Havalina"). A much shinier, heavily Surf Rock-influenced effort ("Cecilia Ann") whose lyrical obsession with space and UFOs complements its Psychedelic Rock sound. Contains the successful single "Dig for Fire", "Velouria" (famous for its slapdash, slow-motion abusing video) and some of their mellower material ("Ana", "Havalina"). It got their best chart performance in the UK (#3), while Elektra's resources meant that they started getting extra attention back home.
Trompe le Monde (1991): Maintaining the shiny spacey sound of the previous effort but much more Heavy Metal-influenced (Francis attributed this to recording next door to Ozzy Osbourne), showcases the band at their most badass (the furiously fast "Planet of Sound", "Head On" cover, the cowbell-fortified Take That! "U-Mass"), while making enough room for melodic ("Bird Dream of the Olympus Mons") and mellow material ("The Navajo Know"). Former Pere Ubu keyboardist Eric Drew Feldman contributes keyboards and went on to collaborate with Francis and PJ Harvey.
Complete 'B' Sides (2001): Exactly What It Says on the Tin. Well, almost: it's missing two live performances.
EP1 (2013): First major release in over twenty years and the first of multiple other planned EPs, following the departure of Deal and the release of single Bagboy earlier in the year. Despite mixed reviews from critics, it was largely embraced by the fanbase.
EP2 (2014): They weren't lying when they said there'd be multiple EPs. Worth noting that where Pitchfork gave 1 a 1.0, 2 got a 2.0.
EP3 (2014): It keeps happening. Includes Bagboy, because for some reason neither of the last two EPs did.
Indie Cindy (2014): The first real, full album by the band since ''Trompe Le Monde'. Collects all twelve tracks from the previous three EPs into one convenient, 12-song package.
Head Carrier (2016): Previously a tour-only bassist, Paz Lenchantin joins the band in studio for a full album.
Beneath the Eyrie (2019): Same line-up as the last record, but this time there are three songs co-written by Lenchantin as opposed to just one on Carrier. Many of the songs have a gothic feel, inspired by the former church where they recorded the album.
Vote for your favourite Pixies album HERE
!
Tropes used by Pixies:
Female Rockers Play Bass: Kim Deal, their bassist, was the only female member during her tenure. After she left to join The Breedersnote , they replaced her with another female bassist.
Gratuitous Spanish: Plenty, and sometimes often clumsy.
I Am the Band: Francis pulled this. The band broke up as a result.
Indecipherable Lyrics: "Rock Music". Don't even bother looking in the Bossanova booklet; that song wasn't included in the printed lyrics.

"Something Against You" is another noteworthy example, since in addition to Francis' traditional Careful with That Axe, his vocals are also extremely distorted. Though downplayed, since most of the lyrics are just "I've got something against you".
While Careful with That Axe in general results in a lot of these, some other songs qualify as much due to the speed at which Francis sings them, such as "Oh My Golly!" and "Crackity Jones". Doubly so if they're in Spanish, as almost all of "Oh My Golly!" is (really, only the title is in English).
"I am un chien andalusia" (from "Debaser") might be one for listeners unfamiliar with the film Un Chien Andalou.

Intercourse with You: "Gigantic", arguably "Hey" and "U-Mass".
In the Style of...:

Francis admitted "Dig for Fire" was basically a tribute to Talking Heads.
"Bird Dream of the Olympus Mons" is in the style of The Jesus and Mary Chain, whose "Head On" the band covered on the same album, Trompe Le Monde.

In Your Nature to Destroy Yourselves:

"Monkey Gone to Heaven" can be interpreted as being about this tendency of the human race, given our apparent unwillingness to course-correct on climate change:

"Now there's a hole in the sky

And the ground's not cold

And if the ground's not cold

Everything is gonna burn

We'll all take turns

I'll get mine too."

Francis claims the symbolism was subconscious, but doesn't dispute this interpretation of the song.

The next song, "Mr. Grieves", is about narrator's belief in the title character - i.e., death - because humanity's wars and environmental devastation make any other outcome unlikely.

Jerkass: Francis officially confirmed the band's dissolution in a BBC interview in 1993 without the others' knowledge, and then proceeded to notify them about it by fax and phone.
Kubrick Stare: Santiago does this in the video for "Here Comes Your Man".
Last Note Nightmare: "Where Is My Mind?" suddenly cuts to almost nothing mid-riff, with nothing but very quiet vocals throughout the next several seconds.
Limited Lyrics Song: Quite a few, though "Stormy Weather" has to take the cake ("It is time for stormy weather" are literally the only words in the song).
Looped Lyrics: Used to awesome effect in "Stormy Weather." And to badass effect in the chorus of "Planet of Sound".
Lyrical Cold Open: Used occasionally, such as on "Ed Is Dead", "Tony's Theme", "Distance Equals Rate Times Time", and "Hey".
Lyrical Dissonance: "Wave of Mutilation", "Gigantic", "Here Comes Your Man", "Debaser"... really, almost all their songs.
Miniscule Rocking: A lot of their songs are under two minutes long - just between the first four albums, Complete 'B' Sides, and Come On Pilgrim, you have nineteen examples. "Allison", at 1:18, takes the cake, though.
Money Song: Although Francis dismissed the lyrics as nonsense, "Dig for Fire" can be interpreted as an explicit inversion of this trope, as both the destitute old woman in the first verse and the Rip Van Winkle archetype in the second explicitly reject the pursuit of "the mother lode" (i.e., material wealth) in favour of "digging for fire" (i.e., pursuing their own passions).
Mood Whiplash: A lot of songs, especially given the band's signature quiet verse/loud chorus (or occasionally, loud verse/quiet chorus) contrast. Often, there'll also be mood whiplash between songs. The first three songs on Bossanova provide a particularly pertinent example.
Mondegreen: The cover art of "Gigantic" nods to a potential one for the chorus, by showing an image of a baby next to an image of a glove. ("A baby glove"?)
Motor Mouth: Several songs are examples of this. "Oh My Golly!" combines this with Spanish.
Neoclassical Punk Zydeco Rockabilly: Talking Heads meets Velvet Underground infused with surf rock, punk, and a dash of vaguely Spanish guitar (topped off with a little something called the next twenty years of rock music).
New Sound Album: See above.
Nightmare Fetishist: Black Francis gleefully sings about molestation, Eye Scream and violent Old Testament stories, among other things, though he toned it down on later albums.
Not Christian Rock: Biblical stories were a frequent source of inspiration for Francis' lyrics. However, he drew almost exclusively on the darker themes of the Old Testament, and none of it really came off like he was trying to make a serious statement about Christianity one way or the other.
Obligatory Bondage Song: According to some interpretations, "Break My Body".
One-Woman Song: "Ana" and "Cecilia Ann".

"Allison" seems like an example, but it's actually a One-Man Song about jazz/blues pianist Mose Allison. Though it's not like you could tell that from the abstract lyrics.

Pater Familicide: "Wave of Mutilation" was inspired by reports of Japanese families committing suicide by driving into the ocean.
Pedophile Priest: In "Bone Machine".
Perishing Alt-Rock Voice: Kim mainly. Francis would count if he didn't do the epic Careful with That Axe so often.
Pop Punk: An Ur-Example with their melodic songs cranked up to eleven.
Precision F-Strike: On Trompe le Monde, "Planet of Sound" has "

THIS AIN'T NO FUCKING AROUND

" (it sounds like that) and "U-Mass" has "Oh kiss me cunt / Oh kiss my cock / Oh kiss my ass / Oh let it rock".

"Besando, chichando con Surfer Rosa" ("Oh My Golly!") translates as "kissing, fucking with Surfer Rosa".

Questioning Title?: "Where Is My Mind?"
Real Life Writes the Plot: "Where Is My Mind?" was inspired by Francis' experiences scuba diving in the Caribbean.

Francis: [I had] this very small fish trying to chase me. I don't know why — I don't know too much about fish behavior.

Rearrange the Song: The band began playing a drastically slower and creepier sounding version of "Wave of Mutilation" live, which proved very popular with the fans and was recorded in studio as the B-side "Wave of Mutilation (UK Surf Version)". Later on, they have been known to play both the fast and slow versions in the same set list.
Record Producer: Gary Smith, Steve Albini and Gil Norton.
Shout-Out:

I said "I wanna be a singer like Lou Reed"

"I like Lou Reed," she said sticking her tongue in my ear.

The spelling of P-I-X-I-E-S by the backing vocals on "Cactus" is a reference to a T. Rex song in which they do the same thing.

The Smurfette Principle: Kim Deal.
Stage Names: Francis' real name is Charles Thompson.
Soprano and Gravel: Black Francis' alternately screaming and normal vocals, in contrast with Kim Deal's more girlish vocals.
Spelling Song: The band spells out "P-I-X-I-E-S" in the bridge of "Cactus".

Look at the lyrics to "Ana", look at the first letter in each line of "Ana", what does it spell?

S-U-R-F-E-R

"I've Been Tired" ends with them spelling out the word "tired."

T-I-R-E-D spells "tired!"

Kim Deal spells out "Velouria" in background of the song of the same name towards its end.

Step Up to the Microphone: "Gigantic," "Into the White," and the cover of "I've Been Waiting For You" have lead vocals by Kim Deal (and she does backing vocals on quite a few tunes), while "La La Love You" and the B-side "Make Believe" are sung by David Lovering (who also adds backing vocals to the previously-mentioned "I've Been Waiting for You"). And from 2004 up until the point she officially left the band, they tended to have Kim sing "In Heaven (Lady In The Radiator Song)" live instead of Francis.

"All I Think About Now" features Paz Lenchantin on lead vocals. Black Francis asked her to sing it, and she agreed to it so long as he wrote the lyrics and the song was a "thank you letter" to Kim Deal.

Strictly Formula: A quiet verse, A LOUD CHORUS, then another quiet verse.

The formula is inverted by "Bone Machine", which has loud verses and a quiet chorus. "Gouge Away" also inverts it.

Subverted Rhyme Every Occasion; "Vamos" gives us this stanza:

They'll come and play

Their friends will say

Your daddy's rich

Suddenly SHOUTING!: As mentioned under Strictly Formula, this band has a lot of quiet verses that lead suddenly and jarringly into a Careful with That Axe chorus.
Surreal Horror: Francis loves this.
Surreal Humour: Francis also loves this.
Suspiciously Similar Substitute: Kim Shattuick and Paz Lechantin are both this to Kim Deal. The one song that Paz sings seems to be sung as close to Kim's voice as possible.
Take That!: "U-Mass" is a slap at the University of Massachussetts, which Francis and Santiago dropped out of to form the band. "Subbacultcha" also arguably mocks the university-aged segment of their audience (with lines like I was wearing eyeliner / She was wearing eyeliner).
The "The" Title Confusion: It's officially just "Pixies", but there's no law against adding a "The" at the start.
Theremin: Used in "Velouria", "The Happening" and the B-side "The Thing" (which is a preliminary sketch of "The Happening").
This Is a Song about a superhero named Tony! It's called "Tony's Theme!" *rocking ensues*
Three Chords and the Truth: Kind of zigzagged, since they usually have fairly simple chorus/verse/bridge structure without all that many chords, but they often use unusual chord progressions and rhythms (see Uncommon Time below), and some of their songs ("No. 13 Baby", "All Over the World", "The Happening", etc.) use highly unusual song structures as well. ("No. 13 Baby" is practically a proto-Post-Rock song.)
Title Drop: Every album up to Trompe Le Monde was titled after a random line from one of the songs.

Come On Pilgrim — "Come on pilgrim, you know he loves you" in "Levitate Me".
Surfer Rosa — "Besando chichando con Surfer Rosa" in "Oh My Golly".
Doolittle — "Pray for the man in the middle, one who talks like Doolittle" in "Mr. Grieves".
Bossanova — "Every morning and every day, I bossanova with you" in "Hang Wire".

Title-Only Chorus: "TAAAAAAME!".

"Dig for Fire" almost qualifies for this since the chorus is just I'm digging for fire repeated until it's time for another verse.
"Tony's Theme" has a chorus of "TO-NY!" repeated as long as it needs.
And let's not forget "DE-BAAAA-SER!"
"There Goes My Gun".
"Crackity Jones".

Truck Driver's Gear Change: Used to glorious effect in "Stormy Weather."
Uncommon Time: Several songs, such as "River Euphrates", "No. 13 Baby", "There Goes My Gun", and "Velouria", make copious use of 7/4 or 14/4. "Brick Is Red" has an opening with 10/4 (4+4+2) and 14/4 (4+4+4+2), and "Oh My Golly" and "Alec Eiffel" use 11/4 at various points. "Bird Dream of the Olympus Mons" is almost entirely in 9/4. This is undoubtedly nowhere near a complete list; this trope could almost be considered part of the band's Signature Style, though it doesn't appear in every song. Black Francis has noted that he listened to a lot of Emerson, Lake & Palmer and Captain Beefheart growing up; this may be part of the explanation for his frequent use of this trope.
Where da White Women At?: The subject of "Gigantic" is an interracial couple. The lyrics were inspired by a movie with this subject named Crimes Of The Heart.
Word Salad Lyrics: Often. Francis even admitted that when recording Bossanova, he'd "write lyrics on napkins 5 minutes before recording".
---