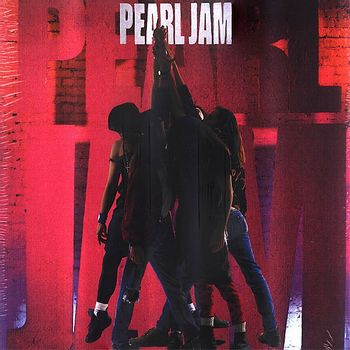 Ten is the debut album by Pearl Jam, released in 1991. It was one of the defining albums of the grunge era, and quickly established the band as one of the forerunners of the Alternative Rock and Grunge explosion in the early nineties, along with R.E.M., Nirvana, Soundgarden, Alice in Chains, and The Smashing Pumpkins. The songs became well-known for their prominent and complex guitar solos, and powerfully delivered lyrics centered on abusive relationships or disturbed young people. The singles "Jeremy", "Alive", and "Even Flow" forged a distinctive niche in the mainstream for angst-filled teenagers. Even "Black", though never released as a single, became one of the most recognizable rock anthems of the nineties.
Ten remains a seminal album in the darker repertoire of alternative since it helped usher in an experimental sound that had once been relegated to the Seattle underground. However, despite its overnight critical and commercial success, the album was widely panned by Alternative Rock purists—Kurt Cobain even called the band "commercial sellouts" and claimed the album was not truly alternative since it had production such as Echoing Acoustics on it and it didn't resemble the minimalist style commonly associated with the genre. Nevertheless, Cobain would gain respect for the band following their continued experimentation on later albums Vs. and Vitalogy.
It is listed as the #209 greatest album of all time on Rolling Stone's associated list,NME listed it as the #339 best album, and it is currently the 136th-most-acclaimed album ever according to Acclaimed Music's compilation of numerous critics' greatest albums lists. The band does agree that they are dissatisfied with the heavy mixing, and this was remedied somewhat with Brendan O'Brien's redux edition of the album in 2009.
---
Tracklist:
"Once" (3:51)note
"Even Flow" (4:53)
"Alive" (5:41)
"Why Go" (3:20)
"Black" (5:43)
"Jeremy" (5:18)
"Oceans" (2:42)
"Porch" (3:30)
"Garden" (4:59)
"Deep" (4:18)
"Release"note (9:05)
---
Prinicipal Members:
Mike McCready – lead guitar
Stone Gossard – rhythm guitar
Jeff Ament – bass guitar, art direction/concept
Eddie Vedder – vocals, additional art
Dave Krusen – drums
---
Even flow, tropes arrive like butterflies
---