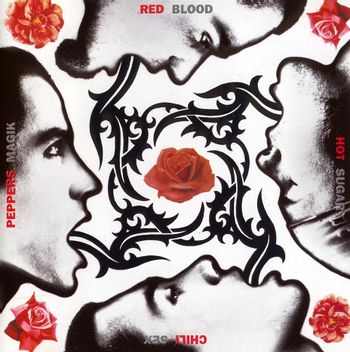 Blood Sugar Sex Magik is the fifth studio album by the Red Hot Chili Peppers, released in 1991. It was the band's breakout album, propelling the four members to widespread success thanks to the singles "Under the Bridge" and "Give It Away", both of which are considered to be the band's signature songs. The album represents a fusion of the band's funkier, sex-filled elements along with a new, more melodic style that the band continued all the way from 1999's Californication onward. In addition, the album is notable for each song fading into the next one, making it the only Chili Peppers album (so far) do so.
It was the first Chili Peppers album produced by the legendary Rick Rubin, who remained their producer until 2011, after the release of their tenth album I'm With You. It has sold over 13 million copies and, along with Nirvana's Nevermind (which was released on the same day, to boot!) and R.E.M.'s Out of Time, is credited with bringing Alternative Rock to the mainstream. The band would cameo on The Simpsons episode "Krusty Gets Cancelled", and appear on Saturday Night Live.
While Kiedis, Flea, and Smith enjoyed their new-found success, guitarist John Frusciante (21 years old at the time, eight years younger than the rest of the members) felt ostracised due to the constant pressures to perform better. He hated performing live and began sabotaging some of their performances, using hard drugs, and drifting apart from the rest of the members. He left the band mid-tour in early 1992 (causing almost all of their Japanese tour dates to get cancelled), forcing the band to consider numerous guitarists before settling on Jane's Addiction guitarist Dave Navarro. Frusciante later returned to the band in 1998 for the release of Californication.
Some people consider this to be the band's best, due to its diverse musical style and varied subject matters. A documentary called Funky Monks showing the band working on the album in The Mansion, a recording studio now owned by Rick Rubin, was released. The avant-garde music video for "Give It Away" won a couple of MTV video awards, and even beat out Nirvana's "Smells Like Teen Spirit" for the Grammy Award for Best Hard Rock Performance in 1993. The album was listed at nr. #310 in Rolling Stone's 500 Greatest Albums of All Time.
---
Tracklist:
"The Power of Equality" (4:03)
"If You Have to Ask" (3:37)
"Breaking the Girl" (4:55)
"Funky Monks" (5:23)
"Suck My Kiss" (3:37)
"I Could Have Lied" (4:04)
"Mellowship Slinky in B Major" (4:00)
"Righteous and the Wicked" (4:08)
"Give It Away" (4:43)
"Blood Sugar Sex Magik" (4:31)
"Under the Bridge" (4:24)
"Naked in the Rain" (4:26)
"Apache Rose Peacock" (4:42)
"The Greeting Song" (3:13)
"My Lovely Man" (4:39)
"Sir Psycho Sexy" (8:17)
"They're Red Hot" (1:12, Robert Johnson cover)
---
Bonus Tracks (iTunes Edition):
"Little Miss Lover" (2:40, Jimi Hendrix cover)
*Castles Made of Sand" (3:21, Jimi Hendrix cover)
---
Principal Members:
Flea - bass, vocals, percussion
John Frusciante - guitar, vocals
Anthony Kiedis - lead vocals
Chad Smith - drums, percussion
---
I Could Have Troped
---