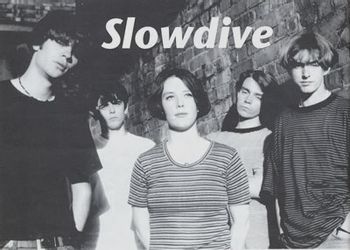 Slowdive are a British Dream Pop/Shoegazing band active during The '80s and The '90s, named after the Siouxsie and the Banshees song "Slowdive". Next to My Bloody Valentine, they're considered one of the best examples of their genres. The band consists of Rachel Goswell (vocals, guitar, keyboards, tambourine), Neil Halstead (vocals, guitar, keyboards), Nick Chaplin (bass), Christian Savill (guitar) and Simon Scott (drums).
The band was formed in 1989 by childhood friends Goswell and Halstead, with Chaplin and Savill joining shortly thereafter. Their first release, a self-titled EP got them critical praise in the British press. Sustaining their momentum with two more EPs, they then released their first album, Just for a Day in 1991. They quickly got compared to My Bloody Valentine, and while they were an influence, Slowdive never fit in completely with the shoegaze aesthetic, owing more to the Cocteau Twins.
Their second album, Souvlaki, has some of their best songs, such as "Alison", "Machine Gun", "40 Days", "Sing", "Souvlaki Space Station", "When the Sun Hits" and "Dagger". With time, Souvlaki has also found a place in the canon of landmark shoegazing albums next to My Bloody Valentine's Loveless, Ride's Nowhere, and Lush's Split. An additional EP that year saw them experiment with influences from ambient techno and country. However, the Shoegazing fad in the UK was dying down around this time and even earning Hype Backlash; also, US distributor SBK Records' attempts at promoting their albums in the midst of grunge were incredibly incompetent and stupid. Additionally, SBK pulled funding, forcing the band to finance two 1994 US tours themselves.
A week after Pygmalion was released, they were dumped by Creation Records — Halstead had been threatened that their relationship with the label would end unless they delivered a "pop album", and predictably, he completely ignored them. Slowdive broke up around this time: Chaplin and Savill left; Goswell, Halstead and McCutcheon regrouped as Mojave 3 and signed to 4AD Records. With Mojave 3, they instead focused on combining Dream Pop, electronic experimentation and some mild country influences.
Slowdive has actually done more for their genre than they're given credit for, unsurprisingly, considering Shoegazing bands other than My Bloody Valentine suffer from severe Overshadowed by Awesome; their mellower sound stood out like a sore thumb amid the shoegazing scene's ear-shattering loudness. Alongside the Czech band Ecstasy of Saint Theresa, who moved into Ambient and Techno soundscapes, they helped innovate shoegaze's electronic aspects — whereas My Bloody Valentine provided the blueprint for the monstrous instrumental shoegaze based around a combination of brutally loud guitars and soothing melodies, Slowdive's copious use of reverb, songs played very slowly and overall spaciness made bands like M83 and A Sunny Day in Glasgow possible.
They reunited in 2014 to much fanfare. On 12 January 2017, they released "Star Roving", their first single since 1994. On 28 March, they released yet another single, "Sugar for the Pill". Finally, they released their Self-Titled Album on 5 May to even more fanfare.
---
Classic line-up:
Neil Halstead - Vocals, guitar, keyboards
Rachel Goswell - Vocals, guitar, keyboards, tambourine
Nick Chaplin - Bass
Christian Savill - Guitar
Simon Scott - Drums, guitar, electronics
---
Former members:
Adrian Sell - Drums (1989)
Neil Carter - Drums (1989–91)
Ian McCutcheon - Drums (1994–95)
---
Studio discography:
Slowdive EP (1990)
Morningrise EP (1991)
Holding Our Breath EP (1991)
Just for a Day (1991)
Souvlaki (1993)
5 EP (1993)
Pygmalion (1995)
Slowdive (2017)
---
Tropes close and feelings flow:
---