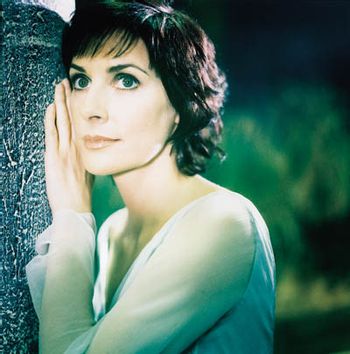 Let me sail, let me sail, let the Orinoco Flow,
Let me reach, let me beach, on the shores of Tripoli,
Let me sail, let me sail, let me crash upon your shore,
Let me reach, let me beach, far beyond the Yellow Sea.
"Orinoco Flow"
Enya (born May 17, 1961) is an Irish New Age/Neo-Classical/whatever-genre-people-feel-like-labeling-her singer. (She herself calls her genre "Enya", the musical equivalent of a Badass Boast.)
Born Eithne Ní Bhraonáinnote "Enya" is an approximate phonetic spelling in English of her first name in Gweedore (Gaoth Dobhair), County Donegal, she started out in the early 1980s, with small gigs here and there for commercials and movies, usually providing vocals. She also had a short stint with her siblings in CLANNAD, but soon started seeking a solo career. In 1985, she released a soundtrack album for an obscure film called The Frog Prince that got her some recognition with BBC, who hired her to do the soundtrack to a 1986 documentary series titled The Celts. The photogenic singer was featured throughout the series, performing the opening theme on screen during the opening credits and also appearing in two music videos created for the series; highlights from the soundtrack were released initially by BBC Records as a Self-Titled Album that make the UK charts.
Then, in 1988, she struck gold with her landmark album Watermark. From that album is the famous (or infamous as some of her fans hate the song) "Orinoco Flow (Sail Away)", which gained some moderate radio airplay. Watermark has been critically praised as a masterpiece of New Age music, but Enya refused to let herself be labeled with the New Age scene. As a devout Christian, she doesn't want to be lumped in with the New-Age Retro Hippie crowd.
Her popularity stayed the same throughout the 1990s, with a few of her albums continuing the decent sales and critical praise. Towards the end of the 1990s she settled down for a bit to get some rest from the music scene.
She made a triumphant return in the 2000s with a new album, and featured as a vocalist for "May It Be" in The Lord of the Rings: The Fellowship of the Ring. Around this time, Enya scored another major hit with "Only Time". The song became closely identified with the 9/11 attacks because US media, for some reason, incessantly used the song as background music during coverage of the aftermath. Enya was reportedly uncomfortable with this, but agreed to release a special version of the song, with proceeds supporting 9/11 families.
She is still recording music, with her latest album being released in 2015 (Enya is a self-admitted slow worker, and as such it is not uncommon for several years to elapse between albums). She is also notable for being the second-best selling Irish artist next to U2. To be in competition with a band completely outside her genre is something of a Moment of Awesome.
The Fugees also sampled one of her songs ("Boadicea" from her first album), without permission. Enya originally wanted to sue, but changed her mind when she found out they weren't a Gangsta Rap group, and both parties settled out of court. She has had a sort-of friendship with the Hip-Hop scene since.
She has worked almost exclusively in collaboration with the husband-and wife team Nicky and Roma Ryan (production and lyrics, respectively) throughout her career. Officially, "Enya" is said to be the partnership between these three individuals.
Her albums include:
Enya (1987)
Watermark (1988)
Shepherd Moons (1991)
The Celts (re-release of Enya, 1992)
The Memory of Trees (1995)
A Day Without Rain (2000)
Amarantine (2005)
And Winter Came... (2008)
Dark Sky Island (2015)
And the compilation albums:
Paint the Sky with Stars: The Best of Enya (1997)
A Box of Dreams (1997) note
Only Time - The Collection (2002) note
The Very Best of Enya (2009, notable for including a DVD of her music videos)
---
Enya provides examples of the following tropes:
---