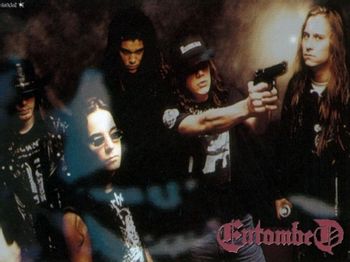 Entombed is a Death Metal band from Stockholm, Sweden. They are one of the most seminal and respected bands in the genre. They are most known for two things, one is popularizing the "Swedish buzzsaw" guitar-sound in Death Metal and the second is being the Ur-Example for "Death 'N' Roll" which is Death Metal mixed with Hard Rock riffing.
Since 2013 there has been a dispute between the bands only remaining original members, vocalist Lars "LG" Petrov and guitarist Alexander Hellid. Petrov stopped calling Hellid a member of the band in press releases, whereas Hellid tried to reunite with former members Nicke Andersson and Ulf Cederlund under the name "Entombed A.D" and perform the entirety of "Clandestine" live, something which was vetoed quickly by Petrov. The immediate result of this conflict is that the name "Entombed" is now owned by all four original members and is not to be used until further notice, effectively putting the band on hold. In 2013 Entombed A.D released their debut album "Back To The Front".
Singer LG Petrov passed away from bile duct cancer on March 7, 2021, effectively preventing any chance of the original line-up reuniting. He was only 49 years old.
Discography:

Left Hand Path (1990)
Clandestine (1991)
Wolverine Blues (1993)
To Ride, Shoot Straight and Speak The Truth (1997)
Same Difference (1998)
Uprising (2000)
Morning Star (2001)
Inferno (2003)
Serpent Saints - The Ten Amendments (2007)
---
Tropes:
---