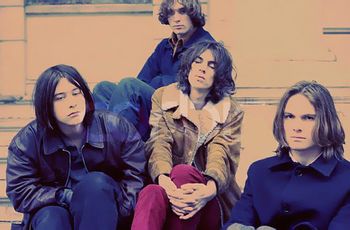 "I'll be hearing music 'til the day I die."
—The Verve, "Already There"
The Verve were a famous alternative rock band from Manchester in The '90s, known both for their troubled existence, drug abuse, and their musical style, a combination of Psychedelic Rock, space rock and Shoegazing/Dream Pop, a kind of anomaly in a city dominated by the Madchester scene. But you probably know them as the guys who did "Bitter Sweet Symphony".
Initially named "Verve", the band was formed in 1990 in Wigan, Greater Manchester by singer Richard Ashcroft, guitarist Nick McCabe, bassist Simon Jones and drummer Peter Salisbury. Defined largely by Ashcroft's enigmatic vocals and McCabe's reverb-soaked psychedelic riffs, they received a contract with Hut Records in 1991, where they made their debut with three singles and an EP named Verve. Making an initially favourable impression with critics and achieving mild success on the charts, the band worked with The Stone Roses and Radiohead producer John Leckie on their first full-length album. Entitled A Storm In Heaven, the album was released in 1993 to excellent reviews and climbed up to #27 on the UK charts thanks to major label backing (in this case, Virgin Records) and catchy, spacey psychedelic rock.
However, the band ran into trouble soon afterwards. Threatened with a lawsuit by jazz label Verve Records, they changed their name to "The Verve". While touring the USA, Ashcroft was hospitalised for dehydration after drinking excessively and Salisbury was arrested for destroying a hotel room in Kansas while in drug-induced delirium. To win time, Hut released the compilation No Come Down, which included B-sides and out-takes.
The Verve commenced sessions for their new album with Oasis producer Owen Morris in Wales. Marked by turmoil, a massive drug intake and several incidents (including Ashcroft disappearing for days and Morris smashing a window with a chair to celebrate the recording of the song "History"), A Northern Soul was released in 1995 to more critical acclaim and a slightly higher place on the chats (#13 this time). The album saw the band move away from the spacey, reverb-heavy psychedelia of A Storm In Heaven towards a more focused, harsher alternative rock sound, but it still kept psychedelic elements such as McCabe's echoey guitars and Jones' and Salisbury's funky grooves.
The band failed to capitalize on the success as internal tension led to a temporary break-up. Ashcroft, Jones and Salisbury reunited soon after and recruited Simon Tong as guitarist when McCabe initially refused to join. McCabe eventually returned in early 1997. With a complete line-up and Tong remaining as second guitarist, the band recorded their third album, Urban Hymns, which struck a balance between their early, spacey style and the Alternative Rock they had switched to. Hymns again received critical acclaim but became a mainstream success, reaching #1 on the charts and becoming one of the fastest-selling albums of 1997 in the UK, propelled by the smash hit single "Bitter Sweet Symphony".
However, bad luck once again struck The Verve after a success, when Allen Klein — the former manager of The Rolling Stones and the person that owned the band's entire pre-1971 catalogue — sued the band for excessive use of a sample from The Andrew Oldham Orchestra version of "The Last Time" in "Bitter Sweet Symphony", that forced the band to change the writing credit to Jagger/Richards and give the Stones all their royalties (later lawsuits finally brought it to Ashcroft/Jagger/Richards). McCabe left soon afterwards. The band tried to continue their tour with a new guitarist, but in the face of negative reviews and decreasing popularity announced their break-up in April 1999. In May 2019, 22 years later, it was announced that the rights to the song had returned to the Verve along with their share of the royalties, with Jagger/Richards waiving their credit on it too.
The band reunited in 2007 and recorded a new album, Forth. Jury's still out on whether it's good or not. They apparently broke up again recently. Vitriolic Best Buds, much?
---
Principal Members (Founding members in bold):
Richard Ashcroft - lead vocals, guitar, keyboard, bass, piano, percussion
Simon Jones - bass, vocals, guitar, keyboard, percussion
Nick McCabe - guitar, piano, keyboard, organ, synthesizer, accordion, vibraphone, autoharp
Peter Sailsbury - drums, percussion
Simon Tong - guitar, keyboard
---
Studio Discography:
1992 - Verve
1993 - Voyager 1
1993 - A Storm In Heaven
1995 - A Northern Soul
1997 - Five By Five
1997 - Urban Hymns
2008 - Forth.
---
'Cause it's a bittersweet symphony, these tropes:
---
Have you ever been down?