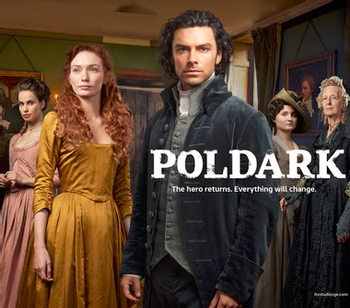 This page is for the 2015 version of the series - the original can be found here.
"Cannot a woman love two men? Cannot a man love two women?"
Poldark is an BBC1 series that aired from 2015 till 2019. It is adapted from a twelve novel series by Winston Graham and is the second such adaptation of the books. It follows the story of Ross Poldark, a young gentleman who returns home from war to find his father dead, his estate in ruins, and his sweetheart (Elizabeth) married off to his cousin (Francis).

---
Poldark contains examples of:
---