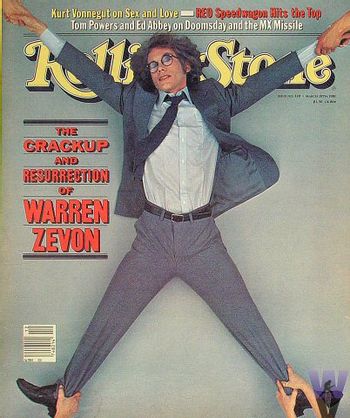 "I'm insane. I'm fucked up. I have problems. But I don't get depressed and I don't get bored."
Warren William Zevon (January 24, 1947 – September 7, 2003) was a Southern California singer-songwriter who had one big hit in the late 1970s with "Werewolves of London" and a cult following. Friend to Hunter S. Thompson, he was the only known student of Igor Stravinsky ever to break the top forty.
The list of songs he wrote for other artists is long, and may contain surprises. He wrote songs for artists ranging from The Turtles to Prince to Linda Ronstadt to Bruce Springsteen, in styles from rock to country to punk. In interviews he often described himself as a "heavy metal folk singer."
In 2002, just as he was in the middle of a commercial and critical comeback while touring for his album My Ride's Here, he was diagnosed with mesothelioma and was given months to live. He recorded the critically acclaimed album The Wind in 2003, and died a month after its release, at the age of 56. His body was cremated, and his ashes were scattered into the Pacific Ocean near Los Angeles.
He's often described as a One-Hit Wonder, though this isn't actually true. Two of his songs ("Werewolves of London" and a cover of "A Certain Girl") made the Billboard Hot 100 (and "Leave My Monkey Alone" got up to #12 on the Dance/Club list), two of his albums (A Quiet Normal Life and The Wind) went gold, and another (Excitable Boy) went platinum. He also won two Grammy Awards posthumously, and several of his songs were Covered Up by other artists. These days, though, "Werewolves" is all anybody remembers. He is a reliable feature on lists of 'most underrated artists' or 'artists who died too young'.
---
Studio Discography:
---
"Dirty Life and Tropes":
---