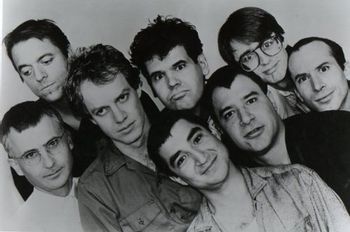 "Come on board on the Oingo Boingo spaceship, through time and space, to the Boingo galaxy!"
In 1972, a young Californian visionary named Rick Elfman decided to form a circus band. The lineup soon consisted of over a dozen people, including his wife Marie-Pascale, his best friend Matthew Bright (who would go on to direct Freeway), a young Steve Bartek, and Rick's little brother Danny Elfman, who had just returned from traveling Africa and Europe.
With Danny as a frontman, and using his skills on the violin, xylophone, trombone and Balinese dance to give the band its unique sound, The Mystic Knights of the Oingo Boingo
were formed. Their fans included a young "Weird Al" Yankovic, an up-and-coming Paul Reubens, and a very young Tim Burton, who was attending CalArts at the time.
At the end of The '70s, the band sold everything they had to create the no-budget sci-fi cult classic Forbidden Zone. Having no money to hire a proper crew, Danny decided to score the film himself, and realized he enjoyed being a film composer.
During the film's Development Hell, Danny had taken over and re-formed the band to incorporate his new symphonic sound into their music, and the group very quickly took off in the direction of Ska-tinged New Wave. The new band, called Oingo Boingo, was formed in 1979.
The band became known for its quirky sound and its high-energy Halloween concerts. By 1985, they were scoring hits including "Dead Man's Party" and "Weird Science", and Tim Burton and Paul Reubens (both fans of Forbidden Zone, coincidentally) had given Danny his first real job as a film composer. Many, many others soon followed.
In 1994, Danny Elfman suffered a breakdown, resulting in a brief falling out with Tim Burton. Because Danny wanted to go in a different direction, the band reshuffled its lineup, rechristened themselves Boingo, and recorded a Self-Titled Album which focused most on the rock and orchestral influences of the band's sound. It was partly inspired by Danny listening to his daughter's album collection, which included The Beatles, Jimi Hendrix and Led Zeppelin. Their new sound alienated many old fans and gave them plenty of new ones. But by that time, and particularly after a truly terrible gig at the KROQ Weenie Roast, the group realized that their time together was over. They band retired after a farewell concert on Halloween 1995, having reverted to the name Oingo Boingo for the concert.
A reunion is confirmed to be out of the question, as many of the original members, including Elfman, have developed irreversible hearing loss as a result of playing loud rock music in front of huge amps for so long. Nevertheless, each member has done well for himself: bassist John Avila went on to produce Reel Big Fish and is currently playing with The Mutaytor. Keyboardist Richard Gibbs got hired to score Battlestar Galactica. Drummer Johnny "Vatos" Hernandez continued playing in various bands and had a cameo in From Dusk Till Dawn. Guitarist Warren Fitzgerald joined The Vandals. Richard Elfman and Matthew Bright created half a dozen film projects together. And Danny Elfman became a full-time film composer, with Steve Bartek as his arranger and occasionally performing classic Boingo songs with him live
.
---
Studio discography:
Only A Lad (1981)
Nothing to Fear (1982)
Good for Your Soul (1983)
So-Lo (1984)note
Dead Man's Party (1985)
Boi-Ngo (1987)
Dark at the End of the Tunnel (1990)
Boingo (1994)note
---
"I-I-I-I love little Tropes!":
---