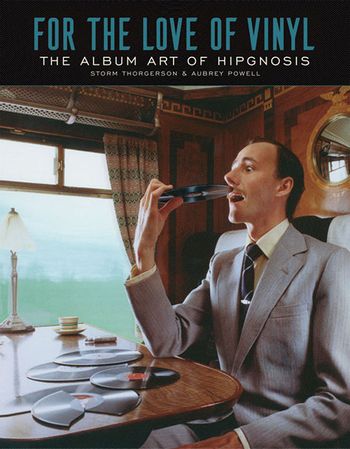 "This is a RECORD COVER. This writing is the DESIGN upon the album cover. The DESIGN is to help SELL the record... A good cover DESIGN is one that attracts more buyers and gives more pleasure. This writing is trying to pull you in much like an eye-catching picture. It is designed to get you to READ IT. This is called luring the VICTIM, and you are the VICTIM. But if you have a free mind you should STOP READING NOW! because all we are attempting to do is to get you to read on. Yet this is a DOUBLE BIND because if you indeed stop you'll be doing what we tell you, and if you read on you'll be doing what we've wanted all along. And the more you read on the more you're falling for this simple device of telling you exactly how a good commercial design works. They're TRICKS and this is the worst TRICK of all since it's describing the TRICK whilst trying to TRICK you, and if you've read this far then you're TRICKED but you wouldn't have known this unless you'd read this far. At least we're telling you directly instead of seducing you with a beautiful or haunting visual that may never tell you. We're letting you know that you ought to buy this record because in essence it's a PRODUCT and PRODUCTS are to be consumed and you are a consumer and this is a good PRODUCT."
In a deserted film studio lot, two businessmen seal a deal by shaking hands. One of the businessmen is on fire. Neither of them acts as if anything is wrong.
A respectable, middle-aged suburban couple attempt to fake a photo of an alien spaceship flying above their house, but are caught in the act. The wife is not happy about it.
Sometime during The '30s, a wealthy young woman invites her latest boyfriend into her mansion. The suitor looks apprehensive — and he has good reason to be. In the next room, the woman's butler is busy disposing of her previous boyfriend.
Where are these scenes from? Old movies, or some forgotten Genre Anthology series? Actually, they're all from the work of a studio that designed album covers for some of England's best known bands. (In order, they're the covers of Pink Floyd's Wish You Were Here (1975), UFO's Phenomenon
and Audience's The House on the Hill
.) Welcome to the world of Hipgnosis.
During The '60s, Storm Thorgerson and Aubrey "Po" Powell were students at the University of Cambridge, where they befriended future Pink Floyd members Syd Barrett, Roger Waters and David Gilmour. Thorgerson and Powell had already designed and photographed several paperback covers for Penguin Books as "Consciousness Incorporated"; therefore, when the Floyd needed a cover for their second album A Saucerful of Secrets, they turned to their friends Storm and Po, who renamed their collaboration "Hipgnosis" after the word was scrawled on the door of their flat by a then-unknown "ingenious dope fiend".note Depending on who you believe, the scrawler was either Syd Barrett or Adrian Haggard, another friend of Thorgerson and Powell. This was the beginning of a creative partnership with Pink Floyd that continued for decades.
Saucerful turned out so well that Hipgnosis was offered more work by the Floyd's label and booking agent. Throughout The '70s, the studio's reputation grew as they were commissioned by some of the biggest names in British music (see the list below); along with artist Roger Dean, they helped create the look of Progressive Rock and Heavy Metal. Their work is notable for its use of surrealism; in those pre-Photoshop days, their enigmatic images had to be created in Real Life, or through retouching and other trickery, instead of clicking on a mouse. Hipgnosis is also remembered for the stories their vivid images told, often using Science Fiction tropes. (Speaking of sci-fi, Hipgnosis designed covers for Douglas Adams' The Hitchhiker's Guide to the Galaxy (1978) albums and Norman Spinrad's novel Bug Jack Barron.)
Storm and Po became so busy that in 1974, they promoted their assistant Peter Christopherson to a full-time third member; Christopherson remained with Hipgnosis even after he joined Throbbing Gristle. However, by the mid-1970s, times were changing. Prog and metal were out, Punk Rock was in, and with a few exceptions such as XTC, the new crop of bands that followed in punk's wake had little use for Hipgnosis' elaborate imagery. Although the studio continued into The '80s, by 1983 they'd transformed themselves into a Music Video company called Greenback Films, which eventually dissolved due to Creative Differences.
After Hipgnosis, Storm Thorgerson formed STd (Storm Thorgerson Design), then StormStudios, and continued doing album covers (and eventually CD booklets); although he mostly designed for younger bands like Muse, Biffy Clyro, Catherine Wheel and The Cranberries, he still worked on most Pink Floyd-related projects. He died in 2013, and he was active until the very end. (In accordance with Thorgerson's wishes
, StormStudios has carried on without him.) Aubrey Powell is currently a film director and has written several books about Hipgnosis' work, both with and without Thorgerson. Peter Christopherson continued making music (with Throbbing Gristle, and later with Psychic TV and Coil), as well as directing music videos and TV commercials, until his death in 2010. In 2014 and 2015 Powell, who owns the Hipgnosis name, revived it for Pink Floyd's Grand Finale The Endless River and David Gilmour's solo album Rattle That Lock; in 2019, he used it again for another Floyd project, the massive Boxed Set The Later Years 1987-2019. These will likely be the final projects credited to the studio.
http://hipgnosiscovers.com/
has an extensive archive of images created by Hipgnosis and their friends. Aubrey Powell
also has an official website. (Storm Thorgerson once had one too, but it's offline.) The studio also participated in several books about its work; the 2017 publication Vinyl. Album. Cover. Art. The Complete Hipgnosis Catalogue lists all the album covers from the classic period. (It doesn't include the revivals mentioned above, singles bags, music-related memorabilia like posters and adverts, or any of their non-music related work, but you can't have everything...)
---
Hipgnosis clients and albums with TV Tropes pages:
---
Storm Thorgerson/STd/StormStudios post-Hipgnosis clients with TV Tropes pages:
---
Hiptropsis:
---