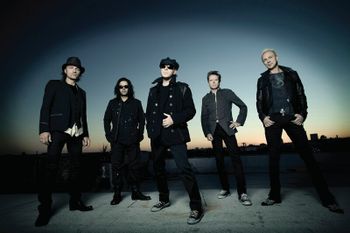 "Stand up and shout
We're ready to rock, we're ready to roll
Stand up and shout
Are you ready? Are you ready?...
Come on and get it!"
—"Can't Live Without You"
"The night is calling, I have to go
The wolf is hungry, he runs the show
He's licking his lips, he's ready to win
On the hunt tonight, for love at first sting
Here I am..."
—"Rock You Like a Hurricane"
Scorpions is a German rock band formed in 1965 in Hannover by Rudolf Schenker (vocals/guitar), Lothar Heimberg (bass) and Wolfgang Dziony (drums), which only started to actually take shape four years later with Rudolf's younger brother Michael Schenker and Klaus Meine joining on guitar and vocals, respectively. While touring to promote their debut album, Michael, still an 18-year-old young gun, joined British rock band UFO in 1973 (at the start of their classic phase) and was replaced by Uli Jon Roth, who was a mainstay until 1978, when Matthias Jabs took over. While the bassist and drummer positions have changed over the course of four and a half decades, the Meine-Schenker-Jabs trio stayed on... and the rest is history.
With 7 gold records and 11 platinums in the US (15 golds and 9 platinums in their homeland) and 18 songs charting at the Mainstream Rock Tracks (among which "No One Like You" reached #1), Scorpions are one of the most worldwide successful rock bands from mainland Europe - even though they would only have a belated recognition in America.note At least on a mainstream level. Scorpions are an extremely influental band for many American heavy and thrash metal bands, with James Hetfield, Kirk Hammett and Dave Mustaine citing them as an influence.
After the release of Sting in the Tail, the band announced the closure of its activities following its subsequent tour. However, they changed their minds and put out a new studio album in 2015.
Members (current formation):
Klaus Meine: vocalist
Matthias Jabs: lead guitarist
Rudolf Schenker: rhythm guitarist

Was also the vocalist before Meine joined.

Paweł Mąciwoda: bass (joined 2004)
Mikkey Dee: drums (joined 2016)
Past members include:
Michael Schenker: lead guitarist (1969-1973)
Uli Jon Roth: lead guitarist (1973-1978)
Lothar Heimberg: bassist (1965-1973)
Francis Buchholz: bassist (1973-1992)1
Ralph Rieckermann: bassist (1993-2003)
Wolfgang Dziony: drummer (1965-1973)
Jurgen Rosenthal: drummer (1973-1975)
Rudy Lenners: drummer (1975-1977)
Herman Rarebell: drummer (1977-1995)
James Kottak: drummer (1996-2016)
Main discography:
Lonesome Crow (1972)
Fly to the Rainbow (1974)
In Trance (1975)
Virgin Killer (1976)
Taken By Force (1978)
Tokyo Tapes (1978)

First live album (and a double album, at that).

Lovedrive (1979)
Animal Magnetism (1980)
Blackout (1982)
Love at First Sting (1984)
World Wide Live (1985)
Savage Amusement (1988)
Crazy World (1990)
Face the Heat (1993)
Pure Instinct (1996)
Eye II Eye (1999)
Moment of Glory (2000)

Past songs rearranged with the Berlin Philharmonic Orchestra.

Acoustica (2001)

Live album from an unplugged concert in Lisbon, Portugal.

Unbreakable (2004)
Humanity: Hour I (2007)

Their first (and, as far as it goes, only) concept album.

Sting in the Tail (2010)
Comeblack (2011)

Re-recordings of older songs, plus a few covers.

MTV Unplugged: Live in Athens (2013)
Return to Forever (2015)
Rock Believer (2022)
---
"Here I am, trope you like a hurricane!":
---