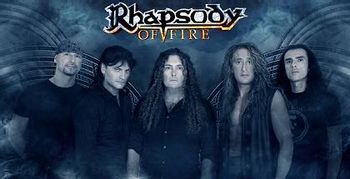 Rhapsody of Fire is a Symphonic Power Metal band that originated in Italy in 1993, spending about a week of this period as
Thundercross
and most of its history as just
Rhapsody
. Co-founded and led by Luca Turilli (lead guitar) and Alex Staropoli (Keyboard), others included Fabio Lione (vocals), Alex Holzwarth (drums) and Patrice Guers (bass). One of the things that makes them notable among Symphonic Metal bands is that
all
of their earlier songs tell of events, people, places and things in a highly detailed
Epic Fantasy
,
The Lord of the Rings
-esque setting.
They have since released nine albums, with two EPs, Rain of a Thousand Flames and The Cold Embrace of Fear – A Dark Romantic Symphony, commonly referred to as the fourth and ninth albums in the series, respectively. The band has stated that From Chaos to Eternity (2011) marks the end of the Algalord Chronicles, 14 years after Legendary Tales was released in 1997.
In 2011 Rhapsody split into two bands: the original Rhapsody of Fire and Luca Turilli's Rhapsody. In 2018, after a reunion tour, Turilli, Lione, Holzwarth, Guers, and former Rhapsody session guitarist Dominique Leurquin formed Turilli / Lione Rhapsody, set to release their first album in June 2019 after a successful crowdfunding campaign.
---
Rhapsody (of Fire)'s albums are:
Legendary Tales (1997)
Symphony of Enchanted Lands (1998)
Dawn of Victory (2000)
Power of the Dragonflame (2002)
Symphony of Enchanted Lands II: The Dark Secret (2004)
Triumph or Agony (2006)
The Frozen Tears of Angels (2010)
From Chaos to Eternity (2011)
Dark Wings of Steel (November 22 2013)
Into the Legend (February 5, 2016)
The Eighth Mountain (February 22, 2019) - Their first story-driven album since 2011, start of the Nephilim's Empire saga.
Glory For Salvation (November 26; 2021).
Luca Turilli's Rhapsody's albums are:
Ascending to Infinity (June 22, 2012)
Prometheus: Symphonia Ignis Divinus (June 19, 2015)
Turilli / Lione Rhapsody's albums are:
Rebirth and Evolution (June 2019)
---
The band provides examples of:
Zombie Apocalypse: The Queen of the Dark Horizons unleash one against the good guys. In The Mystic Prophecy of the Demon Knight, a horde of ghouls emerge from Dar Kunor's soil to attack our heroes.
---