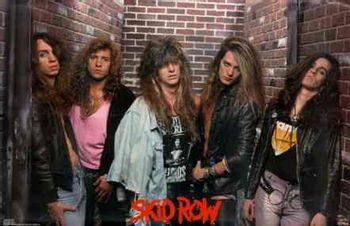 They call us problem child, we spend our lives on trial, we walk an endless mile, we are the youth gone wild!
We stand and we won't fall, we're one and one for all, the writing's on the wall, we are the youth gone wild!
"Youth Gone Wild"
Skid Row is an American Heavy Metal band formed in 1987. Because of their image, they're often associated with glam rock, but eventually were seen in a more traditional sense of Hair Metal. First formed in New Jersey, the band got introduced to a producer by their friend Jon Bon Jovi and were an instant success. The band's first album went platinum five times, and as of the end of 1996 the band has sold 20 million albums worldwide.
The rise of grunge and the departure of original lead singer Sebastian Bach in 1996 contributed to a decline in the band's fortunes. While they still recorded and toured with other singers (Jonny Solinger from 1999-2015, Tony Harnell of TNT in 2015, and ZP Theart of Dragonforce), they had a much lower profile than their heyday in the late 80s and early 90s. It remains to be seen if they can revive their fortunes with their current vocalist, Erik Grönwall, formerly of H.E.A.T.
Their most popular songs, "18 and Life", "I Remember You" and "Youth Gone Wild", come from their first album. Their second album, Slave To The Grind, was considerably heavier and less mainstream than their first album, with several songs that could even be considered Thrash Metal.
Members (Classic members in bold, current members in italic):
Erik Grönwall - lead vocals (2022-present)
Scotti Hill - lead and rhythm guitar, backing vocals (1987-present)
Dave "The Snake" Sabo - rhythm, lead and acoustic guitar, backing vocals (1986-present)
Rachel Bolan - bass guitar, acoustic guitar, backing and occasional lead vocals (1986-present)
Rob Hammersmith - drums, backing vocals (2010-present)
Former members:
Matt Fallon - lead vocals (1986-1987)
Jim Yuhas - rhythm guitar (1986-1987)
John Ratkowski Jr. - drums (1986-1987)
Sebastian Bach - lead vocals (1987-1996)
Rob Affuso - drums (1987-1996)
Johnny Solinger - lead vocals (1999-2015)
Charlie Mills - drums (1999-2000)
Phil Varone - drums (2000-2004)
Timothy DiDuro - drums (2004)
Dave Gara - drums (2004-2010)
Tony Harnell - lead vocals (2015)
ZP Theart - lead vocals (2015-2022)
Discography:
Skid Row - 1989
Slave To The Grind - 1991
B-Side Ourselves - 1992 (EP)
Subhuman Race - 1995
Thickskin - 2003
Revolutions per Minute - 2006
United World Rebellion: Chapter One - 2013 (EP)
Rise of the Damnation Army: United World Rebellion: Chapter Two - 2014 (EP)
The Gang's All Here - 2022
---
Tropes related to the band:
---