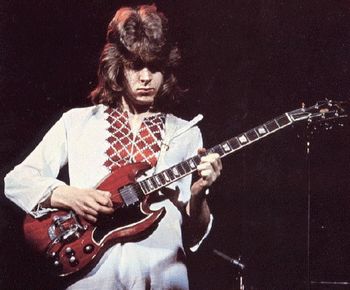 Michael Kevin "Mick" Taylor (born January 17, 1949) is a British musician best known for his stints with John Mayall's Bluesbreakers from 1967 to 1969 and as The Rolling Stones' lead guitarist from 1969 to 1974. Taylor is generally considered the strongest guitarist in the band's history, a live virtuoso with a melodic style fitting easily into the Genre Roulette of the Stones albums from his era.
According to legend, Taylor made his name as a teenage fill-in for Eric Clapton but was too shy to approach band leader John Mayall for the full-time job. Eventually replacing Peter Green for good in 1967 (Green went on to form Fleetwood Mac with fellow Bluesbreakers Mick Fleetwood and John McVie note though McVie wasn't the original bassist - that was Bob Brunning), Taylor played in the Bluesbreakers for several years, participating in several albums before parting ways with Mayall to join The Rolling Stones. Replacing Stones founder Brian Jones, he joined in time to participate in two songs ("Country Honk" and "Live With Me") from Let It Bleed and the Hyde Park concert following the untimely death of Jones. After several years in the band, personal problems with Keith Richards, Taylor's own heroin addiction and allegations that Mick Jagger refused Taylor his rightful publishing rights drove a stake between Taylor and Jagger/Richards, but his 1974 departure to Jack Bruce's band still came as a shock to all involved. Taylor was replaced by Ronnie Wood of The Jeff Beck Group and Faces, who remains a Stones member to this day.
Taylor has continued to tour and very occasionally maintains a solo career. He has continued mainly as a session guitarist, with his most famous moment in that position Dramarama's 1991 hit "Classic Rot".
Not to be confused with the Serial Killer character from Wolf Creek.
---
Studio and Live Discography:
1979 - Mick Taylor
1990 - Stranger in This Town
1991 - Too Hot for Snakes note
1995 - Arthur's Club-Geneve 1995 note
1995 - Coastin' Home
2000 - A Stone's Throw
2003 - 14 Below
---
Tropes associated with Mick Taylor:
---