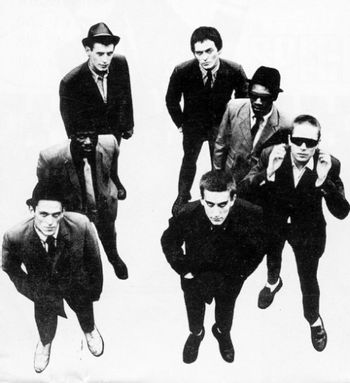 This town (town) is coming like a ghost town,
All the clubs have been closed down.
This place (town) is coming like a ghost town,
Bands won't play no more, too much fighting on the dance floor.
"Ghost Town"
The band that would become the Specials was formed as the Coventry Automatics in 1977 in Coventry, England. Leading members of Britain's second-wave ska revival, their sound - popularly known as 2 Tone - was a combination of danceable Ska and energetic Punk Rock, popular in Britain at the time. Their most recognised, seven man line-up consisted of Terry Hall (vocals), Neville Staple (vocals, toasting), Jerry Dammers (organ, main songwriter), Roddy Byers (lead guitar), Lynval Golding (rhythm guitar), Horace Panter (bass guitar) and John Bradbury (drums). Horn players Rico Rodriguez (trombone) and Dick Cuthell (trumpet, cornet and flugelhorn) were included as honourary members during their late-seventies heyday.
Dammers was undoubtedly the driving force behind the band and perhaps even the entire 2 tone movement. As one of the founders of 2 Tone Records, Dammers provided a springboard for many aspiring ska groups thanks to the 2 Tone policy of contracting an artist for one single with no obligation to produce further records for the label. Bands who benefitted from these unconventional arrangements included Madness and The Beat, both of whom released successful debut singles under the 2 Tone label before moving on to different companies.
Popular in their day, many of their lyrics were socially and politically conscious. Their number-one hits, "Too Much Too Young" and "Ghost Town," encouraged contraception and attacked the Thatcher government for its role in creating unemployment respectively. Dammers was also strongly anti-racist and wanted to use his music to promote racial harmony and attack the National Front. The music itself was generally standard ska fare, characterised by syncopated guitar chops, energetic Hammond organ accompaniments and reasonably simple horn arrangements; Rodriguez had played with several first wave ska artists in Jamaica before he moved to the UK. As front man, Hall had a sarcastic, expressionless delivery which contrasted with Staple's energetic, wacky toasting (scat-style chanting or talking over the music).
The band released two albums (The Specials and More Specials) and seven consecutive top ten singles before breaking up in 1981 when Hall, Staple and Golding left to form a new group (The Fun Boy Three), Byers struck out on his own and Panter decided to quit. Reverting back to the original name of the Special AKA, Dammers kept the band going long enough to make a third, less successful album titled In the Studio (though the single "Nelson Mandela" was a hit), and the group had disappeared by the mid-1980s. After several attempts to get the band back together during The '90s, the Specials reformed in 2009 with a new horn section and their original lineup - with the conspicuous absence of Dammers, who claimed that the other members had forced him out of the band.
Bradbury died at the age of 62 on December 28, 2015. Rodriguez had died three months earlier at the age of 80. As of 2017, Golding, Hall, and Panter are the three original members still active with the band.
Notable songs by the Specials include:
Tropes:
---