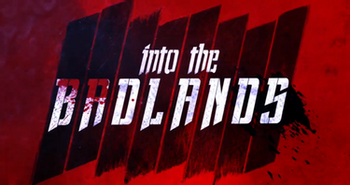 "There is no God in the Badlands."
— Baron Quinn
Into the Badlands is an American television series that premiered on AMC on November 15, 2015. The show ran for three seasons, clocking in at 32 episodes, before ending on May 6th, 2019.
The series is a post-apocalyptic drama set in a large stretch of the southwestern United States known as "the Badlands", ruled by a tense alliance of six feudal Barons, each controlling a major industry - slavery, oil, weaponsmithing, etc. The story opens with a warrior named Sunny, Regent to Baron Quinn, discovering a young boy named M.K. with mysterious powers. Taking the boy under his wing, he soon finds himself embroiled in a tangled web of conspiracy amid a growing Ensemble Cast of characters with their own machinations for the Badlands.
The show is especially notable for its style - rather than a traditional Mad Max wasteland, the Badlands cover sprawling poppy fields, lush forrests, damp swamps, and snowy mountains. Cars are common, but firearms are nonexistent - characters do battle with swords, crossbows, and other medieval weapons in fight scenes heavily inspired by Wuxia films such as House of Flying Daggers and Crouching Tiger, Hidden Dragon, creating a very unique take on the standard After the End setting.
---
This show features the following tropes: