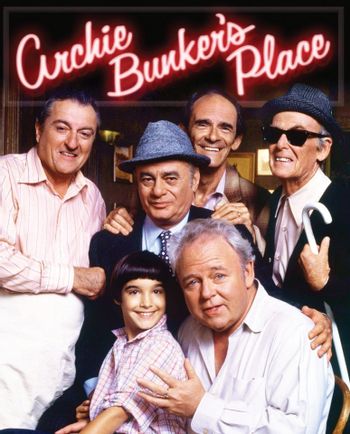 In which Archie Bunker gets to loudly voice his opinions at his bar instead of at home.
Archie Bunker's Place was a Work Com (with some Dramedy elements) and a continuation of the classic sitcom All in the Family, which began airing on CBS in 1979. Although never as popular or acclaimed as its predecessor, this show still maintained a large enough audience to last four seasons, ending its run in 1983.
Following from the previous series, Archie (Carroll O'Connor) and his wife Edith (Jean Stapleton) continued to nag each other and deal with Archie's very conservative views, all while attempting to raise their adopted grandniece Stephanie Mills (Danielle Brisebois), who was rapidly growing up. The major difference in this series was that most of the stories were set at the eponymous neighborhood tavern, which Archie had purchased in the eighth-season premiere of AITF. The tavern was the place for him to sound off on current issues, get support from his friends, and argue with liberal, Jewish co-owner Murray Klein (Martin Balsam) and wisecracking cook Veronica Rooney (Anne Meara).
The series, like its predecessor, was set in the New York City borough of Queens. The opening and closing themes used re-scored instrumental versions of the songs from AITF.
Although lacking the involvement of AITF's creator Norman Lear – who pretty much disowned it and even tried to prevent it from going on the air – and unavoidably standing in the shadow of the earlier series, Archie Bunker's Place still had a number of memorable moments. The show is probably best known for its heartbreaking second-season premiere, "Archie Alone", which deals with the aftermath of Edith's offscreen death from a stroke (Stapleton having already left the series midway through the first season, due to her belief that she'd done all she could with the character); the episode earned O'Connor two Emmy Awards for his performance, as well as the prestigious Peabody Award.
---
Archie Bunker's Tropes:
---