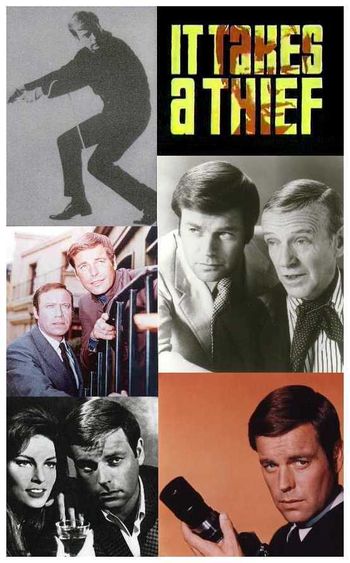 "Look, Al, I'm not asking you to spy, I'm just asking you to steal."
— Noah Bain
It Takes a Thief was an American television series that aired on ABC between 1968 and 1970. It followed the exploits of master thief and Con Man Alexander Mundy (Robert Wagner). Facing a long sentence in prison, he's given an offer by Noah Bain (Malachi Throne), the cop who caught him and is now the head of the SIA, an American intelligence agency. Mundy will be released from jail if he agrees to provide his unique skills to the government. The series served as a prototype for similar shows, such as White Collar, that also featured a Loveable Rogue.
Not to be confused with the identically-named Reality Show that ran on the Discovery Channel between 2005 and 2007. That series has its own entry.
---
It Takes a Trope:
---