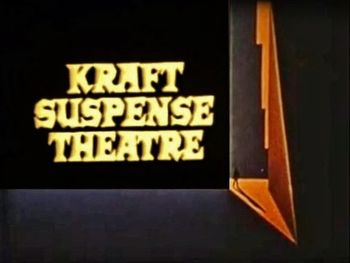 "Fast-moving dramas designed to freeze you to the edge of your chair!"
Kraft Suspense Theatre was a Genre Anthology that aired for two seasons on NBC between October 1963 and July 1965.
Sponsored by Kraft Foods, the series offered viewers "tales of murder, intrigue and mystery". Some episodes were straightforward thrillers, while others were character-based dramas in which the protagonist had to make a difficult moral choice... or was living with the consequences of a choice he/she had already made.
KST also had a distinctive Animated Credits Opening; with its threatening, shilhouetted figures and ominous Instrumental Theme Tunes (one for each season, both provided by a young John Williams), it seems like a prototype for the Title Sequence of Batman: The Animated Series.
The show was fairly popular in its day, and like many anthologies, features both actors who were well-known at the time (including Roddy McDowall, Mickey Rooney, Gloria Swanson, and Ronald Reagan in one of his last roles) and up-and-comers who would soon become famous (such as Bruce Dern, Robert Duvall and Leonard Nimoy, among others). Still, it's not nearly as well-remembered today as competing shows like Alfred Hitchcock Presents, The Twilight Zone (1959), or radio's Suspense. One possible reason for this is confusion over the name; the series obviously couldn't retain the title Kraft Suspense Theatre in reruns, but it somehow got two Syndication Titles, Suspense Theatre and Crisis (no relation to various other works with the same name).
Digital station Antenna TV ran the series for a while, but it left their schedule in 2013.
KST has a fan blog
with episode reviews, although it hasn't been updated since 2013. Also, director Ralph Senensky has posted about the three episodes he worked on ("A Hero for Our Times"
, "The Jack Is High"
and "The Easter Breach"
; beware of Spoilers).
Kraft Suspense Tropes:
---