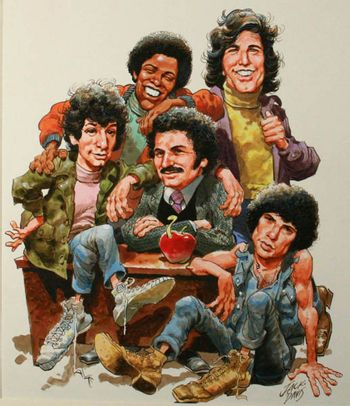 Long before Jerry Seinfeld wondered about airline peanuts, before Tim Allen grunted his first "Arrr arrr arrr!", before Roseanne Barr became a Domestic Goddess, there was Gabriel "Gabe" Kaplan, one of the very first stand-up comedians to successfully turn his stage routine into a hit TV sitcom. Welcome Back, Kotter, which ran on ABC from 1975–79, was based on Kaplan's own high school experiences with remedial education and his memories of a teacher who cared dearly for her students.
The premise: Gabe Kotter returns to Brooklyn's James Buchanan High School as a teacher and is assigned the remedial class of "Sweathogs" to which he himself once belonged. Mr. Kotter is an involved and caring teacher, which one would have to be in dealing with a certain four students in his class, who end up in trouble on a regular basis: ladies' man Vinnie Barbarino (breakout star John Travolta), the always cool Freddie "Boom-Boom" Washington (Lawrence Hilton-Jacobs), the tough Juan Luis Pedro Phillipo de Huevos Epstein (Robert Hegyes), and the sheepish Arnold Dingfelder Horshack (Ron Palillo). Kotter frequently finds himself butting heads with cantankerous vice principal Mr. Woodman (John Sylvester White), who dismisses the Sweathogs as a lost cause, and tries to juggle his teaching life and his home life with his wife Julie (Marcia Strassman).
Changes on the show: Gabe Kaplan was absent from much of the fourth season due to creative differences with executive producer James Komack, whom Kaplan openly felt was not serving the show's best interests. Kotter was made vice principal, and thus was seen considerably less frequently. John Travolta, of course, found his own place as a celebrity, leaving the show around the same time Gabe Kaplan did (returning every so often as a "special guest star"). The replacement for Barbarino was Beau, who didn't help things much. By now the show had essentially lost its two biggest stars.
---
Welcome Back, Kotter contains examples of:
---