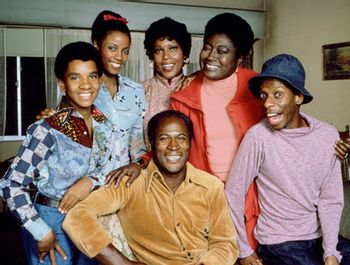 "GOOD TIMES!
Any time you meet a payment! (GOOD TIMES!)
Any time you meet a friend! (GOOD TIMES!)
Any time you're out from under!
Not gettin' hassled, not gettin' hustled!
Keepin' your head above water
Makin' a wave when you can't!
Temporary lay-offs! (GOOD TIMES!)
Easy Credit rip-offs! (GOOD TIMES!)
Scratchin' and survivin' (GOOD TIMES!)
Hangin' in and jivin'! (GOOD TIMES!!)
Ain't we lucky we got 'em?
GOOD TIMES!!!"
— The series' iconic theme song
Good Times was a Norman Lear-produced Sitcom that ran on CBS from 1974–79. The show, a Spin-Off of Lear's earlier comedy Maude (itself spun off from All in the Family), followed the lives of the Evans family, a poor black family living in the high-rise projects of Chicago:
Florida Evans (Esther Rolle): Matriarch, occasional Mama Bear
James "J.J." Evans, Jr. (Jimmie Walker): Catchphrase machine, Jive Turkey, The Wisecracker, Kavorka Man (cleaned up in later seasons)
Thelma Anderson, nee Evans (Bern Nadette Stanis): The Heart
Michael Evans (Ralph Carter): "The Militant Midget", male Soapbox Sadie, The Smart Guy
Building superintendent Nathan Bookman (Johnny Brown), derisively nicknamed "Buffalo Butt" or "Booger",
And their neighbor, Willona Woods (Ja'net Du Bois): Sassy Black Woman, Drop-In Character
Most episodes featured the efforts of the Evans to get by in the ghetto and make a better life for themselves. Despite the fact that those efforts usually ended in bitter disappointment, the show remained surprisingly positive and uplifting. And like most Lear shows of the time, Good Times wasn't afraid to moralize or bring up controversial topics.
Both Esther Rolle and John Amos grew dissatisfied with J.J's character. Rolle felt that J.J. was not a good role model for blacks, and Amos felt the show was becoming more about his antics, than about its original intent to be about family values. The show's most controversial move was killing off patriarch James at the beginning of the fourth season. Esther Rolle hoped this would bring a shift in J.J.'s character from the clownish Kavorka Man he had been, to a more responsible Man Of The House. The writers didn't see it that way, seemingly ramping up J.J.'s foolishness (though it's worth noting that Jimmie Walker, who played J.J., was a stand-up comedian and not much of an actor). This led to Rolle quitting the show for the entire fifth season, her character having relocated to Arizona to be with her second husband. She was brought back in the sixth and final season with promises to clean up J.J.'s act (and never reference her second marriage, which Rolle thought went against Florida's character in multiple ways).
When the fifth season started, an 11-year-old Janet Jackson joined the cast as Millicent "Penny" Gordon Woods; after Penny's abusive mother Lynnetta reveals that she was abused as a child after a fight with Thelma and Willona, Lynnetta tells Penny that she deserves better. In the sixth season, Lynnetta has remarried and starts sending Penny anonymous gifts while attempting to frame Willona as an unfit adoptive parent who throws wild parties with undesirable guests. After her scheme is exposed, she leaves and Penny regards Willona as her real mother.
The series finale aired on August 1, 1979, with a Mega-Happy Ending. Reruns can be seen daily on TV One and Catchy Comedy (as of March 2023). All six seasons are available on DVD.
---
This show provides examples of:
---
"Just lookin' out of the window
Watchin' the asphalt grow!
Thinkin' how it all looks hand-me-down!
GOOD TIMES! (Ye-eah!)
GOOD TIMES!
Keepin' your head above water!
Makin' a wave when you can't!
Temporary lay-offs! (GOOD TIMES!)
Easy Credit rip-offs! (GOOD TIMES!)
Ain't we lucky we got 'em?
GOOD TIMES!!!'"
"Good Times" is recorded on tape before a live audience.
---