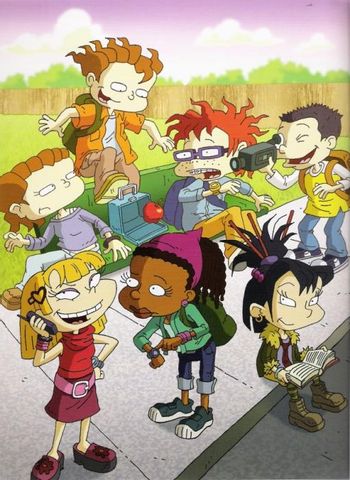 Every birthday, my mom and dad would say
"You're another year older, another year wiser"
But I still go to school to get an education
I treat each and every day like a mini-vacation!
"All Grown Up", I really wanna shout it out!
"All Grown Up", I want the world to know!
"All Grown Up", I really wanna shout it out!
All Grown Up with you!
All Grown Up with... you...
All Grown Up! (2003-2008) is a Spin-Off from the popular Nickelodeon cartoon Rugrats. It follows the adventures of Tommy and friends in their junior high school, with the timeline taking place about 9 years after the original series. The crew are now in their preteens.
It essentially takes the basic personalities of the characters and transplants them into a world with less fantastical adventures and more into typical teen comedy fare. Tommy is an assertive budding filmmaker but is slightly lower on the social totem pole, Chuckie is neurotic and awkward, Phil is into model building and Lil wants to be more feminine (both still find joy eating spaghetti with their hands), Dil is a bizarrely street smart Cloudcuckoolander and Angelica is trying to dissociate herself from them to fit in with the popular kids.
The series got its start as "All Growed Up", an hour-length special episode of the original series made to commemorate the show's 10th anniversary in 2001. While this special is thought to be a Poorly-Disguised Pilot, it actually wasn't initially intended as such, with positive fan reception being what convinced Nickelodeon to greenlight a full series based on the idea.
Compare Quack Pack for a similar update on a classic kids' cartoon show.
---
All Grown Up! contains examples of:
---