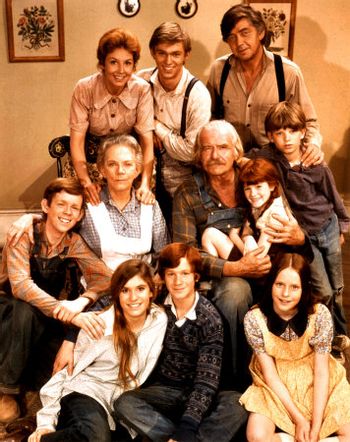 A popular Family Drama that aired on CBS from 1972 to 1981, The Waltons is about the life and trials of the eponymous family in The '30s and The '40s.
The Waltons are a large family who run a saw mill on Walton's Mountain in rural Virginia, and the series depicts their grinding struggle to make ends meet during The Great Depression, and later World War II. As initial lead character (and adult narrator) John-Boy Walton noted, they didn't have much money, but they had a lot of love and fortitude to keep the whole brood going through thick and thin.
The remarkable thing is that this series debuted on CBS right in the middle of that network's notorious Rural Purge, the period from 1968 through 1973 in which shows like The Beverly Hillbillies and Green Acres were cancelled en masse for not appealing to desirable audience demographics. Instead of dying a quick death against The Mod Squad and The Flip Wilson Show as it was expected to do, The Waltons soon killed them and went on for a successful nine-year run. Some have called it the lone survivor of the Rural Purge although the show began during it. The show and its cast also picked up several Emmy Awards and a Peabody.
Series creator Earl Hamner Jr. based the show on his own childhood experiences, which he had previously mined for the 1961 novel Spencer's Mountain (itself adapted as a 1963 film starring Henry Fonda and Maureen O'Hara). Prior to the actual series, CBS aired a Made-for-TV Movie in 1971 called The Homecoming: A Christmas Story, which featured Patricia Neal as Olivia Walton, Andrew Duggan as John Walton Sr., and Edgar Bergen as Grandpa; these roles would be re-cast for the series (and the movie hadn't been intended as a pilot; a series was only proposed after the favorable critical and audience reaction to the movie). A few Made-for-TV Movie reunions brought the cast back together after the series ended and followed the characters into the postwar years, such as the 1993 Thanksgiving movie which centers around the assassination of John F. Kennedy.
This was the first series to come from Lorimar Productions, which went on to produce such popular shows as Eight is Enough, Dallas, Knots Landing, Falcon Crest, and half of ABC's TGIF lineup.
The Waltons includes examples of the following tropes:
open/close all folders
#-F
G-L
Gender-Blender Name:

Michael Learned (Olivia) was billed in the credits as "Miss Michael Learned" for the first five seasons in order to avoid confusion.
There was also Sian Barbara Allen, who played John-Boy's girlfriend Jenny Pendleton. Her first name is pronounced "shawn" - she was named after her father.

Gentle Giant: Jason is one of the tallest characters, and probably the most gentle and tenderhearted of all.
M-S
T-Z
Good night, John-Boy, wherever you are.