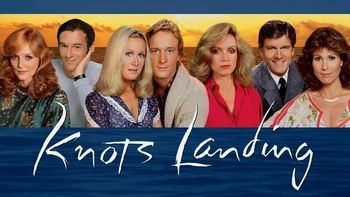 Life in The '80s in an upper-middle-class cul-de-sac in California.
In the mid-1970s, David Jacobs (Family, later Lois & Clark) and Michael Filerman (later Falcon Crest) created Knots Landing, a concept for a Prime Time Soap inspired by Ingmar Bergman's 1973 film, Scenes from a Marriage. It would center around four families in suburban California. Initially rejected in 1977, Jacobs went on to create Dallas, which proved wildly popular. Jacobs then re-visited Knots Landing, turning it into a Spin-Off by inserting one of the Ewing brothers, Black Sheep middle brother Gary.
On the Dallas third season episode "Return Engagements" (December 21, 1979), a Poorly-Disguised Pilot, Gary (Ted Shackelford) remarried ex-wife Valene Clements Ewing (Joan Van Ark), and Gary's mother bought them a house in California to get away from the other turmoil in the Ewing family. Their daughter Lucy, already almost an adult herself, did not resettle with them, and only appeared on this show as a guest in the first season. The house was one of several his brother Bobby (Patrick Duffy) was flipping to take advantage of California's housing boom at the time.
The pilot episode has them meeting their neighbors in the cul-de-sac, Seaview Circle. One of those neighbors, Karen Fairgate (Michele Lee), was the real star of the show.
During the first few seasons, occasional guest appearances by Dallas cast would occur, especially Gary's brothers Bobby and J.R. (Larry Hagman). However, the last crossover between the two series would occur when Gary got the news that Bobby died at the beginning of their 7th season. Though Bobby's death was retconned from Dallas, Knots Landing never mentioned the retcon. Bobby was never mentioned in Knots Landing again and the two series were treated separately from that point on.
Knots Landing ran from December 27, 1979 to May 13, 1993. It's fondly remembered by its fans,but wasn't nearly as popular as Dallasnote In Britain where Dallas was HUGE,Knots Landing was eventually pulled from its primetime slot and demoted to a mid-afternoon slot... And The BBC never aired Knots Landing: Back to the Cul-de-Sac, though both were equal Long-Runners (both ran for 14 seasons). Like Gary, it became something of a black sheep. It's only seen its first two seasons released on DVD.
---
This show provides examples of:
---