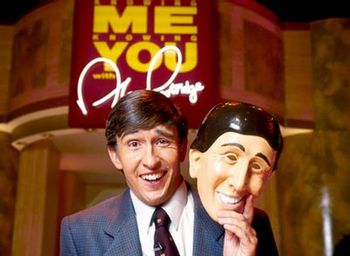 A spoof chatshow starring Steve Coogan as Alan Partridge (formerly the hopeless sports commentator on The Day Today), the pathologically smug, hopelessly neurotic, and completely incompetent titular chatshow host. The format was the standard light-entertainment variety show. Alan would emerge to a bellow of "Ah-HAAAA!" (reflecting the ABBA song "Knowing Me Knowing You" that was the show's theme) and would introduce and interview guests, music acts and variety performances.
However, the show was a savage and razor sharp mockery of the clichés, shortcomings, and failings of the poorer-quality chat shows on television: perfectly lampooning the egocentric and smarmy hosts, bored and inappropriate guests, shallow and inane questions, and overload of kitsch and cheesy set-pieces. And in the centre was Alan: utterly egocentric, convinced that he was the master of ceremonies but hopelessly out of his depth, completely lacking in charm, talent or sense of professionalism, and always completely losing what little control of his guests and employees he had managed to scrape together by the end of the episode ("... and on that bombshell...").
Guests would openly insult him, acts that he claimed were excellent (but had most likely never even seen) bombed hopelessly, and strange variety performances were the order of the day. One such performance was the live re-creation of the 1936 British Women's Olympic Hurdle team victory by the elderly surviving members of that team in an "Olympic Stadium" that was little bigger than a child's sandpit.
Based on a radio show of the same name, the TV series reusing many of the jokes and characters. The radio series aired on BBC Radio 4 from 1992-93; the television series aired on BBC 2 from 1994-95. See I'm Alan Partridge for what happened to Alan next, and I, Partridge: We Need to Talk About Alan for "Alan's" views on what happened.
---
Knowing me, Alan Partridge. Knowing you, the tropers. Ah-ha.:
---