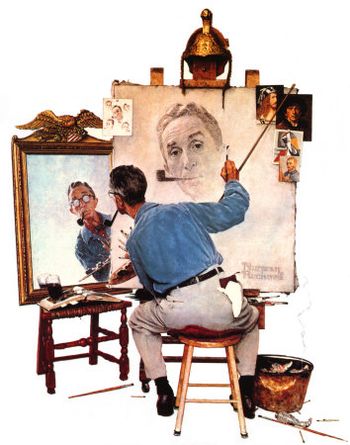 "Right from the beginning, I always strived to capture everything I saw as completely as possible."
Norman Percevel Rockwell (February 3, 1894 – November 8, 1978) was an American painter and illustrator.
Rockwell began his artistic career with Boys' Life, the magazine of the Boy Scouts of America, and he would continue to illustrate for them well into his eighties. He also did cover art for a number of other magazines, most notably for The Saturday Evening Post from 1916 to 1963, after which he provided illustrations for Look until that magazine closed in 1971.
Rockwell was a prolific artist, producing thousands of works in his lifetime. His artwork, which typically involved gently humorous or sentimental depictions of childhood or idyllic American life, has frequently been homaged and/or parodied in popular culture, to the point of Stock Parody.
---
Norman Rockwell works with their own pages:
---
Tropes associated with Rockwell and his paintings:
Artistic Title: For the 1966 remake of Stagecoach, Rockwell painted in-character portraits of all the primary cast, which were used in the film's closing credits sequence as well as its poster art. (Rockwell also had a brief cameo appearance in the film itself as a poker player.)
Gossip Evolution: "The Gossips" features a conversational game of telephone that, when it loops back to the original gossip spreader, leaves her surprised, implying it's changed a lot.
Shout-Out: In his painting "Boy in Dining Car", a Felix the Cat comic book can be seen in the boy's pocket.
Slice of Life: Known for depicting small moments in American life. Best represented by "Shuffleton's Barbershop".
Sliding Scale of Idealism Versus Cynicism: His work has been criticized as too idealistic, but in response, he said, "I paint life as I would like it to be." Even his civil rights paintings were optimistic that America was doing the right thing desegregating schools and neighborhoods.
Take That, Critics!: As a jab against art critics who compared Rockwell's paintings unfavorably to the more trendy Abstract Modernism, "The Connoisseur" shows a man surveying a splattered canvas in the style of Jackson Pollock. Rockwell took the trolling even further by entering the Pollock-style portion of the painting in an art exhibition in New York, signing it with an Italian Pen Name. It won first prize.
Worth It: Pretty clearly the attitude of the girl sitting outside the principal's office in "The Shiner": she's grinning, implying she's happy she got the black eye.
---