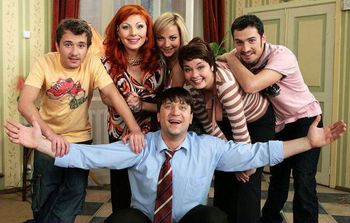 Dasha: We, the Bukins, never call each other names. We have neighbors for that.
Dasha: Gena, why do you never take me to the beach?
Gena: What's the point? You just find your way back.
Sounds familiar? Well, it should.
Happy Together is a Russian remake of Married... with Children which aired on the Russian network TNT between 2006 and 2013. What makes it particularly notable is that the remake not only covered (almost) all of the original episodes, but also had over a hundred new episodes, some of which were co-written by the original Married...with Children writers, kind of a semi-official continuation of the beloved series.
The character's are:
Gennadiy "Gena" Bukin, the bitter shoe salesman. Based on Al Bundy.
Evdokiya "Dasha" Bukina, the red-haired bonbon-eating lazy "housekeeper" from a crazy family. Based on Peggy Bundy.
Svetlana "Sveta" Bukina, the blonde ditz. Based on Kelly Bundy.
Roman "Roma" Bukin, the son and the Only Sane Man. Based on Bud Bundy.
Baron, the dog. Based both on Buck and Lucky.
Sema Bukin, the little Deadpan Snarker. Based on Seven and, unlike the latter, does not leave after a few episodes, but his appearances are few and far between.
Elena "Lena" Poleno (formerly Stepanova) , the unpleasant next-door neighbor. Based on Marcy D'Arcy.
Anatoliy "Tolik" Poleno, Lena's freeloading husband. Based on Jefferson D'Arcy.
Evgeniy "Zhenya" Stepanov, Lena's ex-husband. Based on Steve Rhoades.
Other notable characters that were adapted from the original series:
Rafik Sharipov, Gena's first co-worker. Based on Luke Ventura.
Danila Krasnov, Gena's second co-worker. Based on Griff.
Officer Petrov, Gena's nemesis-turned-friend, a cop. Based on Officer Dan.
Sasha Samoilenko, Gena's boss. Based on Gary.
Marina Torotorkina, a reporter with a very rural accent. Based on Miranda Veracruz de la Hoya Cardinal.
Evkakiy Bannyh, Dasha's father. Based on Emphraim Wanker.
Some few characters were created for the new episodes:
Katya Shvambramovich, Gena's second boss, after Sasha gets tired of the shoe store and sells it to her. She is young, rich, spoiled, and her mood oscillates between very mean, horny and (in rare cases) nice and pleasant.
Laura Larionovna, Gena's third and final boss, after Katya gives her the store. Gena and Katya's former school teacher, who values discipline, and loves reminding Gena how she always thought he would not get far in life.
Germaniy "Gera" Oslovskiy: Sveta's steady boyfriend for a dozen episodes. A brilliant student and a full-on nerd, he nevertheless manages to accept Sveta and her family's quirks. Unfortunately, he goes missing during a business trip.
For more details, read here
. Reading our Useful Notes on Russia might help you enjoy the series. Now has a recap page.
---
The adapted episodes provide examples of the following:
The new episodes provide examples of the following:
---